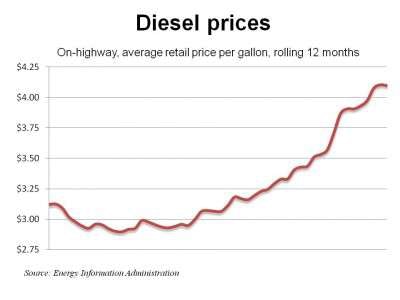 For only the second time since late November, diesel prices nationwide dropped from the previous week's level, according to the U.S. Department of Energy's Energy Information Administration. The national average retail price of on-highway diesel dipped 0.7 cents to $4.098 a gallon during the week ended Monday, April 25. Diesel prices are $1.02 higher than the same week last year and about $1.05 higher than in late September when the current surge began.

The average price of diesel declined in most regions, led by a 1.4-cent decline on the West Coast and a 1.3-cent drop in the Lower Atlantic region. The largest increases were 1 cent in New England and 0.9 cents in the Central Atlantic region. California diesel remained most expensive at $4.438 a gallon while the Gulf Coast region still had the least expensive diesel at 4.024.
Complete diesel price information is available on EIA's website.