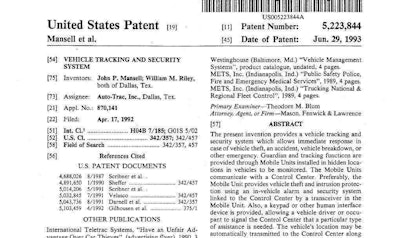 Four mobile communications companies – Qualcomm, PeopleNet, Xata and DriverTech – have asked a federal court in Minnesota to declare invalid a patent that a Texas firm is relying on to sue about 240 trucking companies, private fleets and logistics providers. Over a period of nearly two weeks in March, PJC Logistics filed nine separate lawsuits, claiming that the companies had infringed a 1993 patent it owned for a Global Positioning System-based vehicle tracking and security system.
Although PJC Logistics is suing the trucking operations and not their suppliers, the mobile communications companies are taking the lead in fighting it. The four suppliers — two of which are based in Minnesota — filed separate but similar complaints in the U.S. District Court in Minnesota, saying that the court should declare the patent invalid. Then Qualcomm, which says more than 140 of the carriers being sued are its customers, asked a judicial panel that oversees multidistrict litigation to consolidate all nine lawsuits in the Minnesota court.
Two of the mobile fleet management companies argued in their filings that numerous vehicle tracking and security systems existed prior to the 1993 grant of the patent, including Qualcomm's OmniTracs Mobile Satellite Communication System and an automatic vehicle location system marketed by Trimble. PeopleNet also noted that it had entered into a supply agreement with Dallas-based ACS Transport Solutions — the company that transferred the patent to PJC Logistics earlier this year — during the time ACS held the patent. ACS at no time claimed that PeopleNet had infringed upon its patent or was required to obtain further license, PeopleNet said in its complaint.
According to online records at the U.S. Patent and Trademark Office, PJC Logistics obtained the patent from ACS just a few weeks before it began filing the lawsuits. ACS had obtained the patent in June 2008 from Orbital Sciences Corp., which had held it for about eight years. Orbital Sciences had acquired the patent from Raytheon, which in 2003 was ordered by a jury to pay $6.8 million to the widow of one of the original patent holders for failing to pay royalties and for selling the company that held the patent to Orbital Sciences without her consent.