Unclogging arteries
Technology can help alleviate choke points for truck traffic
By Aaron Huff
All motorists bear the burden of traffic congestion, but the trucking industry also is sideswiped with much of the financial costs. Bottlenecks on the nation's highways cost about $19 billion per year in fuel, wages and equipment use, according to the American Trucking Associations.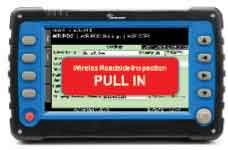 Congestion only will get worse. The last highway and transit law expired in October 2009, and federal aid to states has been sustained through a series of short-term extensions. Changes also are looming to the hours-of-service rule; the current proposal would increase congestion by reducing drivers' available daily driving time to 10 hours from the current limit of 11. A national population north of 308 million and growing only exacerbates the problem.
Amid the constraints on existing and future highway capacity, the U.S. Department of Transportation continues to explore technologies that would improve the efficiency and safety of transportation. In some cases, implementing the new technology is as slow as laying down concrete and asphalt; in other cases, the rollout is proceeding at a rapid pace.
Off-hour scheduling
One of the most practical methods for easing congestion is for shippers and receivers to move pickup-and-delivery schedules to off-hours. Even minor adjustments can produce enough time savings for carriers to provide customers with financial incentives to force a change.
The New York DOT recently worked with a group of stakeholders and research partners to implement an Off-Hour Truck Delivery Pilot program. Funded by USDOT, the program ran from late 2009 through 2010 and focused on encouraging businesses to accept off-hour shipments through financial incentives and strategies to make the process easier.
Shipper participants in the New York metropolitan area agreed to shift their delivery windows to between 7 p.m. and 6 a.m. As a result of this and other changes, participating carriers were able to increase travel speeds between deliveries by 50 percent.
Open-source inspections
A project now under development could offer a solution to both motor carrier safety and traffic delays by actually increasing the frequency of roadside inspections. At first glance, this may seem like an oxymoron, but the feat is possible by using wireless technology to inspect vehicles in motion.
Wireless roadside inspections could be a win-win situation.
The concept of the Wireless Roadside Inspection (WRI) is simple: The vehicle wirelessly transmits a safety data message set to a roadside reader or law enforcement officer. The message may be used for real-time enforcement and to update carrier and driver safety assessments.
Although WRI may seem like an invasion of privacy, the benefits are impossible to ignore, as truck numbers and mileages continue to grow each year while roadside safety inspection resources remain constant.
A number of states already use weigh-in-motion scales along with systems such as PrePass to speed commercial traffic. The total violation rate for weighing vehicles is only 0.29 percent out of 92 million annual weigh-in-motion events. The low-hanging fruit is the 3.4 million annual truck inspections that are done manually today; the total violation rate is 70 percent.
While WRI would dramatically increase the number of inspections conducted by the Federal Motor Carrier Safety Administration and improve safety and compliance, it also would reduce the likelihood of physical inspections for participants. The result would be fewer delays and less fuel burn.
WRI also supports FMCSA's Compliance Safety Accountability program by enabling more frequent driver and vehicle safety assessments. Assessment information can be transmitted immediately to the BASICs database for updating scores automatically in real time.
FMCSA's WRI system currently is in a 24-month pilot testing phase scheduled to end this year. Building on the experiences from the pilot test, a field operational test will begin next year.
WRI is scheduled for deployment no earlier than 2014. At first, FMCSA plans to include vehicle, driver and carrier ID as part of a WRI program; the ID could trigger the carrier's safety rating or the driver's CDL status. The agency hopes to add driver logs and vehicle performance measures to detect any mechanical faults, such as a problem with the braking system.
There is no silver bullet for alleviating traffic congestion, but sharing information from the onboard computing, wireless communications and other technologies that you already use soon may be part of the solution.
IN BRIEF
* uShip (www.uship.com) added brokered loads to its online freight exchange, allowing brokers and 3PLs to leverage its spot market exchange to connect with verified and rated carriers.
* Networkfleet (www.networkfleet.com) teamed with Wright Express to offer new Fuel Card Reporting capabilities through its wireless fleet management system.
* GE Capital Fleet Services
(www.gefleet.com) launched U.S. Fuel Price Mapping, a mobile application to help drivers locate the correct type of fuel at the lowest price from any location.
* Odyssey Software
(www.odysseysoftware.com), a provider of mobile device management products, announced that its Athena for Configuration Manager v5 now supports the Apple iOS and Android platforms, along with other mobile devices.
* Decisiv (www.decisiv.com), a provider of technology that connects fleet managers with internal and external service locations, enabled its Decisiv Service Management Platform (DSMP) application on email-capable handheld devices.
* Xata (www.xata.com), a provider of fleet optimization software, received the Frost & Sullivan North American Price Performance Value Leadership of the Year Award in Commercial Vehicle Fleet Management.
* Pegasus TransTech
(www.transflo.com) says that fleets are adopting truckstop scanning at a record pace, and that use of its Transflo Express truckstop scanning has grown more than 30 percent in the last two years, with 2011 reaching the highest levels ever.
Hino Trucks offers Web-based telematics
Hino Trucks announced Hino Insight, a Web-based location and telematics system that was developed with partner WebTech Wireless for the medium-duty commercial truck market.
Hino Insight offers route tracking, geofencing, maintenance management and real-time critical Hino proprietary diagnostics alerts, along with fleet performance dashboard reporting and remote door unlock telemetry.
The dashboard main page of the HinoInsight.com Web portal provides a daily snapshot of fleets' critical diagnostics status and performance against established targets.
Options available include two-way dispatch/driver communication, electronic driver logs with hours-of-service reporting, real-time job management, navigation routing, security/blind spot video monitoring and axle payload weight monitoring.
Hino Insight units come standard with a free one-year service subscription plan and a two-year Hino OEM full product warranty. The system is offered for Hino's 2008 through 2012 model-year trucks and is available to incorporate most GVW Class 1-8 vehicles.
Qualcomm announces new applications
Qualcomm – a provider of integrated wireless systems, applications and services – announced several new applications that will be available later this year.
Trip Manager, a new application for managing driver and route activities, will be available on Qualcomm's Mobile Computing Platform 110 (MCP110) and MCP200 this summer.
Qualcomm designed Trip Manager to meet the needs of private fleets that operate primarily within a local or regional geographic area. The application is integrated with Qualcomm's Circle-of-Service Workflow to help fleet managers improve the way they plan, view and manage routes and drivers in near real time.
Trip Manager displays key trip information to fleet managers and other back-office staff through maps, reports and queries. Qualcomm says that with this data, fleet managers can monitor planned versus actual routes taken, discern trends, identify underperforming stops and drivers and determine focus areas for improvement, which can help reduce overall fleet costs.
"Trip Manager will allow our customers to increase driver and dispatcher productivity, improve customer service, enhance fleet productivity and better manage costs," says Norm Ellis, vice president of sales, services and marketing for Qualcomm Enterprise Services.
A Proof of Delivery handheld application, which leverages Intermec's CN50 rugged mobile computer, also is scheduled to be available this summer. Qualcomm says the application is suited for private fleets, dedicated logistics operations and specialized carriers. It will allow the driver to automate work assignments performed outside of the vehicle, such as barcode scanning, exception management and signature capture.
"By collaborating with Blue Dot, an industry leader in mobile work force management solutions, we will ensure that our Proof of Delivery application delivers maximum value," Ellis says.
A Vehicle Inspection Report application provides a closed-loop process for completing vehicle inspection reports. VIR will help fleets decrease operational costs, improve the accuracy of vehicle inspection reports and focus on the critical inspection elements and requirements identified by the Federal Motor Carrier Safety Administration, the company says.
VIR allows fleets to control user access and editing capabilities for vehicle inspection reports, and provides search, edit, data exporting and printing capabilities. Drivers can access VIR through Qualcomm's Hours of Service (QHOS) application or as a standalone application. VIR is scheduled to be available in late 2011.
Qualcomm also announced the integration of Mobileye's onboard sensor data with its Critical Event Reporting application (CER). Mobileye's image sensing and processing technology detects critical events – including lane departures, forward collision warnings and following time violations – and also alerts the driver in the cab. Qualcomm customer C.R. England, the nation's largest refrigerated trucking company, is deploying the integrated solution.
"In addition to Mobileye's real-time in-cab information that our drivers are benefitting from, we have the ability to generate near-real time alerts and advanced reports in the back end with our Qualcomm Mobile Computing Platform, allowing us to make more informed decisions," says Thom Pronk, corporate vice president of training and safety for Salt Lake City-based C.R. England. "The collaboration allows us to achieve a significant reduction in collision-related costs."