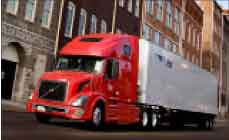 FirstFleet
Murfreesboro, Tenn.
Strengthened its competitive position by creating a new model of interactivity.
High-tech dedication
Dedicated hauler uses IT to do many things extremely well
One of the silver linings of the recent recession is that it forced carriers to become stronger and more focused. This is certainly the case for FirstFleet, which began providing dedicated contract carriage service 25 years ago with two trucks. The Murfreesboro, Tenn.-based company since has grown to about 1,500 tractors, 1,800 employees and 30 locations.
In 2009, FirstFleet – along with most carriers – was exposed to a dwindling supply of freight. To retain customers in this highly competitive environment, the company looked for new ways to exceed expectations. The company's six-member Information Technology Team responded to the challenge by creating new customer-facing applications and adding a new level of responsiveness to fulfill customers' information needs.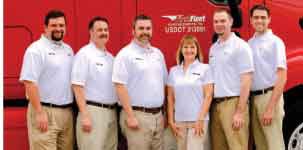 FirstFleet always has worked to provide customers – who the company refers to as business partners – with excellent service. FirstFleet employees are onsite at customer locations to manage any operational challenges. But the company's technical capacity traditionally had been limited to sharing information with customers by telephone and face-to-face meetings.
"E-mail was the biggest tech tool we had," says Austin Henderson, director of IT infrastructure and innovation. In the past 18 months, Henderson and other members of FirstFleet's IT Team have developed a new model for interactivity that positions the company to exceed customer expectations for many years to come.
Engaging business partners
In 2009, the IT Team started by developing a set of integration tools for business-to-business (B2B) communication. These tools enable business partners to consume and produce data in whatever format they prefer. Options for exchanging data with FirstFleet include loosely formatted "flat files," electronic data interchange (EDI) and embedding XML code directly into partner systems for instant updates.
"The more we could streamline communications, the more value we added as a transportation provider," Henderson says. "This allowed us to integrate with business partners on aggressive schedules with high accuracy."
FirstFleet also created a set of application programming interfaces (APIs) to support the rapid development of new customer-facing applications. The APIs are based on XML Web services and enable a real-time exchange of information ranging from load tenders to load tracking and proof-of-delivery documents. These APIs have enabled FirstFleet to respond to new requests for information within hours, not weeks or months.
"Most of the time, our business partners are not after a gigantic time-consuming process," says David Sivils, director of IT administration and fuel performance. "They just want exposure to more information to do their jobs."
FirstFleet has used its APIs to develop customer-facing "load boards" that filter data uniquely by business user. The load boards are one of the main features of FirstFleet's Web platform as they enable rapid deployment of customer-specific applications, reports and processes.
"We can provide (information) to them exactly how they want it as fast or faster than their internal resources can," Sivils says.
A traffic manager at a manufacturing company might want a load board that shows all loads scheduled for delivery today and tomorrow. He also may want to filter these loads by project coordinator or by material type and have them referenced to order numbers and to other information that makes sense in their world.
"They want screens that look like they are theirs," Henderson says. FirstFleet also has created customer-facing analytical tools for customers to track cost per item, access freight payment history and build other metrics using data supplied by FirstFleet.
Providing customers with online access to load tracking and proof-of-delivery documents is somewhat conventional these days, but FirstFleet has broken the mold by creating a more convenient way to access these functions. The IT Team has deployed iGoogle gadgets that can be integrated quickly into a business user's personal Google homepage. The gadgets do not offer as much functionality as FirstFleet's Website because of their size, but they are an efficient way to establish a quick dialogue with FirstFleet.
From the inside out
The IT Team at FirstFleet also has found numerous ways to use technology to increase internal efficiency and to add value to relationships with drivers and employees at all levels in the company.
The IT Team takes a consultative approach with business users to understand how each user performs their job, determine the pain points and identify new opportunities to solve challenges in innovative ways.
"We have gone to great lengths to make change as easy and transparent as possible," Henderson says. As part of rolling out new technology and features for users, the IT Team develops online training videos, step-by-step tutorials, a company blog and Twitter feeds – all accessible on the Website.
One way the IT Team has improved internal efficiency is by creating an online interactive tool for employees to access payroll information. FirstFleet no longer sends out paper settlement sheets and check stubs.
With employees going to the Website at least weekly to access payroll information, FirstFleet since has added online fuel economy reports to increase awareness and accountability. The IT Team developed an online dashboard of fuel performance for every employee to see.
"We involve many sets of eyes on controlling our fuel burn rate," Henderson says. "The more people that are looking, the more likely you are to have change occur."
When a driver logs in to the Website, he sees a near real-time data extraction of his mpg, idle time and ranking within his assigned facility. This information also is presented to each driver in bullet points for the last 30 days. Drivers also can use interactive tools to see mpg leader boards by location and for the organization.
Providing this information to drivers gives them the opportunity to be more proactive, Henderson says. Drivers that pay close attention may notice a change in their own mpg before management finds out and take the initiative to talk to the maintenance team about ways to improve their vehicle's performance.
The IT Team also has analyzed a wide range of information from safety to cargo claims and freight bills to find ways to increase efficiency and reduce risk. The team has worked with users to manage information on an exception basis, Sivils says.
"Altogether, it's been a wild 24 months," Henderson says. "Our desire is that we always want to be viable and compete with the very best."
Innovators profiles carriers and fleets that have found innovative ways to overcome trucking's challenges.
If you know a carrier that has displayed innovation, contact Jeff Crissey at jcrissey@ccjmagazine.com or 800-633-5953.