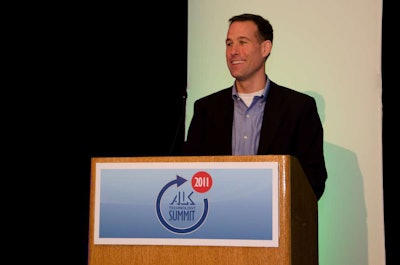 Senior transportation and IT executives joined leading technology providers to share insights and solutions to the industry's most pressing challenges at the ALK Transportation Technology Summit, May 3-5. ALK says this year's Summit set a new record for attendance and partner participation.
Keynote speaker Paul Will, president and chief operating officer of longhaul carrier Celadon Group, assessed the condition of the U.S. economy as "somewhat improving but weak." On a positive note, supply and demand has passed the point of equilibrium in favor of carriers.
Truck productivity (mileage) is flat and the rate per billed mile is up by 15 percent using a 1990 baseline. Truck and trailer costs, however, are up by 200 percent. In today's market, few carriers can afford to finance new equipment at today's profitability levels and with working capital tied up in fuel costs, Will said.
Barry J. Glick, the recently appointed chief executive officer of ALK Technologies, said that mapping and navigation technologies are about to enter a new phase of innovation, characterized by greater levels of integration and connectivity between the office and mobile worker. Glick reported that ALK's PC Miler routing, mileage and mapping software and CoPilot Truck navigation systems are coming together to enable transportation and logistics companies to tie strategic route planning with real-time management and control of mobile assets.
Norm Ellis, vice president of transportation/logistics, sales and marketing for Qualcomm, emphasized the value of using scorecards and predictive tools for the Compliance, Safety, Accountability (CSA) program of the Federal Motor Carrier Safety Administration (FMCSA). By feeding these technologies with real-time driver behavior and performance data, fleet managers can anticipate driver behaviors and take immediate, corrective actions.
David McKinney, vice president and general manager of TMW Systems' Optimization business, provided an overview of various TMW products that continuously monitor operations to identify ways to maximize cost control and profitability.
Co-presenter Jack Christensen, IT director at Hill Bros. Transportation, reported that since using TMW optimization software systems, the fleet's load planners, customer service reps and owners are efficiently and effectively managing their duties. In the past six months, the Omaha, Nebraska-based 350-truck fleet has reduced empty miles by 1.8 percent and increased yield — an all-encompasing measure of profitability — by 12 points.
Jeff Sibio, director of industry marketing, transportation and logistics, for rugged mobile device manufacturer Intermec, discussed how mobile technologies can improve the quality and richness of information provided to customers, such as SKU-level shipment details and real-time, electronic proof-of-delivery.
Cindy Nelson, vice president of marketing and business development at EBE Technologies, said that CSA has turned fleets' attention to using technology to speed the process of recruiting and hiring qualified drivers.
Co-presenter Brad Vaughn, director of recruiting at Maverick Transportation, a 1,200-truck truckload carrier out of Little Rock, Arkansas, shared how EBE's Ships recruiting software module has sped the process of hiring qualified drivers while reducing processing costs. Since going live with EBE software in November, 2009, Maverick has doubled its ratio of recruiters to processors by using an electronic, automated system.
"We have been able to hire more quality drivers with a quicker turnaround time," Vaughn said.
Christian Schenk, vice president of product marketing for Xata, spoke of a coming paradigm shift in using technology for CSA compliance. Xata plans to shift the focus from the company to drivers by releasing a new social media tool within a year. Drivers will be able to track their personal performance in mpg, safety, compliance and other elements and even create a personal resume, he says.
"By providing drivers those tools, it will empower them to take control of where they are going to work and stay connected with other drivers and peers," Schenk says.
Mark Cubine, vice president of marketing for McLeod Software, shared the success story of P & S Transportation, a McLeod customer that has experienced rapid growth during a recession. Co-presenter Houston Vaughn, chief operating officer of the 500-truck flatbed carrier in Birmingham, Alabama, said the automation tools from McLeod have helped the company expand from 20 trucks in 2004 to its present size.
"You've got to be able to depend on automation," Vaughn said. Fleet managers are running between 50 and 60 trucks each with an administrative staff of five people to manage all billing, payroll and other functions for the company's trucking, brokerage and third-party logistics businesses.
The ALK Summit featured three roundtable discussions. The truckload roundtable, led by Anthony DeCanti, CIO of Werner Enterprises, focused on strategies for increasing driver productivity and recruiting as well as toll cost management, including customer billing and reconciliation. The LTL roundtable was led by John Moscatelli, Director, Industry Solutions – AT&T Mobility. The Shipper, Private Fleet & 3PL roundtable was moderated by Drew McElroy, President, Priority Distribution.
Mike Bodden, chief technology officer of ALK Technologies, provided map data and product roadmap updates on the PC Miler and CoPilot navigation applications. Michael Kornhauser, vice president and managing director of CoPilot Solutions for ALK Technologies, added that integration between the PC Miler and CoPilot Truck navigation products reduces driver interaction and brings consistency in driver pay, rating and billing.
"At the end of the day, we see integrated navigation as being the differentiator as to why a fleet chooses to implement navigation in the cab," Kornhauser said.
This year's Summit featured an expanded global perspective with presentations from Blue Tree Systems, an Ireland-based company that provides fleet management systems in Europe and the U.S., and BT Openreach, the largest telecom provider in the United Kingdom.
ALK's Dan Popkin, vice president of CoPilot sales, led a mobile communications systems panel that consisted of representatives from Qualcomm, Xata, Cadec Global and Renault Trucks. Each member said they plan to evolve and embrace applications for smartphones, tablets and personal devices to provide drivers with a better lifestyle and to speed implementation and training.
Other presentations covered trends in using cloud computing, outsourced IT services, traffic information, rating, activity-based costing, and multi-modal transportation management systems.
For more information, visit www.alk.com/techsummit2011.