FMCSA won't make court deadline for final HOS rule
ATA 'clearly skeptical' of DOT's '11th hour' research
The Federal Motor Carrier Safety Administration said last month it would not be able to meet a court-negotiated July 26 deadline to issue its final hours-of-service rule after it reopened the comment period to allow for review and discussion of new studies and its possible consideration of their findings in the development of the final rule.
 FMCSA on May 6 announced that it had placed four additional documents in the public docket of its December 2010 notice of proposed rulemaking on hours of service and that it was reopening the NPRM's comment period for 30 days for discussion related only to the new documents. The deadline to submit comments was June 9.
FMCSA also advised the public of an adjustment to the rulemaking schedule previously agreed to in litigation before the U.S. Court of Appeals for the District of Columbia Circuit (Case No. 09-1094). Pursuant to an Oct. 26, 2009 agreement between Public Citizen, other petitioners and FMCSA, the agency was to publish a final rule within 21 months of the date of the settlement agreement.
FMCSA said the extra comment period for the four additional documents would require additional time that was not envisioned in 2009 and that it would be unable to publish a final rule by the previously agreed-upon date of July 26, 2011. The agency said it had advised petitioners of the delay to the rulemaking schedule.
Bill Graves, president and chief executive officer of the American Trucking Associations, said his group was "intrigued" by FMCSA's "unusual announcement" and was "clearly skeptical of new research that has been discovered or generated by DOT (the U.S. Department of Transportation) at the '11th hour.' "
Meanwhile, ATA's National Tank Truck Carriers division announced its support for mandatory electronic logging devices for documenting hours-of-service compliance. NTTC says members voted to support the electronic logging mandate at its summer membership meeting last July but that it withheld issuance of any public proclamation pending any related developments in the hours-of-service rulemaking.
IN BRIEF
* The American Trucking Associations supports the efforts of the Obama administration to reimplement a cross-border trucking pilot program with Mexico, but called on regulators to address several concerns, including a proposal to purchase electronic onboard recorders for Mexican carriers and how the United States and Mexico will ensure fair and equal access to Mexico for American carriers.
* The Federal Motor Carrier Safety Administration extended until June 30, 2012, the compliance date of its final rule to require a driver-vehicle inspection report for nondefective intermodal equipment to provide sufficient time to address petitions from both the Ocean Carrier Equipment Management Association and the Institute of International Container Lessors to rescind the mandate.
* YRC Worldwide Inc. entered into agreements with key stakeholders for a restructuring plan that would infuse $100 million in new capital from senior secured lenders in exchange for company shares, leaving existing shareholders with about 2.5 percent of the company's common stock.
* EZE Trucking acquired Rialto, Calif.-based Patterson Motor Freight, a provider of overdimensional trucking and logistics services. The acquisition provides EZE with a five-state organization with more than 100 tractors and 600 trailers, seven terminals, a dedicated four-state less-than-truckload network and a logistics division. Patterson had 2010 annual revenues of nearly $19 million.
* USA Truck Inc. announced Robert Powell's retirement as board chairman and as a board member effective May 4. Powell had served as chairman since 2000, was CEO between 1988 and 2007 and was a director of the Van Buren, Ark.-based company since 1983.
Teamsters, safety groups rally against heavier trucks
Teamsters General President Jim Hoffa joined Sen. Frank Lautenberg (D-N.J.), Rep. James McGovern (D-Mass.), safety advocates and family members of highway accident victims at a press conference last month to endorse the Safe Highways and Infrastructure Preservation Act, legislation that would restrict the size and weight of commercial trucks that travel U.S. highways.
SHIPA also would extend the freeze on truck size and weight limits on the interstate system to also apply to the National Highway System. The bill's supporters, which includes the Association of American Railroads, argue that large trucks are more dangerous to drive and damage highways and bridges, and that heavier trucks only will accelerate the wear and tear of the nation's aging infrastructure.
"More than 600,000 of our 1.4 million members start their workday by turning a key in vehicle," Hoffa said. "That gives Teamsters a real-life perspective on the dangers involved in increasing the size and weight of trucks from their current levels. Heavier and longer trucks mean greater stopping distances and shorter reaction times. And the reality is that our highways and bridges are not equipped to handle the increased weight and size of these trucks."
The Teamsters point to a recent nationwide poll that found that 89 percent of the general public strongly opposes larger trucks. The union also points out that half of the nation's bridges are more than 40 years old, with one in four structurally deficient or functionally obsolete.
The American Trucking Associations, which supports competing legislation that would allow states to increase weight limits on interstate highways, was quick to respond. "In the two years since ATA unveiled its 18-point safety agenda, a comprehensive approach to addressing both primary and secondary causes of highway crashes, these alleged 'safety' groups have not made a serious proposal to address trucking safety," said Bill Graves, ATA president and chief executive officer. "Their fix is to arbitrarily cut working hours to advance labor's agenda, and further restrict truck size and weight to advance the railroad's agenda."
The Safe and Efficient Transportation Act of 2011 (S. 747) was introduced to the U.S. Senate on April 6. SETA, sponsored by Sen. Mike Crapo (R-Idaho), with co-sponsors Sens. Herb Kohl (D-Wis.), Susan Collins (R-Maine) and Rob Portman (R-Ohio), would give any state the option to allow semi-trucks weighing up to 97,000 pounds access to its interstate highways, provided owners equip trucks with a sixth axle to preserve braking distances and pavement wear patterns, and agree to pay a supplemental user fee. An identical bill, H.R. 763, introduced Feb. 17 in the House by Representatives by Reps. Mike Michaud (D-Maine) and Jean Schmidt (R-Ohio), has 27 co-sponsors.
Patricia Reilly, AAR vice president of communications, said that heavy trucks don't pay their full share of damage to the nation's highways, costing American taxpayers billions of dollars each year for pothole and bridge repairs. "Now isn't the time to increase the infrastructure subsidy enjoyed by trucks, which in turn increases the cost burden on taxpayers," Reilly said. The additional cost of repairing bridge damage alone caused by raising truck size 20 percent could be as much as $65 billion, Reilly said.
Graves said that while the Teamsters and safety groups claim to speak for many Americans on the issue of truck productivity, "it seems pretty clear they speak for the railroad industry, which lines its pockets at the expense of shippers and consumers they hold hostage. Allowing states the flexibility to make decisions on more productive trucks would not only cut shipping costs during this fragile economic recovery, they would allow trucking to better utilize its safest, most efficient and greenest vehicles."
Graves said ATA and the entire trucking industry sympathizes with those who have lost loved ones in highway accidents. "Those who claim to speak for them should be honest about their motives and stop misleading the public to advance a transparent labor and railroad agenda," he said.
PHMSA, tank haulers at odds over wetlines proposal
The American Trucking Associations told the Pipeline and Hazardous Materials Safety Administration it "strongly opposes" a proposal to require tank trucks to install equipment to drain flammable liquid from the piping used for loading and unloading. In comments filed April 27, ATA said PHMSA should drop its proposal because the costs associated with the so-called wetlines rule "far exceed the purported public safety benefits."
PHMSA is proposing to amend the hazardous materials regulations to prohibit the transportation of flammable liquids in unprotected external product piping on U.S. Department of Transportation specification cargo tank motor vehicles. PHMSA says these amendments, if adopted as proposed, will reduce fatalities and injuries that result from accidents during transportation involving the release of flammable liquid from unprotected external product piping. The comment period for the notice of proposed rulemaking, originally set to close on March 28, was extended until April 27.
"PHMSA claims to be a data-driven risk-based regulatory agency," ATA wrote in its remarks. "However, this proposed rule departs from those important goals. We are extremely disappointed that the agency has turned its back on real-world data in favor of a systematic group of unproven, unrealistic assumptions that bias the cost-benefit analysis to justify the proposed rule."
According to PHMSA, there is a segment of the cargo tank motor vehicle population that transports flammable liquid material that is not subject to prohibition of wetlines unless the vehicle is equipped with bottom-damage protection devices. PHMSA says these CTMVs continue to be involved in motor vehicle accidents, resulting in loss of life attributable to wetlines.
"As a tank truck operator that hauls gasoline, I know how important it is for our trucks to operate safely," says Barbara Windsor, president and CEO of Hahn Transportation Inc. and chairman of ATA. "However, this proposal will simply add immense costs for fleets without improving safety. It will impose an unnecessary burden on small businesses like mine all across the country."
Although no catastrophic incident has occurred in the recent past, PHMSA and the National Transportation Safety Board contend that incidents are likely to occur in the future. "We base our concerns on the population of CTMVs involved in flammable liquid service, the daily volume of traffic on our nation's roadways, and the possibility the average motor vehicle occupancy will increase as gasoline prices increase," PHMSA states in its Federal Register notice.
"Outside of existing conspicuity and outreach initiatives, there is little that PHMSA can do to prevent a collision between a motor vehicle and the wetlines of a CTMV," PHMSA states. "However, PHMSA can implement additional measures to ensure that DOT specification CTMVs are utilized and designed in a manner that fully considers the likelihood and potential consequences of a wetlines incident and the hazards that such an incident poses to the vehicle driver and traveling public."
Congress told to eliminate redundant background checks
Martin Rojas, American Trucking Associations' vice president of safety and operations, last month called on Congress to enact sensible credentialing and eliminate duplicative background checks for commercial drivers. During his testimony, Rojas told the House Homeland Security Committee's Subcommittee on Transportation Security that the multiple checks required of commercial drivers are costly and discourage well-qualified potential drivers from entering, or remaining in, the industry.
"The screening of individuals involved in the transportation of goods is important to the trucking industry," Rojas told the subcommittee. "Our industry has long supported a national uniform process to check a commercial driver's criminal history. However, the present multiplicity of background checks for commercial drivers, and their associated costs, creates a significant challenge for the recruitment and retention of qualified drivers."
Rojas said the cost of a hazardous materials endorsement (HME) background check is as high as $150, and since the program was implemented in 2004, more than 1.2 million hazmat drivers voluntarily have given up their endorsement, in part because of cost. Hazmat drivers who also require a Transportation Worker Identification Credential (TWIC) also must pay $132.50 for an identical background check to the HME screening.
"ATA believes that the MODERN Security Credentials Act, if signed into law, will have the positive impact of reducing the burdensome requirements of multiple background checks and of excess fees and costs faced by commercial drivers and trucking companies," Rojas said.
Trucking gains forecasted through 2022
After a dip during the recession, the U.S. freight economy, particularly for trucking, is projected to grow significantly in the years ahead, according to "American Trucking Associations' U.S. Freight Transportation Forecast to 2022."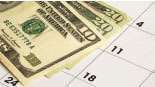 The forecast, the product of a collaboration between ATA, IHS Global Insight and Martin Labbe Associates, lays out the current state of the freight economy, where trucking is the leading mode of transportation, and projects an even more robust role for trucks in the future.
"The trucking industry continues to dominate the freight transportation industry in terms of both tonnage and revenue, comprising 67 percent of tonnage and 81 percent of revenue in 2010," ATA Chief Economist Bob Costello wrote in this year's forecast.
Overall, total freight tonnage is expected to grow 24 percent by 2022, and revenue for the freight transportation industry is projected to rise 66 percent in that same timeframe. Trucking's share of that market will rise to 70 percent by 2022, though the industry's share of freight revenues will increase only to 81.4 percent from 81.2 percent.
In other surface modes, rail's overall share of tonnage will fall to 14.6 percent in 2022 from 15.3 percent in the baseline year of 2010. However, intermodal tonnage will rise 6.6 percent a year between 2011 and 2016, and 5.5 percent annually through 2022. Revenues for intermodal transportation will jump from $11.1 billion in 2010 to $30.7 billion in 2022.
Domestic waterborne transportation will show modest growth between now and 2022 – growing 2 percent a year until 2016, then 0.2 percent annually through 2022. Revenues for short-sea shippers will grow to $16.2 billion in 2022 from $11.1 billion in 2010.
"At a time when our nation's leaders are debating what our future transportation system should look like, the forecast is a tremendous resource," Costello said. "The forecast can also help America's business leaders as they plan what their future logistics plans and businesses will look like."
"American Trucking Associations' U.S. Freight Transportation Forecast to 2022" can be purchased as a bound volume, a CD or a downloadable PDF at www.atabusinesssolutions.com or by calling 866-821-3468.
Fuel Savvy
Environmental groups call for tougher fuel economy standards
The leaders of several national environmental groups last month asked President Obama to create long-term relief from soaring fuel prices by delivering stronger fuel-efficiency and auto pollution standards currently under consideration for new vehicles. The request came in a letter signed by 34 environmental, science and public health organizations.
This September, the administration is set to announce fuel efficiency and global warming pollution standards for new light-duty vehicles sold between 2017 and 2025, with key decisions being made this summer. "This is the president's best opportunity to cut America's oil dependence," said Kevin Knobloch, Union of Concerned Scientists president. "We have the technology to build cleaner, more fuel-efficient cars, trucks and SUVs. It's not rocket science – it's just combining good auto engineering and all-American can-do attitude."
The leaders of the organizations said that the best chance the president has to create long-term fuel savings is not to pursue domestic drilling, but rather to demand that new vehicles use the fuel they consume as efficiently as possible. "We cannot afford the status quo," said Michael Brune, Sierra Club executive director. "America's leaders need to act immediately to break our nation's dangerous dependence on oil – not by drilling more or giving out tax breaks to Big Oil, but through better, more fuel-efficient vehicles, smart transportation choices and real solutions to move us beyond oil."
Rob Sisson, president of Republicans for Environmental Protection, said that increasing Corporate Average Fuel Economy (CAFE) standards is the first and most logical step toward reducing the nation's reliance on foreign oil. According to the groups' joint letter to Obama, the strongest standards under consideration would reduce U.S. oil consumption by 2.5 million barrels of oil per day in 2030, almost 50 percent more oil than the United States imported last year from the Persian Gulf. "The strongest standards also protect our health and environment by preventing two times more global warming pollution than the weakest proposal," the groups wrote. "That is as much pollution as all of America's cars and light trucks release in over two years."
The environmental groups say the government's own analysis determined that a fuel efficiency standard of about 60 mpg and a 6 percent annual reduction in global warming pollution is both feasible and delivers the greatest benefits. This standard, according to a UCS analysis, would save vehicle owners nearly $9,000 over the life of the vehicle at a gas price of $4 per gallon, even after paying for the additional cost of the cleaner, more fuel-efficient vehicle; that's the equivalent of a gasoline price cut of $1.30 per gallon compared to a vehicle with today's fuel efficiency.
"Americans shouldn't have to spend their summers worrying about how they will afford to drive, let alone whether their driving is polluting the air their kids breathe, or whether their beaches will be safe from oil spills," said Margie Alt, Environment America executive director. "President Obama can help solve these problems by raising pollution and fuel efficiency standards to 60 miles per gallon."