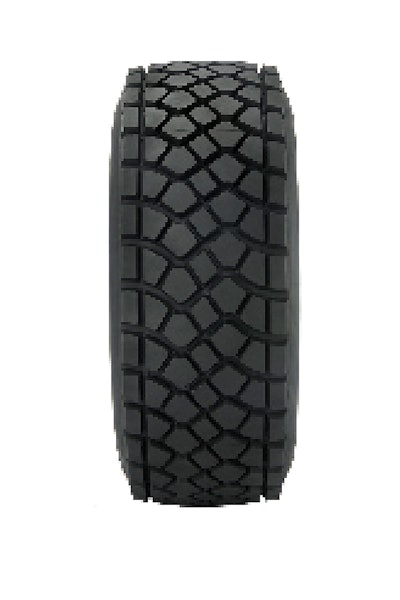 Super single for tough applications
The Goodyear all-position G278 MSD Super Single tire for tough and severe-duty on-/off-highway and vocational applications replaces the G178 Super Single and is designed for enhanced mileage due to a one-inch-larger footprint, deeper tread depth and special compounding. Available in 385, 425 and 445/65R sizes in 22.5, the G278 MSD has a rugged criss-cross tread design that enhances grip; the tire's grooved angles with full-width interlocking groove protectors help keep stones from imbedding and drilling into the tread, and special compounding helps resist cuts, chips and tears. A 30/32-inch tread depth adds to miles to removal, while deep, wide circumferential grooves with more than 500 biting edges help provide all-season traction on wet, snowy and dry roads.
Goodyear
Visit www.ccjdigital.com/info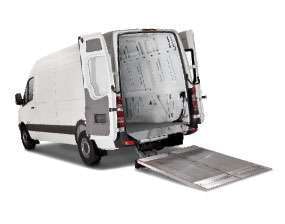 Hydraulic lift for commercial panel vans
Tommy Gate's Cantilever Series hydraulic lift is designed specifically for commercial panel vans with a focus on operator safety, aesthetics, convenience and functional reliability. The aluminum platform is corrosion-resistant and pallet-jack compatible with standard cart stops and internal bridge mounts. Lift controls are located to help enhance operator safety, and the laterally-folding platform allows access to the vehicle's rear when not in use. Bolt-on installation eliminates welding.
Tommy Gate
Visit www.ccjdigital.com/info
Snap-on's ¼-inch Square Drive Micro Cordless Impact Wrench (CT525) is suited for restricted-access areas, under-the-dash work and installation and removal of automotive interior components. The tool has an integrated soft pistol-grip handle for positive tool control, while the 55-minute battery charge time allows for longer work periods. An oversized forward/reverse cushion toggle-style trigger is designed to allow for quick toggling from forward to reverse with one-hand operation and less finger stress and strain. The impact wrench includes a 7.2V cordless screwdriver, two battery packs, a battery charger and a soft-sided case, and can be used for a range of engine applications.
Snap-on
Visit www.ccjdigital.com/info
Colson Caster's hand truck wheel bearing is suited for use in quiet, clean environments and is designed to integrate easily with the company's Performa Hand Truck wheels selection. The bearing is made of carbon steel and is sealed to keep grease in and debris out, eliminating the need for both lubrication and maintenance.
Colson Caster Corp.
Visit www.ccjdigital.com/info
Camera systems
Dometic's Waeco PerfectView RVS camera systems, available in color or black and white, use infrared LED technology to help enhance night vision and have a wide-angle lens with a large picture angle. They come with an adjustable anti-dazzle sunshield to reduce glare and have impact and vibration protection, an automatic motor-operated shutter to help protect the lens from dirt and damage and a temperature-controlled heater to help prevent condensation buildup inside the camera. The housing is anodized and powder-coated to help protect it against the elements.
The high-resolution monitors with advanced LED background illumination are designed to provide excellent picture quality even in low temperatures. They have automatic day and night brightness adjustment and ergonomic driver controls, and they operate on 12-30V DC power. The system also has built-in microphones to allow the driver to communicate with people outside the vehicle, such as a spotter providing backing assistance at a loading dock. Multiple cameras and monitors can be installed, and the driver can select which camera to view at any time.
Dometic
Visit www.ccjdigital.com/info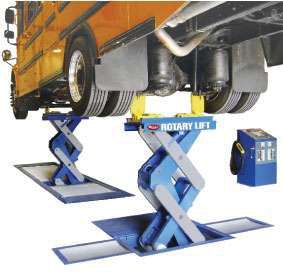 Heavy-duty inground scissor lift
Rotary Lift's EFX60 heavy-duty inground scissor lift has a 60,000-pound capacity and is designed to make lift setup and operation faster and easier with a universal-style lifting saddle with flip-up adapters. The lift is compatible with many lightweight adapters and has an infinite adapter adjustment range, enabling technicians to position adapters precisely where they're needed for proper lifting; the adapters also swivel, making it possible to pick up vehicles by either the frame or the axle. The EFX60 uses heavy, large centering links, corrosion-resistant pivot pins and reinforced cover plates, while a patented locking system adds to user safety.
Rotary Lift
Visit www.ccjdigital.com/info
Steer Tire
Michelin America Truck Tires' XZA3+ Evertread steer tire incorporates a dual-compound tread designed for improved fuel efficiency and mileage, and to meet California Air Resources Board requirements and U.S. Environmental Protection Agency SmartWay certification. The dual compounds include a tough wear-resistant compound for the five bands of tread that actually contact the road, and another one underneath that helps keep the casing cool and supports all the tread bands and also composes the shoulder rib. The two different rubber compounds are designed to work together to help provide long life and resist irregular wear while flexing more easily, helping to keep the casing cool and optimize fuel economy. A thicker damage-resistant inner liner and a robust bead that employs Michelin's rectangular bead bundle helps keep the bead stable on the rim.
Michelin America Truck Tires
Visit www.ccjdigital.com/info
E-Switch's RBW2 series illuminated panel-mount power rocker switch is sealed internally without a rubber boot or PVC cap to provide protection from dust and water, all while offering full illumination in a 22-by-30 mm panel cutout.
E-Switch
Visit www.ccjdigital.com/info
Cooling solutions
Thermo King has added two roofline application cooling solutions for smaller large-commercial van fleets – the V-520 RT for fresh applications, and the V-520 RT MAX for frozen applications. The V-520 RT units feature a low-profile condenser that measures less than 7.5 inches above the roof to minimize risk of damage. Benefits include reliable temperature management, SmartPower electric standby to help save fuel and reduce emissions, and enhanced pull-down capability to help reach set point quickly after a stop.
Thermo King also has enhanced three of its SB-30 series units for increased energy and operational efficiency and greater uptime. The upgrades to the SB-130, SB-230 and SB-330 include a proprietary fuel filtration system designed to save fuel-related maintenance expenses, a controller designed to allow data transfer via USB flash drive, and an optional ultrasonic fuel sensor designed to provide more accurate fuel readings.
The company also has introduced an electronic throttling valve for straight truck units designed to optimize energy and operational efficiency while improving product quality on delivery. The ETV enhances the company's T-Series T-600, T-800 and T-1000 single-temp truck units with scroll compressors.
Thermo King
Visit www.ccjdigital.com/info
Clore Automotive's JNC1224 jump starter from Jump-N-Carry is suited for service and fleet environments where there is a mixture of 12V and 24V starting needs and a continuous need for heavy-duty jump starting power. Powered by dual Clore Proformer batteries, the JNC1224 delivers 3,400 peak amps (850 cranking amps) in 12V mode and 1,700 peak amps (425 cranking amps) in 24V mode. Clore Proformer batteries are designed to deliver extremely high output repeatedly over a short "boost" duration without battery degradation. The JNC1224 also features a built-in automatic charger that allows the unit to charge continuously. Its Industrial Grade Hot Jaw clamps penetrate corroded battery terminals, while its No. 2 AWG cable leads deliver maximum power transfer to the disabled vehicle. A battery volt gauge provides an accurate, detailed state of charge of its onboard batteries, while its heavy-duty impact-resistant case is designed to withstand the rigors of everyday professional use.
Clore Automotive
Visit www.ccjdigital.com/info
Medium Radial Tires
Continental Tire the Americas now offers two medium radial truck tires for construction and severe-duty trucking applications. The Continental HSC1 (Heavy Steer Construction) steer tire's tread pattern and compound have self-cleaning properties and a three-groove design built to perform on loose surfaces. A wider tread and shoulder ribs help improve wear and increase performance, while a patented tread pattern and contour help reduce stone retention and improve impact resistance. The HSC1 is available in sizes 11R22.5 and 11R24.5 for load range H, with 12R sizes scheduled for introduction later this year.
The Continental HDC1 (Heavy Drive Construction) drive tire features a full 32/32-inch tread depth and a self-cleaning tread pattern. An optimized contour helps facilitate higher load capabilities with less deformation.
Continental Tire the Americas
Visit www.ccjdigital.com/info
Enviro-Fleet's line of aftermarket HVAC systems for sleeper cabs is available in under-bunk, rooftop and back-wall options. The self-sealed units eliminate refrigerant lines and require only external electrical power. Two back-wall models range from 9,400 to 13,000 Btu AC and 8,000 Btu heat. Two rooftop models have cooling capacities of 13,500 Btu and 15,000 Btu and an integrated 5,600 Btu heater. The under-bunk model provides 14,000 Btu AC and 8,000 Btu heat; a second under-bunk unit with 9,400 Btu AC is under development. All models range in weight from 80 to 140 pounds and use onboard generators and shorepower; the under-bunk unit and the smaller-capacity back-wall units can be powered by four or six AGM batteries.
Enviro-Fleet
Visit www.ccjdigital.com/info
Bully Dog's Heavy Duty WatchDog acts as a driving coach and provides instant visual and audio feedback if the driver is doing something that isn't safe or fuel-efficient. An instantaneous score ranging from A to F is displayed via a digital gauge package, depending on how well the driver is doing. The Heavy Duty WD also allows the speed limiter to be adjusted for situations when the driver enters a region where the speed limit is less than the limiter's setting; after leaving the area, the driver can use the device to restore the limiter's normal setting. The Heavy Duty WD also has the ability to read and erase trouble codes without having to visit an OEM dealer; if the trouble code is related to a major issue, the driver can determine the appropriate course of action. The device can be integrated with GearMaster technology to help the driver keep track of what gear is needed for a particular situation, helping to increase the lifespan of transmissions and synchronizers. The Heavy Duty WD presently works with Cat, Cummins and Detroit Diesel engines, with other engines – including Volvo, Mercedes, Mack, Paccar and Navistar – in development.
Bully Dog Technologies
Visit www.ccjdigital.com/info
On/off fan drive
BorgWarner's redesigned Kysor K30 on/off fan drive features lighter aluminum housing, which helps boost fuel economy and performance, and since the housing no longer requires a zinc coating, it's more environmentally friendly. Available with 2.56- or 5-inch pilot options, the fan drive is engineered to offer dynamic torque capacity, durability and reliability and features the company's Powerwedge clutch liners and Fail Safe design that allows the fan to continue to rotate even in the event of air system pressure failure.
BorgWarner
Visit www.ccjdigital.com/info
Combi Packaging Systems' SW-10 Stretchwrapper semi-automatic pallet wrapper is designed and manufactured with a manual mechanical core-braking film-tensioning system that helps simplify film threading. The easy-to-operate control panel and photo eye offer soft start and fix stop for precise control. The column is hinged and reclines for shipping. No formal installation is required.
Combi Packaging Systems
Visit www.ccjdigital.com/info
Driveshafts, axles, hubs
Dana's Spicer Diamond Series lightweight one-piece aluminum driveshafts combine steel end fittings with a single-piece high-strength aluminum tube, replacing the traditional all-steel two-piece driveshaft. The driveshafts also include Spicer Life Series and Spicer Compact Series universal joints, eliminate the center bearing and reduce part count from three joint connections to two.
Dana's Spicer Pro-40 axle family of heavy-duty 40,000-pound tandem drive axles is designed to offer fleets a reliable, lightweight axle with improved power density, which enables customers in linehaul, bulk, regional and city delivery applications to increase payload and improve fuel economy. The axle is 100 pounds lighter than the current Dana Spicer DS404.
Dana's Spicer LMSi hub system incorporates the company's LMS (Low Maintenance System) technology and updated integrated features. Benefits include improved retention clamp load for more reliable performance and reduced disassembly and installation times, reduced friction for minimized rolling resistance, and reduced heat to help maximize seal life. Spicer LMSi is designed to extend user service intervals to 500,000 miles and is available for a wide range of axle capacities for both steer and drive axles.
Dana
Visit www.ccjdigital.com/info
Esco's Brake Safe helps provide a simple, accurate method to visually check air brake stroke travel without crawling under a tractor-trailer. It is designed for easy, quick installation and is available in two universal formats; one fits all power unit steering and drive axles, while a second fits all trailer axles.
Esco
Visit www.ccjdigital.com/info
Ultra-capacitor
Maxwell Technologies' ultra-capacitor is designed to replace one or two truck batteries and help start a truck. The unit is dry, maintenance-free, saves weight and provides a line of protection against no-starts. The ultra-capacitor stores electricity on metal plates rather than through a chemical process used in batteries, making it less sensitive to cold temperatures, with only minimal degradation occurring as the temperature drops from 100 degrees to below 0. The unit has less resistance to current flow than a battery and is designed to crank the engine faster, a benefit in cold starts. The unit stores enough energy for three potent cranking cycles of about four seconds. For charging purposes, it is connected to batteries through a small cable. If the engine does not start with those three cranking cycles, the unit will be charged back up within 15 minutes by the batteries.
Maxwell Technologies
Visit www.ccjdigital.com/info