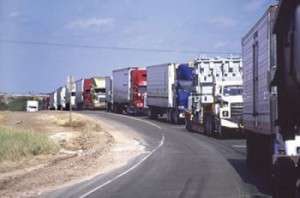 U.S. Transportation Secretary Ray LaHood and Secretaría de Comunicaciones y Transportes Dionisio Arturo Pèrez-Jàcome Friscione on Wednesday, July 6, joined in Mexico City to sign agreements resolving the long-running dispute between the United States and Mexico over long-haul cross-border trucking services.
Under the agreements, Mexican trucks will be required to comply with all Federal Motor Vehicle Safety Standards and must have electronic monitoring systems to track hours-of-service compliance. In addition, the U.S. Department of Transportation will review the complete driving record of each driver and require all drug testing samples to be analyzed in Department of Health and Human Services-certified laboratories located in the United States.
DOT also will require Mexican drivers to undergo an assessment of their ability to understand the English language and U.S. traffic signs. The new agreement also ensures that Mexico will provide reciprocal authority for U.S. carriers to engage in cross-border long-haul operations into that country.
The new program paves the way for Mexico to lift tariffs it imposed more than two years ago. Pursuant to an agreement signed by the U.S. Trade Representative and the Secretaría de Economía of the United Mexican States, Mexico soon will lift retaliatory tariffs on more than $2 billion in U.S. manufactured goods and agricultural products, providing opportunities to increase U.S. exports to Mexico and expanding job creation in the United States.
The agreement also provides that Mexico will suspend 50 percent of the retaliatory tariffs within 10 days. Mexico will suspend the remainder of the tariffs within five days of the first Mexican trucking company receiving its U.S. operating authority. As a result, Mexican tariffs that now range from 5 to 25 percent on an array of U.S. agricultural and industrial products such as apples, certain pork products and personal care products would be immediately cut in half and will disappear entirely within a few months.
"The agreements signed today are a win for roadway safety, and they are a win for trade," LaHood says. "By opening the door to long-haul trucking between the United States and Mexico, America's third-largest trading partner, we will create jobs and opportunity for our people and support economic development in both nations. I thank President Calderon and Secretary Perez-Jacome for their leadership and for their partnership as we build a safer, more prosperous future for North America and the world."
After the previous cross-border trucking program was terminated in March 2009, LaHood and other Obama administration officials met with lawmakers, safety advocates, industry representatives and others to address a broad range of concerns, which DOT took into account as it worked with Mexico to develop a new program. The final program published Wednesday, July 6, addresses the recommendations of more than 2,000 commenters to the proposal issued by the Federal Motor Carrier Safety Administration in April.
The two agreements implementing the new cross-border trucking program and the lifting of the tariffs are the Memorandum of Understanding between DOT and the Secretaría de Comunicaciones y Transportes of the United Mexican States on Cross-Border Motor Trucking; and the Agreement on Lifting of Retaliatory Measures between the Office of the United States Trade Representative of the United States of America and the Secretaría de Economía of the United Mexican States. These agreements build upon the progress announced by Presidents Obama and Calderon in early March.
To view the Federal Register notice, go to www.fmcsa.dot.gov/rules-regulations/administration/rulemakings/notices/US-MX-agreement-FR-notice.pdf. To view the MOU, go to www.fmcsa.dot.gov/documents/Mexican_MOU_Eng.pdf. To view the USTR agreement, go to http://www.fmcsa.dot.gov/documents/English-Trucking-Letter.pdf.
The American Trucking Associations said it welcomed DOT's latest attempt to address the efficiency of trucking and trade with Mexico. "By signing this historic agreement, the U.S. and Mexico have laid the groundwork for continued economic growth on both sides of the border," said Bill Graves, ATA president and chief executive officer. "ATA is encouraged that Mexico will soon be dropping its incredibly damaging tariffs, which will also spur growth in trade between our two countries. We also note that Mexican fleets participating in the program will be bound by the same rules and regulations applicable to American carriers, and we are pleased that the agreement allows for U.S. carriers to compete in Mexico."
Graves said ATA remained concerned with the expenditure of taxpayer dollars for EOBRs to monitor Mexican carriers. "However, we do appreciate the Department of Transportation's position that this financial help will be limited to the term of the pilot program and allows the U.S. to more effectively audit participating Mexican carriers," he said.
The U.S. Chamber of Commerce also expressed its approval. "If we're going to boost U.S. exports and create jobs here at home, we must hold on to our major export markets, such as Mexico, where American companies are already doing well," said Thomas Donohue, U.S. Chamber of Commerce president and CEO. "It's well past time that we complied with the promise we made nearly two decades ago that allow carefully inspected trucks to move across the border. This is a vital step toward a more efficient U.S.-Mexico border."
But Teamsters General President Jim Hoffa criticized the agreement, arguing that opening the border endangers America's highway safety, border security and warehouse and trucking jobs. Hoffa argued the program probably is illegal because it grants permanent operating authority to Mexican trucks after 18 months, while Congress has not granted DOT the legal authority to do so. He also questioned the legality of DOT's use of Highway Trust Fund dollars to pay for electronic onboard recorders for Mexican trucks.
"Opening the border to dangerous trucks at a time of high unemployment and rampant drug violence is a shameful abandonment of the DOT's duty to protect American citizens from harm and to spend American tax dollars responsibly," Hoffa says. "This so-called pilot program is a concession to multinational corporations that send jobs to Mexico. It erodes our national security. It endangers motorists. It ignores the rampant corruption among Mexican law enforcement. It lowers wages and robs jobs from hard-working American truck drivers and warehouse workers. It adds insult to injury to force U.S. taxpayers to pay for monitoring equipment on Mexican trucks so Mexican carriers can take away their jobs. The DOT shows more loyalty to the Mexican people than it does to Americans."
Hoffa says the Teamsters had urged the administration to bring a challenge against Mexico for imposing excessive tariffs on U.S. goods since the previous cross-border pilot program was shut down. "This pilot program doesn't even meet NAFTA's requirement that the Mexican government grant comparable authority to U.S. trucks,' he says. "Mexican trucks simply don't meet the same standards as U.S. trucks. Medical and physical standards for Mexican trucking firms are lower than for U.S. companies. And how can Mexico enforce highway safety laws when it can't even control drug cartels? The Bush-era pilot program was a failure that shouldn't be repeated."
The Owner-Operator Independent Drivers Association moved quickly to file a petition with the U.S. Court of Appeals for the Washington D.C. Circuit to halt the program. OOIDA also scolded LaHood for signing the agreement with Mexico without providing the public or Congress with the final details of the deal.
"If the agreement is good for the U.S., why is he sneaking down there to sign it?" says Jim Johnston, OOIDA president. "So much for their supposed transparency. Why not let the public see the details before signing the agreement? Seems like the administration is dead set on caving to Mexico's shakedown regardless of the costs to the American public and our tax coffers."