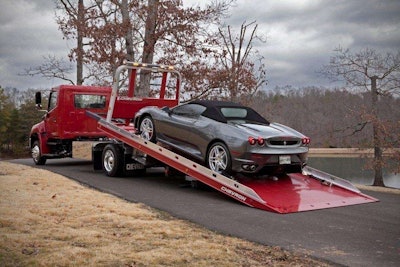 Miller Industries announced at the 2011 Florida Tow Show that custom Mac's Tie Downs will be available on a variety of different models in the Miller vehicle lineup. Mac's has created specialty versions of its famous Pro Packs ™ to suit the needs of today's toughest towing situations.
Miller, known for its Vulcan, Chevron and Century lines of tow trucks, wreckers and roll-back flatbeds, is the premier builder of high-end vehicle transporters in North America. Tasked with transporting everything from priceless sports cars and exotics to heavy equipment on and off jobsites, Miller's roll back truck customers demand the most rugged, durable and dependable commercial towing equipment available. For that very reason, Miller has chosen Mac's Custom Tie-Downs' Pro Pack System for specialty vehicle transporters – due in part to Mac's dedication to premium quality, engineering and manufacturing on-site in Sagle, Idaho.
Each Miller by Mac's Pro Pack will be designed to work specifically with Miller's various "roll back" truck models and will include Mac's Axle Straps, ratchet straps, and strap wraps to ensure that drivers are prepared for a variety of different towing situations. Mac's through-the-wheel Pro Pack uses four ratchet straps and four axle straps that have been made 40″ long to accommodate today's larger wheel and tire combinations, and are covered with 32″ padded fleece sleeves so the only surface touching the wheels is a 3/8″ foam pad covered in soft black fleece. This is the most protective strap package on the market and perfect insurance for protecting the types of vehicles Miller customers routinely transport.
"Towing a vehicle, especially larger vehicles, is one of the toughest tests you can put a tie-down through, and we know that the folks who buy trucks from Miller are buying them because they are the best quality tow trucks in the world", said Mac's founder Colin McLemore. "Tie-down equipment is like insurance for commercial truck operators – they need to know it's going to be there for them every time. If heavy duty tow trucks can rely on our product – enthusiasts transporting their "weekend car" can too."