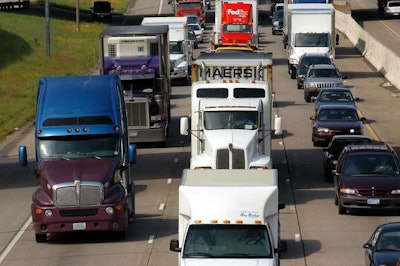 The American Trucking Associations on Tuesday, July 26, announced that its advance seasonally adjusted For-Hire Truck Tonnage Index increased 2.8 percent in June after decreasing a revised 2.0 percent in May. May's drop was slightly less than the 2.3 percent ATA previously reported.
The latest gain put the adjusted index at 115.8 in June, up from the May level of 112.6 and the highest since January. The nonseasonally adjusted index, which represents the change in tonnage actually hauled by the fleets before any seasonal adjustment, equaled 122.3 in June, which was 5.3 percent above the previous month.
Compared with June 2010, adjusted tonnage jumped 6.8 percent, the largest year-over-year gain since January. In May, the tonnage index was 3 percent above a year earlier. "Motor carriers told us that freight was strong in June, and that played out in the data as well," says Bob Costello, ATA chief economist.
Tonnage recovered all of the losses in April and May when the index contracted a total of 2.6 percent, Costello says. "After growing 5.5 percent in the first half of the year from the same period last year, the strength of truck tonnage in the second half will depend greatly on what manufacturing output does," he says. "If manufacturing continues to grow stronger than GDP, I fully expect truck freight to do the same."
ATA calculates the tonnage index based on surveys from its membership. The report includes month-to-month and year-over-year results, relevant economic comparisons and key financial indicators. The baseline year is 2000.