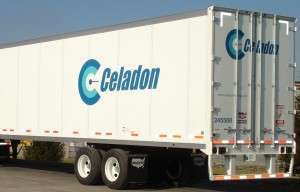 Celadon Group Inc. on Wednesday, July 27, reported its financial and operating results for the three months and fiscal year ended June 30, the fourth fiscal quarter of the company's fiscal year.
Revenue for the quarter increased 6.3 percent to $147.7 million from $139.0 million in the 2010 quarter. Freight revenue, which excludes fuel surcharges, decreased 1.2 percent to $115.3 million from $116.7 million. Net income increased to $5.5 million from $2.7 million.
For the fiscal year, revenue increased 6.3 percent to $556.7 million in 2011 from $523.5 million for the same period last year. Freight revenue increased 2.0 percent to $455.4 million from $446.4 million. Net income increased to $14.7 million from $4.7 million.
Steve Russell, chairman and chief executive officer of the Indianapolis-based company, said several key factors attributed to the improvement, including an increase of 4 percent in rates, a decrease in equipment costs and a decrease in insurance and claims, which was high in the June 2010 quarter.
"We have continued to streamline our operations to reduce the number of trailers to approximately 8,200, compared with 9,852 in the June 2010 quarter, while we have taken delivery of about 1,400 new trailers," Russell said. "We have also reduced our tractor cost partially related to gain on sale of equipment increasing to 2 cents per share compared to 1 cent per share in the June 2010 quarter."
Offsetting these improvements was a decline in miles per seated truck of about 6 percent from the prior year, most of which has been the impact of improved freight selection, Russell said.