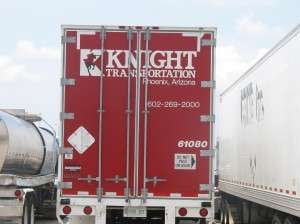 Knight Transportation Inc. on Wednesday, July 27, said total revenue for the second quarter ended June 30 increased 23.2 percent to $228.5 million from $185.4 million for the same quarter of 2010. Revenue before trucking fuel surcharge increased 17.4 percent to $182.4 million compared to $155.3 million. Net income increased to $16.4 million from $15.8 million, a 3.3 percent increase.
Year-to-date, total revenue increased 18.2 percent to $415.0 million from $351.1 million for the same period of 2010. Revenue before trucking fuel surcharge increased 12.6 percent to $332.9 million compared to $295.6 million. Net income decreased 7.0 percent to $26.2 million from $28.2 million.
The Phoenix-based company blamed escalating fuel prices for negatively impacting operating results. "The second quarter yielded positive results as we experienced strength in many of the truckload markets we serve," said Kevin Knight, chairman and chief executive officer. "Despite a difficult comparison to the robust freight market of the second quarter of 2010, we experienced year-over-year growth in revenue, revenue per mile and miles per truck. We are especially pleased with the revenue increase in our brokerage business."
On a consolidated basis, the company produced a second-quarter operating ratio – operating expenses, net of trucking fuel surcharge, as a percentage of revenue before trucking fuel surcharge – of 85.1 percent compared to 83.3 percent.
"Driver availability remains tight across the industry, but we feel well-positioned to source and develop high-quality drivers," Knight said. "Our recruiting effort is performing ahead of last year. Our training and driver development programs, such as our Squire subsidiary, continue to enable us to source additional driving associates and develop them into Knight company drivers. We also continue to evaluate strategic growth and acquisition opportunities that will enhance the returns for our shareholders over time."