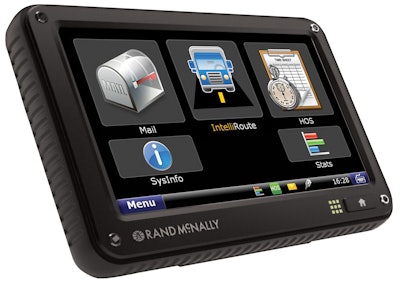 Rand McNally has developed a next-generation in-cab electronic onboard recorder (EOBR) device that combines navigation with a robust mobile communication system. The Rand McNally TND 760 Fleet Edition integrates into a truck's on-board computer and sends and receives information via both Wi-Fi and cellular. The TND 760 is designed to be set up in less than 30 minutes and does not require the installation of a separate "black box" monitoring unit like traditional mobile communication systems.
The TND 760 features a broad array of capabilities including fleet communications via email, driver and vehicle performance monitoring, electronic hours of service (HOS) compliance, and truck-specific navigation. Information on fleet activity is managed via Rand McNally's significantly enhanced FleetWatcher web-based portal.
The TND 760 is the result of the 10-month business partnership between Rand McNally and DriverTech of Salt Lake City. In September 2010, Rand McNally took an investment stake in DriverTech and acquired an exclusive license to DriverTech's technology in the trucking space. Since then the development teams at both companies have been working closely together to port DriverTech's software over to Rand McNally's hardware platform.
"This product is one of the main reasons we did the deal with DriverTech," said Dave Muscatel, CEO of Rand McNally. "We thought if we could port their software over to our hardware platform, we could create a product that leverages the best of both companies while at the same time fundamentally altering the cost paradigm in this space."