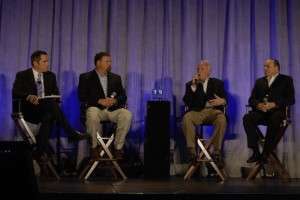 A panel of three fleet executives on Thursday, Aug. 25, discussed the changing outlook of the trucking industry and the impact of looming regulations during the Commercial Vehicle Outlook Conference in Dallas.
Issues such as Compliance Safety Accountability, electronic onboard recorders, hours of service and driver recruitment recently have garnered much attention and sparked plenty of discussion among fleets. Russell Stubbs, president and chief executive officer of FFE Transportation Services; Robert Low, president and founder of Prime Inc.; and Don Orr, president and CEO of Central Freight Lines, discussed the impact of these issues on drivers and the industry.
Low says the Federal Motor Carrier Safety Administration's CSA program ultimately will have a positive impact by increasing safety on the nation's highways. "I think the shipper now being involved and that liability exposure is a huge issue," Low says. "It is going to actually help the good carriers that can deal with it and hurt the ones – and maybe get rid of the ones – that can't."
Orr says that the "end result is going to be a safer vehicle on the highway with a better driver. I think the immediate impact is going to affect the older, more experienced driver."
The possible reduction of allowed hours of service from 11 to 10 will cause a decrease in productivity, Stubbs says. "Our drivers' hours … it's their commodity," he says. "You take one of those hours away, that's just another hour that the driver doesn't get paid. We don't get paid for our asset. Someone has to pay for it."
Low says driver response to reduced hours of service and EOBR tracking at his company has been dramatic. "They put up with some bad things out there." he says. Since drivers are already away from home for a few weeks at a time and missing birthday parties and graduations, they would just as soon be working – even working 100 hours a week for 60 hours' pay – than be limited to fewer allowable hours.
"You'd think they ought to be happy (with fewer hours)," Low says. "But, in reality, they were willing to do it."
To prevent a driver shortage such as the one in 2006, Stubbs says FFE Transportation Services has opened its own driving school, is hiring people with cleaner scores and is working to improve the quality of the job and pay while promoting brand recognition.