Market Watch
1.7 trillion reasons to worry
Inflation could change how you run your business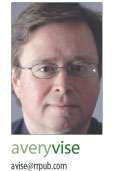 By Avery Vise
Last month, the Federal Reserve reported that the aggregate reserves of depository institutions stood at $1.7 trillion. That's a lot of money.
Before September 2008, bank reserves consistently had stood at between $42 billion and $46 billion for many years. But then the global financial system almost collapsed. The U.S. government responded by pouring hundreds of billions of dollars into banks to keep them from folding and ensure they had ample funds to keep lending and keep the economy going.
Banks were scared to death, however, and didn't want to lend to anyone who couldn't prove that they didn't need the money. And that actually was OK, because consumers and businesses generally didn't want to borrow. So banks as well as most of Corporate America have just held on to their money.
There are upsides to this situation. Once everyone decides that an economic recovery is on a sound footing, there will be plenty of capital for investing. But there's a major downside, too.
In the late 1970s and early 1980s, inflation was rampant, peaking at nearly 15 percent a year. We have seen nothing close to that since. In July, the rolling 12-month increase in the Consumer Price Index was 3.6 percent, the highest since the end of the 2008 surge in oil prices.
Inflation is tricky because there are multiple causes for it. In the late 1970s, soaring oil prices primarily were to blame. Another potential cause of inflation is a surging economy. When employment is high and wages and revenues are rising, people and businesses drive up the price of goods because they are willing to pay more. In the 1990s, the Federal Reserve fended off inflation by hiking interest rates sharply.
A third way you can get inflation is to increase the money supply. The more money that is circulating, the less that money is worth. In theory, the kind of money the Fed has been throwing around should have led to inflation. But so far, inflation remains moderate and appears to be driven this year mostly by the brief surges in oil prices in the winter and summer.
What gives? It's simple: The money isn't circulating. Normally, banks would just be holding on to about $45 billion, and the rest of the $1.7 trillion would be moving around the economy, sparking inflation. Presumably the day will come when the reserves start dropping, and that's when things could get dicey. Chances are, we will see higher inflation in the coming months or years. Let's just hope it doesn't match the levels of three decades ago.
Cash still will be king, but maybe not so much.
Inflation may force you to rethink some assumptions, starting with the bedrock principle in trucking that cash is king. A cash cushion always will be essential, of course, but when money is losing its value at the rate of 8 or 10 percent or more a year, you don't want to keep too much of it. You will want to buy things you need sooner rather than later. In the shop, for example, you might want to build inventory of parts that won't become obsolete. You might want to accelerate equipment purchases. And you just might buy that property for a new terminal now rather than wait a year or two.
Fortunately, these are manageable challenges. You don't even want to think about what high inflation could do to consumers' disposable income and, hence, their ability to buy the stuff that drives freight demand.
IN BRIEF
* FTR Associates' Trucking Conditions Index improved slightly in June compared to May.
* The Ceridian-UCLA Pulse of Commerce Index dipped 0.2 percent in July on a seasonally and workday adjusted basis, offsetting some of the relatively strong 1.0 percent gain posted in June.
* The U.S. Department of Transportation's Bureau of Transportation Statistics' Freight Transportation Services Index rose 2.6 percent in June from May after two monthly declines.
* U.S. freight railroads' carloads were down 1 percent in July compared to the same month last year, while trailers and containers were up 1.3 percent, according to the Association of American Railroads.
* Class 8 truck net orders for all major North American OEMs in July totaled 18,532 – a 12 percent drop from June and the lowest monthly total since September 2010, according to preliminary data by FTR Associates.
* Housing starts were at a seasonally adjusted annual rate of 629,000 in June – 14.6 percent higher than May and 16.7 percent higher than June 2010.
* The pace of sales of new single-family houses in June was 1 percent below the revised May rate but 1.6 percent above the June 2010 estimate.
* The Conference Board's Consumer Confidence Index improved to an index reading of 59.5 in July compared to 57.6 in June. The index is well below the three-year high of 72.0 achieved in February.
Manufacturing index barely positive in July
New orders index suggests contraction
Economic activity in the manufacturing sector expanded in July for the 24th consecutive month, but just barely, according to the latest report on manufacturing from the Institute for Supply Management. ISM's composite PMI plunged 4.4 points to 50.9 percent. The threshold between an expanding manufacturing sector and a contracting one is 50 percent.
Another near-term worry for trucking is that the new orders index — one of the PMI components — dropped 2.4 points to 49.2, meaning that orders actually are contracting. Until July, the new orders index had grown for 24 consecutive months. If the trend continues, trucking companies with freight tied to manufacturing could expect softer demand in the next few months.
Comments provided on the survey suggest that the slowdown in orders came from domestic demand and that export orders remain strong, says Bradley Holcomb, chair of ISM's Manufacturing Business Survey Committee.
ATA index climbs 2.8% in June
The American Trucking Associations ' advance seasonally adjusted For-Hire Truck Tonnage Index increased 2.8 percent in June after decreasing a revised 2.0 percent in May. May's drop was slightly less than the 2.3 percent ATA previously reported.
The latest gain put the adjusted index at 115.8 in June, up from the May level of 112.6 and the highest since January. The nonseasonally adjusted index, which represents the change in tonnage actually hauled by fleets before any seasonal adjustment, equaled 122.3 in June, which was 5.3 percent above the previous month.
Compared with June 2010, adjusted tonnage jumped 6.8 percent, the largest year-over-year gain since January. In May, the tonnage index was 3 percent above a year earlier. "Motor carriers told us that freight was strong in June, and that played out in the data as well," says Bob Costello, ATA chief economist.
Tonnage recovered all of the losses in April and May when the index contracted a total of 2.6 percent, Costello says. "After growing 5.5 percent in the first half of the year from the same period last year, the strength of truck tonnage in the second half will depend greatly on what manufacturing output does," he says. "If manufacturing continues to grow stronger than GDP, I fully expect truck freight to do the same."
Trucking job growth continues in July
Payroll employment in the trucking industry grew for the sixth straight month in July as for-hire trucking companies added 1,300 new jobs, according to preliminary estimates. Meanwhile, payroll employment for the entire U.S. economy beat analysts' expectations at 117,000 new jobs, the U.S. Department of Labor's Bureau of Labor Statistics reported.
Compared to July 2010, trucking employment is up by 43,000, or 3.5 percent. Payroll employment is up by 27,900 jobs, or 2.2 percent, in 2011 and by 56,600 jobs, or 4.6 percent, since the bottom of trucking employment in March 2010. But the number of trucking jobs – 1.283 million – remains far below the peak employment in January 2007.
The BLS numbers reflect all payroll employment in for-hire trucking, but they don't include trucking-related jobs in other industries, such as a truck driver for a private fleet. Nor do the numbers reflect the total amount of hiring since they only include new jobs, not replacements for existing positions.