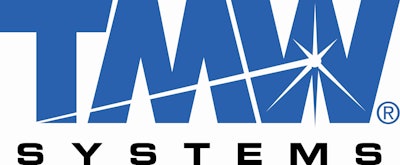 Three years ago, dedicated truckload carrier Cowan Systems opened a new brokerage division named Cowan Logistics. The division has since grown to 25 percent of the company's revenue and will likely reach 50 percent soon, a major feat considering the company operates 1,200 vehicles and has added 100 trucks this year.
One of the trends propelling the growth for Cowan Systems is tightening capacity. The capacity shortage has created new opportunities for dedicated providers and third party logistics (3pl).
"One of the hottest trends we've seen in the past two years is the growth in dedicated carrier operations," said David Wangler, chief executive of software developer TMW Systems at the company's annual TransForum user conference and exhibition held in Grapevine, Texas, Sept. 18-21. "Some of those same dedicated providers are also expanding their service offerings to include more value-added services like warehousing or even light manufacturing. They are transforming themselves into 3PLs with assets."
Cowan Systems has experienced this first hand. Recently, a customer asked the Baltimore, Md.-based company if it would consider taking over its entire logistics department. To expand its brokerage services, the company will need to invest in new technology, namely a transportation management software (TMS) system. It would like to do this within 90 days, says Dennis Morgan, chief operating officer.
The difference between brokerage and freight management or 3pl services is in the depth and breadth of services they offer. Whereas a broker is mainly concerned with quickly matching loads with carriers in a spot market, a 3PL manages all of a customer's logistics activities. To do this, 3pls use TMS systems to improve cost and service for their customers by analyzing and designing transportation networks and by coordinating shipments across multiple modes. A 3pl also is able to track key performance metrics.
In response to the industry demand for 3pls with assets, TMW Systems announced that it is developing a broad range of new TMS capabilities. TMW Systems is already the largest developer of dispatch and enterprise transportation software systems.
"I wanted to do this five years ago but it would have been hard to do," Wangler told CCJ.
In May, TMW acquired Appian Logistics, a provider of dynamic routing and scheduling software technology. The company also started adding new staff with a background in TMS software. TMW is now leveraging these additional resources to develop new TMS offerings, which it plans to deploy via the Web.
"Our new web-based TMS solutions will span the entire transportation process, from quoting and order management through optimization, planning and rating; shipment execution, order and shipment visibility, exception management, settlement, and reporting and analytics – providing you with all the crucial measurements you need to drive business improvement," Wangler told attendees.
TMW Systems also announced TMW DriverManagement, a new web-based solution for driver recruitment, validation, hiring and onboarding, that is integrated with its core enterprise transportation systems and TMW-Synergize Document Management.
The release of TMW DriverManagement addresses the immediate needs of transportation service providers to increase the hiring capacity of recruiting departments while ensuring regulatory requirements are followed and the most qualified applicants are hired, the company says.
Designed for integrated use with multiple transportation management software systems offered by TMW Systems, DriverManagement includes such features as customizable online applications, digital driver signature, recruiter workflow and notifications, automated polling of third-party background and employment checking services, mail and email merging as well as automated driver record creation.
The new product combines TMW's standard web framework platform as the basis for deploying the recruiting and employment interface to potential applicants, with the document management, repository and workflow capabilities in TMW-Synergize to automate processes.
TMW DriverManagement includes recruiting performance reports and analytics, along with a recruiting team dashboard, team KPIs and internal communications system.