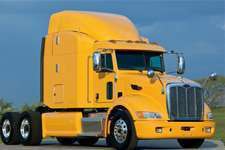 Peterbilt Motors Co. announced receiving accreditation for developing the industry's first U.S. Environmental Protection Agency SmartWay-designated alternative fuel vehicle. The SmartWay Program has recognized Peterbilt's Model 386 liquefied natural gas (LNG) truck as meeting the established fuel-saving low-emission sequipment requirements set for Class 8 trucks. The Model 386 LNG will join Peterbilt's family of SmartWay-designated vehicles that include Models 587, 386 and 384.
"Peterbilt is proud that the Model 386 LNG has been recognized as the industry's first alternative-fueled vehicle to obtain SmartWay designation," says Bill Jackson, Peterbilt general manager and Paccar vice president. "The Model 386 LNG SmartWay-designated vehicle offers optimal fuel and emissions efficiency with horsepower and torque equal to a diesel-fueled engine, making it the ultimate environmentally-sound performance solution for customers, and further demonstrates Peterbilt as an industry leader in developing innovative quality products."
Equipped with a fuel-efficient aerodynamic package, the Model 386 LNG SmartWay designated vehicle is suited for a variety of applications, including line, bulk and tanker hauling. The contoured aerodynamic package features roof fairings with trim tabs that help propel air up and over the cab and trailer, recontoured chassis fairings with a "flair" design to help push airflow around the tires and wheels, and a transition fairing positioned between the cab and detachable sleeper to help direct airflow over and around the sleeper. In addition, a composite molded sunvisor featuring a Gurney strip design is designed to transition air more efficiently over the cab while providing glare protection for drivers, and three-inch rubber mounts are fastened to the end of the sleeper to help drive airflow out and around the trailers.
"Peterbilt is always looking to achieve the next level of innovation and operating efficiency," says Landon Sproull, Peterbilt chief engineer. "Through extensive aerodynamic analysis and testing, Peterbilt engineers combined the industry-leading Model 386 aerodynamic package with the Westport GX engine to provide the most fuel-efficient performance configuration."
The alternative-fueled vehicle is powered by the EPA-certified Westport GX engine, offering up to 475 hp and 1,750 lb-ft of torque. The 15-liter engine uses high-pressure direct injection technology (HPDI), specialized cryogenic fuel tanks and associated electronic components. The technology uses a low-cost cleaner-burning fuel without compromising engine torque, power, fuel economy or drivability, in addition to reducing greenhouse gas emissions by 25 percent.