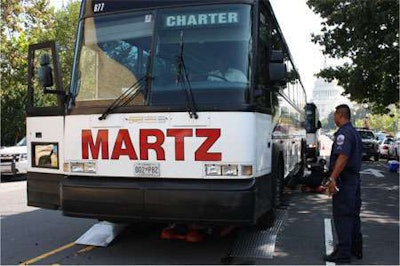 Federal, state and local police began conducting thousands of surprise safety inspections of motorcoaches, tour buses, school buses and other passenger vehicles across the country on Friday, Sept. 23, as the national Motorcoach Safety Summit, sponsored by the Federal Motor Carrier Safety Administration, kicked off in Washington, D.C.
"This summit is about preventing needless tragedies and saving lives," says U.S. Transportation Secretary Ray LaHood. "We've seen the horrific consequences when motorcoach companies do not make safety a top priority. With everyone at the table, we can achieve our shared goal of raising the safety bar for the motorcoach industry."
The strike force, launched in coordination with the summit, is part of FMCSA's nationwide Passenger Carrier Strike Force; the two-week inspection sweep will continue through Oct. 7.
FMCSA also announced that it will release a new smartphone application that will empower consumers with quick and easy access to a motorcoach company's safety record before booking a trip. The smartphone application, which will be released in November, also will allow the public to submit any safety violation to FMCSA's National Consumer Compliant Database.
During the day-long Motorcoach Safety Summit, safety leaders discussed DOT's strong intermodal approach to strengthening motorcoach safety, followed by a panel highlighting the perspectives of individuals responsible for the day-to-day safety of motorcoach passengers, vehicles and drivers. In the afternoon, summit participants focused on tough safety issues such as how to develop and train professional bus drivers, hours-of-service requirements for passenger buses and effective public outreach tools that encourage consumers to choose a safe motorcoach company.
"Today, we are sending a clear message that safety must be the driving force within the motorcoach industry," says FMCSA Administrator Anne Ferro. "With the robust feedback, ideas and partnerships developed at this summit, we will be better equipped to raise the safety bar and safety culture within the motorcoach industry. The public deserves no less."
The U.S. Department of Transportation says the Motorcoach Safety Summit builds on its ongoing efforts to strengthen motorcoach safety. Over the past five years, FMCSA has doubled the number of bus inspections and comprehensive safety reviews of the nation's estimated 4,000 passenger bus companies. Roadside motorcoach inspections have jumped nearly 100 percent, from 12,991 in 2005 to 25,705 in 2010, while compliance reviews are up 128 percent, from 457 in 2005 to 1,042 in 2010. In addition, FMCSA has initiated a greater number of enforcement cases against unsafe passenger carriers under the current administration; these cases have risen from 36 in 2008 to 44 in 2010.
DOT has asked Congress to provide FMCSA with greater authority to pursue unsafe "reincarnated" passenger carriers by establishing a uniform federal standard to help determine whether a new carrier is a reincarnation of an old, unsafe carrier. In addition, it also has requested that Congress approve a new procedure that would allow FMCSA to conduct bus safety inspections at en route locations such as rest stops, and to require new motorcoach companies to undergo a full safety audit before receiving operating authority. To ensure passenger carriers operating in violation of DOT regulations are punished, DOT has asked Congress to raise the penalty for operating illegally or without authority from $2,000 a day to $25,000 per violation.
In January 2010, FMCSA banned texting by drivers of commercial vehicles, including trucks and buses. FMCSA also has proposed a rule that would prohibit commercial drivers from reaching for, holding or dialing a cell phone while operating a CMV. Drivers who violate these restrictions would face federal civil penalties of up to $2,750 for each offense and disqualification of their commercial driver's license for multiple offenses. Additionally, states would suspend a driver's CDL after two or more violations of any state law on handheld cell phone use. FMCSA expects to issue a final rule later this year.