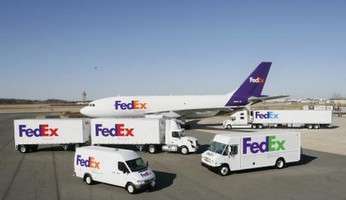 FedEx Corp. on Thursday, Sept. 22, reported first-quarter revenue of $10.52 billion, up 11 percent from $9.46 billion the previous year; operating income of $737 million, up 17 percent from $628 million last year; and net income of $464 million, up 22 percent from $380 million.
"Revenue and earnings increased significantly in the quarter due to strong FedEx Ground performance, improved FedEx Freight results and the continued success of the company's yield management actions," said Fred Smith, FedEx Corp. chairman, president and chief executive officer. "While the economic environment is challenging, we remain confident FedEx will improve earnings, margins and cash flows this fiscal year."
During the quarter, improved FedEx Ground and FedEx Freight results offset the effect of slowing global economic growth, which impacted volume levels and drove lower productivity at FedEx Express. Results also reflect wage increases, higher funding of incentive compensation programs and the reinstatement of full 401(k) company-matching contributions.
The FedEx Freight segment reported revenue of $1.33 billion, up 6 percent from $1.26 billion; and operating income of $42 million compared with an operating loss of $16 million. Less-than-truckload yield increased 11 percent primarily due to higher LTL fuel surcharges and ongoing yield management actions; LTL average daily shipments decreased 7 percent as a result of the yield management actions. Operating income in the quarter was driven by strong yield growth and efficiencies resulting from last January's combination of the FedEx Freight and FedEx National LTL operations.
"The U.S. and global economy grew at a slower rate than we anticipated during the quarter," said Alan Graf Jr., executive vice president and chief financial officer. "While FedEx Ground and FedEx Freight achieved improved operating results despite lower than expected growth, the more rapid decline in demand for FedEx Express services, particularly from Asia, outpaced our ability to reduce operating costs. We have slightly reduced our earnings forecast to reflect current business conditions and are aggressively working to adjust our cost structure to match demand levels."
FedEx Express will increase shipping rates by a net average of 3.9 percent for U.S. domestic, U.S. export and U.S. import services effective January 2. The full average rate increase of 5.9 percent will be offset partially by adjusting the fuel price threshold at which the fuel surcharge begins, reducing the fuel surcharge by two percentage points. The FedEx Ground and FedEx SmartPost pricing changes for 2012 will be announced later this year. FedEx Freight implemented a 6.75 percent general rate increase on Sept. 6.