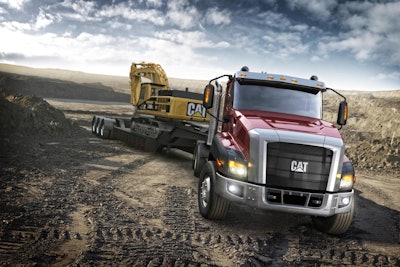 On Sept. 9, Caterpillar's internal verification process was completed, and the company gave the green light to begin CT660 vocational truck production for the North American market. George Taylor, director of Caterpillar's Global On-Highway Truck Group, says that at a high-level view, the CT660 is Cat's most intensely researched product launch ever, with a lot of time talking to Cat "yellow iron" customers to identify shortcomings they've noted in their current vocational trucks as well as new features they'd like to see incorporated into future models.
The result, Taylor says, was a chance to bring the "Caterpillar difference" to those vocational customers. "Really, the development of this truck was about a company focusing for the first time not just on the truck itself, but the application of that truck in a business," Taylor says. "Customers told us how their older trucks that interacted with the machines on their jobsites were really a weak link in their production cycle. So, leveraging our many years of mining experience, we really zeroed in on how this new truck worked with equipment and how it could help our customers make more money using our products."
Caterpillar launched the CT660 six months ago at the CONEXPO-CONAGG trade show in Las Vegas. But the trucks on hand for the premier were not road-ready. Now, in late September, Cat invited journalists from across North America to its Edwards Proving Grounds facility in Peoria, Ill., for a first chance behind the wheel of the new trucks.
It's no secret that the CT660 was developed using the Navistar WorkStar vocational truck as a starting point. And Cat trucks will offer only one make of engine: Navistar's 2010 EGR-only family of heavy-duty diesel engines, painted yellow and branded as Cat CT11 and CT13 diesels.
It's worth pointing out, however, that Cat and Navistar diesel engines share a lot of common DNA: The two companies jointly developed the high-pressure fuel injection system that helps enable Navistar engines to meet U.S. Environmental Protection Agency 2010 emissions regulations without the use of selective catalytic reduction exhaust aftertreatment systems requiring diesel exhaust fluid. Building on this strong relationship, Cat will offer the CT660 with either an 11-liter or 13-liter diesel engine, with ratings ranging from 330 to 475 horsepower.
A 15-liter option is planned in the near future with power ratings as high as 550 horsepower, although Gary Blood, vocational truck product manager for Cat, says the current 475-horsepower CT13 engine mated with Cat's CX31 automated manual transmission delivers power on par with a 15 liter. The CX31 weighs 100 pounds more than the standard Eaton 10-speed manual gearbox offered in the CT660, but Blood says it delivers up to an 8-percent boost in fuel economy and offers three exclusive rear PTO options for mixers and other applications.
Although there was some scoffing when Cat announced it was entering the on-highway truck market using the WorkStar as a "donor" truck ("Caternational" was a particularly derisive term for the new vehicle), it is abundantly clear climbing into the cab for the first time that Cat isn't kidding when they say they redesigned the cab both inside and out with a strong emphasis on driver ergonomics. When Blood is asked how much the CT660 had in common with a WorkStar, he notes with the exception of "a couple of components" that the CT660 is all-new from the frame rails up.
Particular attention was paid to the vehicle's Buzz, Squeak and Rattle, or BSR factor, during the design phase, Blood adds. Those efforts have yielded impressive results. Climb into the cab and settle behind the wheel of a CT660, and you'll find nothing in common with an International WorkStar. The entire cab – from the dash, instrument layout, exterior views and storage space to seat placement – is all new. Interior trim, highlighted by brushed aluminum highlights on a black background, reinforces the image that you're driving a vocational truck.
Cat has learned a lot about operator comfort and ergonomics during the years, and that knowledge is put to good use here in terms of control placement and access. The speedometer and tach are centered right in front of the driver on a single, large gauge. And the lighting scheme for all dials, switches and gauges is sharp, vibrant and easy-to-read with just a sweep of your eyes.
Even more impressive is the sound dampening in the CT660 cab. Blood says this was another high-priority area for Cat during the truck's development phase. Vehicle engineers went on their sound-dampening mission with such zeal, he reports, that the final-production vehicle actually exceeds the initial target in-cab sound level by 3 DBI. That extra effort is readily apparent when you put the CT660 in gear and take off down the road: It's easily one of the quietest trucks I've ever driven. It's also one of the smoothest: Keeping drivers safe, comfortable and productive even in harsh offroad driving conditions was another key effort by Cat's vehicle design group, even though the truck has a set-back front axle.
"Every possible factor was considered to improve driver comfort and productivity," Blood adds. "Our use of a quieter compacted graphite iron engine block, premium interior materials with robust Henrickson and Chalmers suspensions and multiple seating options gives us a truck that is not punishing to a driver and isn't going to throw his head all over the cab when he's driving in tough offroad conditions."
On the road, the CT660 continues to impress. Acceleration with the 475-horsepower CT13 under the hood was peppy, and the CX31 provided smooth shifts right on cue. Equally impressive are the truck's wheel cuts and turning radius. Exterior views from the driver's seat are outstanding, and cab entry and egress is safe and easy thanks to thoughtfully placed, robust grab-handles.
It might be a stretch to call the CT660 a full-blooded Cat truck. But it's clear this isn't a mere rebranding job on Cat's part. All in all, Cat has done a remarkable job taking a "donor truck" and recasting it into a vehicle that fits nicely into the company's overall product line. Moreover, the CT660 draws on Caterpillar's century-plus construction heritage and enters the North American market driving, looking and feeling just like a full-blooded Cat truck.