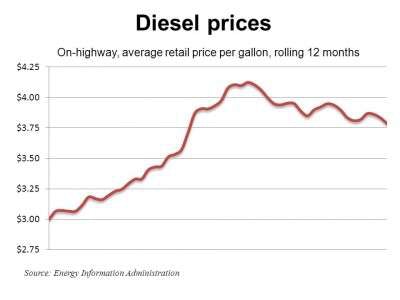 The U.S. average price of a gallon of diesel fuel retreated for the third straight week during the week ended Monday, Sept. 26, falling 4.7 cents to $3.786, according to the U.S. Department of Energy's Energy Information Administration. That price is 83.5 cents higher than the same week last year.
Prices fell in every region. The biggest decrease, 6.1 cents, was in the Midwest, where prices fell to $3.738. The smallest decreases, 2 cents, were in New England and the West Coast, where prices fell to $3.963 and 3.957, respectively.
The nation's most expensive diesel was in California, where prices fell 2.3 cents this week to $4.039. California remains the only region in the country where the average retail price is above $4. The least expensive diesel was in the Gulf Coast region, where prices fell 3.5 cents to $3.73.
Complete diesel price information is available on EIA's Website.