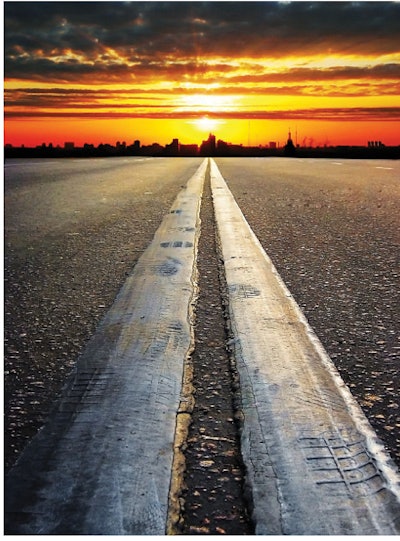 Special Report: The Future of Freight
High diesel prices, evolving lanes likely to affect equipment choices
Experts say that trucks in the future will be larger, cleaner, greener, safer and more technologically advanced than even the most far-fetched concept truck on display today. Integrated aerodynamics will be a way of life. Alternative fuels will be used daily.
Experts agree that these changes are coming. The only disagreement seems to be how fast they will occur.
Micro trucks and alt-fuels
The most immediate factor driving commercial vehicle change is the price of fuel. "Our quest for infinite growth is now starting to clash with the fact that oil is a finite resource," says Sandeep Kar, global director, commercial vehicle research for Frost & Sullivan, a research group.
"When North America and Europe bounce back and the economy picks up, you can very well imagine what's going to happen to oil prices," Kar says.
Continually rising oil prices will affect equipment and vehicle spec'ing in a variety of ways. Kar doesn't feel that these changes will affect long-haul over-the-road fleets as dramatically as medium- and light-duty truck fleets.
In a world of escalating fuel prices, the advent of larger trucks flies in the face of conventional wisdom. More logical is a migration to medium- and light-duty commercial vehicles for fleets engaged in pickup-and-delivery applications in increasingly compact urban "mega-cities."
Some fleets currently engaged strictly in long-haul or regional hauls may branch out into urban delivery to meet the needs of their customers because of the development of "ring cities" – urban centers typically arranged in three ringed zones that grow increasingly congested further into them.
In this scenario, mega-trucks would deliver containers to warehouses located in the outer ring. Goods then would be transported to their final destination in the city by increasingly smaller trucks – down to "mini-trucks" that serve crowded downtown areas.
"This is already happening," says Kar, pointing to Ford with its Transit Connect van and Fiat, which soon will bring its small Doblo van to North America branded as a Ram Truck.
When it comes to freight, the United States is out of sync with the rest of the world.
The uncertain economy also is affecting fleets' equipment choices. "American fleets want to save their money now," Kar says. "They are realizing – slowly but surely – that a lot of money can be saved by mitigating fuel expenses that can be curtailed very easily by choosing the right vehicle for the right application. So you have medium-duty fleets asking why they need a big van with a large, powerful engine when they can use a smaller, more maneuverable vehicle that is cheaper to purchase and operate."
Another push to counter rising oil prices has been an enhanced focus on alternative-fuel vehicles. Forward-thinking fleets already are experimenting with a wide range of new powertrains and fuels to either boost the efficiencies of internal combustion engines or bypass them altogether.
"If you go back to 2007 when fuel prices first jumped up, there were a lot of shipping companies that for the first time had to go into their boardrooms and talk about fuel – which they never had to do before," says Jack Holmes, UPS Freight president. As profits started to fall, major shippers started to evaluate many factors on the expense side, and finding a cheaper way to power vehicles became a priority.
UPS has been experimenting with alternative-fuel vehicles continually for nearly 70 years. "We have driven now over 200 million miles in alternative-fuel vehicles," says Holmes. "We're trying everything." For its short-haul local networks, UPS is researching plug-in electric and hybrid vehicles. For its long-haul routes, "LNG is really the only thing we can find that makes sense so far."
The Atlanta-based company's "Rolling Laboratory" group works on these and other strategies full time to study fuel usage, vehicle type and miles driven to determine the best combination for efficiency.
Is bigger better?
At FedEx Freight, Class 8 tractor-trailers remain the most efficient means available to meet customers' needs, regardless of the price of fuel or other issues. Nevertheless, "we will continually look at every opportunity we have from a fuel-efficiency standpoint as well as improvements in torque and horsepower in smaller engines in order to continue to do the job we need that power unit to do," says John Smith, vice president of fleet maintenance and facility services.
FedEx's LTL business is a 100 percent day cab operation with a relay system – a strategy that increasingly is being looked at by traditional long-haul fleets finding their old business model jeopardized by rising fuel costs and unpredictable price spikes.
Refrigerated carrier Marten Transport, an early adopter and leader in intermodal logistics, has seen many of its customers move to regional business models as a way to control logistics costs – and has been investigating day cab tractors as a result.
"You have to define 'regional' a little bit here," says David Meyer, senior director of maintenance for the Mondovi, Wis.-based company. While many people think that regional is a short length of haul, "regional" to Marten is defined as 600 to 700 miles away from one of the carrier's 12 terminals.
"They can go out and not be back in that terminal for a week," Meyer says. "We've looked at smaller sleepers and tested some out, but we're still basically spec'ing out the bigger cabs for our drivers. The reality is that customers are also looking for ways to decrease their costs – and loading more on every trailer is the best way we know to do that for them."
Daimler Trucks North America is keeping a close watch on pilot programs across the country involving 97,000-pound gross vehicle weight vehicles. "That's really evolving around freight efficiency – trying to get more tonnage moved with less fuel and fewer CO2 emissions," says David Hames, Freightliner Trucks' general manager of marketing and strategy. "We certainly see that as an approach that has potential."
At the same time, fleets are trying to get more out of their current vehicle configurations. "Fleets are pushing their GVW limits more and more," Hames says. "Weight issues are becoming a factor – not just for bulk haulers and reefer carriers, but for dry van carriers on down."
DTNA also sees a trend toward regional trucks. "Many long-haul fleets we're talking to don't see their core businesses changing much in the short term," Hames says. "However, more of them are branching out into intermodal or regional-type hauls. We're seeing the rise of more 13-liter applications."
In a rapidly changing freight environment, fleets "need the ability to take the truck and do multiple tasks over the lifecycle of the truck," says Jim Hebe, executive vice president of sales and marketing for Navistar. "From running a long-haul single operation to running dedicated in a regional haul or running a short-haul operation, flexibility is what everyone is looking for. They're truly looking at weight, probably more so than I've seen since the '80s."
Count UPS Freight among the many fleets keeping an eye on potential size-and-weight regulations and looking for ways to become more productive. "There are many configurations that have been talked about, whether it's triples, Rocky Mountain doubles or twin 33's," says Holmes. "There are a lot of different ways to approach this, whether it's state by state or a federal mandate." Given the cost of fuel, decreasing highway infrastructure dollars and highway congestion, "anything you can do to make trucks more productive and get trucks off the highway would seem to me to be a no-brainer."
Kar agrees and also says that as fuel prices rise, the push for larger GVWRs in Class 8 long-haul applications will become stronger. He also says other global factors dictating larger trucks soon will come into play. "We will see more mega-trucks in North America," Kar says. "GVWRs in our two NAFTA trading partners – Mexico and Canada – are already higher, and the same holds true for Asia and Europe. So when a container full of material comes into North America, we are wasting too much time, energy and money in transporting that to the inner United States because of lower GVWR limits."
When freight transfers from ship to rail to truck, it often has to be placed in a different transport container, which wastes time, money and labor, Kar says. "Why would you do all that when you can simply transport the goods in a single container in all three mediums? The truck is the weakest link in making that a reality because we have GVWR limits here."
At the same time, the driver shortage and fuel prices both are pushing long-haul fleets to maximize loads. "Instead of using two trucks, it just makes more sense to use one truck moving more freight per trip," Kar says. "It's just more viable and economical."
Other macroeconomic factors also are involved. "You cannot compete globally with countries like China and those in Western Europe if you do not have a transportation network infrastructure that is harmonized with other parts of the world," he says. "Right now, we are out of sync. We have to understand that and adjust."
The makeup of future fleets will be driven by a combination of demographics, market forces and government regulations – like the Obama administration's mandate for 20-percent better fuel economy in five years.
"Embracing new technologies alongside smart government policies and business strategies will be the key" to meeting these challenges, Kar says. "That's what Americans did in the 1950s and 1960s, and if we do the same again, this country will reap the rewards of those strategies for the next 30 years."
Short Stuff
The average length of haul has been on the decline for a number of years. and the trend continues today. The trend toward regionalized freight distribution networks and escalating fuel prices have the potential to impact the way fleets spec equipment.
Total Truckload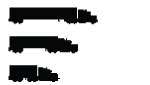 629 Miles
556 Miles
479 Miles
Dry Van Truck Load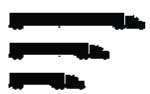 807 Miles
688 Miles
479 Miles
War rooms and prognosticating trucks
When looking at trucks through a crystal ball in an age of shifting freight patterns, the final piece of the picture is vehicle telematics.
While systems such as GM's OnStar first came to prominence on consumer automobiles, they blossom in a trucking environment where their necessity in a world of congestion, high fuel prices and just-in-time delivery is the new reality.
Telematics' acceptance has reached the point that another potential technology, prognostics – where a truck monitors its own drivetrain health, identifies a looming maintenance issue and alerts the fleet manager before the actual failure occurs – is increasingly in demand. In fact, about 50 percent of fleet managers polled by Frost & Sullivan said they would pay for it.
By using telematics, UPS ran 77.3 million more miles in 2009 than in 2000, while burning 3.2 million fewer gallons of fuel.
"That's remarkable considering that prognostication technology is purely theoretical at this time," says Sandeep Kar, global director, commercial vehicle research.
At UPS, telematics and fleet management software have played a major role in cutting operating costs – more so than any changes on the equipment side of the equation. A delivery planning software and telematics system takes all the information pertaining to a shipment and allows the company to optimize every aspect with an unerring eye on maximizing efficiency – and profit.
"Fleets tend to overlook the software technology that is out there today to help you manage your routes so that you reduce fuel consumption," says Jack Holmes, UPS Freight president.
Holmes uses an example of a shipper sending a package from Philadelphia to Los Angeles. "As soon as they go online and give us an EDI transmission, that data is captured, and we start building the route a couple of days ahead of time in Los Angeles for when that driver eventually delivers the package," he says. "That software has been able to help us greatly reduce the number of miles that our drivers take to deliver the routes."
In 2009, UPS ran 77.3 million more miles than in 2000 – the year the company first began using the telematics and fleet management system – while burning 3.2 million gallons less fuel. "That holds true even considering that we'd grown considerably in size during that same time period," Holmes says.
In the near future at major fleets nationwide, Kar envisions operations centers that resemble war rooms. Telematics will provide fleets with a constant flow of vital real-time information where specialists will assist drivers and technicians with every aspect of truck operation: Maintenance, roadside emergencies, traffic analysis, routing choices and load pickup-and-delivery optimization all will happen in real time with an eye toward efficient and profitable operations.
The seeds of that reality already exist at Marten Transport, which uses telematics to manage everything from hours of service to temperatures on intermodal rail shipments. "It's a peace-of-mind issue for our customers," says David Meyer, senior director of maintenance. "We know what is happening with their cargo wherever it is in the country, no matter if it's hooked to a Marten tractor or not."