Leading news, trucking market conditions and industry analysis
NTSB calls for comprehensive mobile phone ban for drivers
Recommendation calls for banning handheld, hands-free use of cell phones
Following the investigation of a 2010 Kentucky crash that killed 11 people likely caused from the use of a mobile phone by the driver of an 18-wheel semi-truck, the National Transportation Safety Board last month issued 15 new recommendations, including one to the Federal Motor Carrier Safety Administration to "prohibit the use of both handheld and hands-free cellular telephones by all commercial driver's license holders while driving in commercial operations, except in emergencies."
"Distracted driving is becoming increasingly prevalent, exacerbating the danger we encounter daily on our roadways," said NTSB Chairman Deborah Hersman. "It can be especially lethal when the distracted driver is at the wheel of a vehicle that weighs 40 tons and travels at highway speeds."
The National Safety Council voiced strong support for NTSB's recommendation for a total ban on cell phone use while driving – an action NSC called for in 2009. "Research shows no safety benefit from hands-free devices," said Janet Froetscher, NSC president and chief executive officer. "The distraction to the brain from cell phone use can cause drivers to miss seeing up to 50 percent of their driving environment. The NTSB recommendation is a significant step in recognizing these dangers on a national scale."
Using contracted 2009 research from the Virginia Tech Transportation Institute to support its safety initiatives, FMCSA last year banned truck drivers from text messaging while driving. Last December, the agency also issued a proposed rule that would prohibit interstate commercial truck and bus drivers from reaching for, dialing or holding handheld cell phones while operating a commercial motor vehicle in interstate commerce.
In that same proposal, however, FMCSA recommended that hands-free mobile phones be allowed "as long as it does not require the driver to reach for, dial, or hold a mobile telephone." The VTTI study showed no correlation between talking on a phone (handheld or hands-free) and increased odds of a crash or safety-critical event.
Whether or not FMCSA takes the NTSB recommendation under consideration, the American Trucking Associations stands by its assertion that FMCSA continue to allow hands-free cell phone use "because the most compelling and reliable research in the area shows that hands-free use does not elevate crash risk and perhaps even reduces it."
NTSB's other points support long-held positions of ATA. "We've been strong supporters of strategies to increase seatbelt use on our roads, bolstering federal oversight of new trucking companies and of CSA, the safety monitoring system that if fully in place may have identified the company involved in this particular crash as a safety risk in a more timely fashion," said Bill Graves, ATA president and CEO. "The NTSB identified all of these factors as being involved in this crash, and ATA has identified them all as important safety items for policy makers to consider." – Jeff Crissey
Appeals court vacates EOBR regulation
A federal appeals court on Aug. 26 vacated the Federal Motor Carrier Safety Administration's electronic onboard recorder regulation for not addressing how the rule could prevent the devices from being used to harass drivers.
A three-judge panel for the U.S. Court of Appeals for the Seventh Circuit concluded that "the rule cannot stand because the agency failed to consider an issue that it was statutorily required to address." The Truck and Bus Safety and Regulatory Reform Act of 1988 "requires the agency to ensure that any such device is not used to 'harass vehicle operators.' "
The Owner-Operator Independent Drivers Association appealed FMCSA's April 5, 2010 rule last year. That regulation required EOBRs by a carrier that has a greater than 10 percent rate of noncompliance with hours-of-service rules in any single compliance review.
An agency official said she is reviewing the court's decision and that FMCSA "is committed to raising the bar for commercial truck and bus safety."
For more on the industry's response to the decision, see Viewpoint on page 25.
– Jill Dunn
NEWS BRIEFS 10/11
The Federal Motor Carrier Safety Administration extended the date to eliminate use of the "registrant-only" U.S. Department of Transportation number by non-motor carrier registrants by one year until Sept. 1, 2012. The extension will allow the agency to provide additional implementation guidance based on feedback and will allow states and other stakeholders to make necessary changes.
FMCSA ruled that the Port Authority of New York and New Jersey's voluntary Drayage Truck Registry sticker display program is not preempted by federal law, denying the New Jersey Motor Truck Association's petition.
An Arizona Supreme Court ruling concluded that truckers working for Swift Corp. who claim the company uses a database that shorts drivers for mileage may take their case to trial. Phoenix-based Swift had no comment.
The California Air Resources Board fined IVVE Transportation $59,050 for using high-polluting vehicles that were not compliant with CARB's Drayage Truck Regulation. The Ontario, Calif.-based company also agreed to cease operating noncompliant vehicles.
XPO Logistics Inc., formerly known as Express-1 Expedited Solutions, completed an equity investment in which Jacobs Private Equity and minority co-investors invested $150 million in the Buchanan, Mich.-based company.
Heartland Express chief executive officer and board chairman Russell Gerdin, 70, retired due to health reasons. He will continue as chairman emeritus of the North Liberty, Iowa-based company. Michael Gerdin, 41, previously president and director, was named CEO and chairman.
STUDY: MORE INVOLVEMENT, MORE RISK
Below are the odds ratios of a commercial tractor-trailer/tanker driver being involved in a crash or safety-critical event by activity, according to 2009 research by the Virginia Tech Transportation Institute. The study found that conversation on a hands-free device decreases the crash risk, although other actions commonly associated with the task typically increase crash risk.
Talking/listening on hands-free cell phone – 0.58
Talking/listening on handheld cell phone – 1.01
Any cell phone use – 1.08
Reaching for headset/earpiece – 4.43
Dialing cell phone – 5.44
Texting/e-mailing/Internet – 163.6 (across all vehicles)
Federal highway spending extended again

Congress last month approved legislation that extended taxes funding federal highway spending through March and the Federal Aviation Administration through January. The bill (H.R. 2887) resulted from an agreement between House and Senate leaders and was seen as a high priority because both federal highway and FAA funding was due to expire.
The American Association of State Highway and Transportation Officials applauded the legislation. "This extension will allow state DOTs to continue to deliver jobs for our nation's economy while maintaining the funding continuity needed to operate and maintain a national transportation system," said John Horsley, AASHTO executive director.
Rep. John Mica (R-Fla.), who introduced the bill, described its passage as "a positive step for the country that the Congress has passed this historic combination of extensions, which is important for job creation and our nation's infrastructure. I challenge House and Senate leaders to continue to work toward long-overdue solutions that address our transportation needs."
The American Trucking Associations said that while a jobs proposal announced last month by President Obama could boost employment temporarily, it doesn't solve the real problem. "For almost two years, we've been playing the dangerous game of passing extension after extension, casting doubt on our ability to undertake significant projects," said Bill Graves, ATA president and CEO. "If the president wants to foster job creation through infrastructure spending, he should demand Congress pass a well-funded multiyear bill with a focus on core highway programs that address critical regional and national transportation needs."
ATA to OMB:
Hours proposal an unnecessary burden
In a letter to Cass Sunstein, administrator of the Office of Information and Regulatory Affairs at the Office of Management and Budget, the American Trucking Associations urged the Obama administration to live up to its promise to relieve the burden of unnecessary regulations as it considers changes to the hours-of-service rules.
"Late last year, DOT's Federal Motor Carrier Safety Administration proposed costly changes to truck drivers' hours-of-service rules which, if finalized, would result in reduced wages for hundreds of thousands of drivers, significant administrative and efficiency costs for trucking companies, and most importantly, billions of dollars in lost productivity," wrote Dave Osiecki, ATA senior vice president of policy and regulatory affairs. "These inefficiencies and costs would deal a serious and sustained blow to the huge 'tangible goods' economy that trucking supports, affecting not only shippers of freight, but consumers."
Under the current proposal, FMCSA is, among other changes, considering whether to reduce the daily driving limit from 11 hours to 10 hours and has proposed to limit the 34-hour restart provision by requiring that it include two periods from midnight to 6 a.m. and limiting its use to once per week. FMCSA's final rule is due Oct. 28.
FMCSA still working on Mexico cross-border program
U.S. transportation officials are working to meet a federal audit's requirements before restarting the cross-border trucking program with Mexico. The U.S. Office of Inspector General's Aug. 19 audit of the Federal Motor Carrier Safety Administration's pilot program released last month reports the agency has adequate border inspections but that more action is necessary to meet U.S. regulations and standards.
Federal law requires OIG report to Congress on the program and that FMCSA address the office's concerns before Mexican trucks begin crossing the border. FMCSA's Aug. 10 response to the report noted action or plans to satisfy the audit's requirements before the end of September, when the report was expected to be sent to Congress.
OIG audited the program from April to July. U.S. and Mexican officials signed a memorandum of understanding July 6 to settle the long-haul cross–border trucking dispute between the two nations. Two days later, FMCSA published a Federal Register notice of intent to proceed with the program.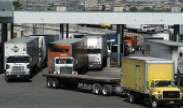 FMCSA has begun soliciting proposals for electronic monitoring devices and tracking service it will require for Mexican trucks participating in the program for three years. In April, it had estimated the total cost at $2.5 million, but OIG puts that price at $3.2 million. Although the agency will retain ownership, its plans to fund these devices have drawn criticism from legislators, lobbyists, advocacy groups and unions.
In June, FMCSA officials told OIG they will comply with the law for conducting Pre-Authority Safety Audits and compliance reviews, but had not developed plans and safeguards for conducting PASAs in Mexico.
In late spring, FMCSA had told OIG officials it did not plan to conduct reviews in Mexico due to "safety concerns," but OIG did not provide further information on these concerns. FMCSA stated in July and August that it had published a PASA policy memorandum, trained staff on new PASA policies and was finalizing plans on how it will conduct PASAs and compliance reviews. The agency also reviewed field staff procedure "when traveling to Mexico for conducting PASA and compliance reviews and will comply with all the legal requirements for conducting reviews in Mexico."
– Jill Dunn
2011 GATS draws larger, more diverse audience

The 2011 Great American Trucking Show and other events surrounding it enjoyed more attendees with proven buying power and from more industry segments than ever before. With registration of 48,219, attendance was among the best and most diverse in the show's 13-year history.
"Our focus over the last few years on creating segment-specific programs is attracting new audiences to Dallas, including more dealers, private and for-hire fleets and suppliers," says Alan Sims, vice president/executive director, Randall-Reilly Events. "GATS has always attracted small and medium fleets, owner-operators and company drivers. The difference is now we are garnering support from the entire supply chain."
Exhibit space was up 22 percent over 2010 with almost 500 exhibiting companies and all major truck and trailer brands represented. The show also enjoyed greater participation from external groups that held meetings before or concurrently with GATS, including the American Truck Dealers, National Trailer Dealers Association, Truckload Carriers Association, Texas Motor Transportation Association, Avondale Partners and the Heavy Duty Manufacturers Association.
The second annual Commercial Vehicle Outlook Conference attracted more than 350 industry leaders from all segments of trucking to enjoy expert presentations, panel discussions and numerous networking opportunities during two half-days immediately prior to the opening of GATS. For-hire and private carriers represented at CVOC own and operate more than $8 billion in trucks and trailers. The event was produced by Randall-Reilly Business Media & Information and the Heavy Duty Manufacturers Association.
Next year's GATS will be held Aug. 23-25 at the Dallas Convention Center, and all of the events and conferences surrounding it will fall under the umbrella Intersection 2012, an all-encompassing convention developed to attract even more participants from all segments of the industry, including on-highway and vocational fleet executives, owner-operators, drivers, dealers, OEMs, suppliers and associations.
"We believe Intersection 2012 will benefit exhibitors and attendees by enabling them to maximize their networking, educational and buying/selling opportunities," says Jeff Mason, Randall-Reilly senior vice president, trucking.

FUEL SAVVY
Obama's jobs plan will require clean diesel, DTF says
The expansion of new construction programs for U.S. schools, roads, bridges and buildings in the American Jobs Act outlined by President Obama will require the efficient power provided by clean diesel engines and equipment, the Diesel Technology Forum said last month. Obama said his $447 billion jobs plan would include investments in road and highway construction.
"All of the construction and infrastructure projects outlined by President Obama could begin immediately thanks to the power, reliability and efficiency of America's clean diesel engines and equipment," says Allen Schaeffer, DTF executive director. "After more than a decade of research and development, and billions in investments in cleaner fuels, advanced engines and emissions controls, the new generation of diesel technology is now at the forefront of the cleanest and most energy-efficient technologies available."
Schaeffer says America's diesel manufacturers are ready and able to meet the challenge to rebuild the nation. "Diesel engines and equipment have been the technology of choice for building and expanding America's infrastructure for decades, and we have state-of-the-art equipment available right now to accomplish this ambitious national proposal," he says. "And these can be green construction projects as well, thanks to the new generation (Tier 4) of clean diesel technology machines and equipment, the ultra-low-sulfur diesel fuels and the use of advanced emissions controls. The use of high-quality renewable and biodiesel fuels adds yet another green component."
Schaeffer says 94 percent of all global trade today is powered by diesel engines. "The entire global trade network relies on diesel trucks, ships, railroads and vehicles to survive and grow," he says. "In the United States, over 95 percent of commercial trucks are diesel-powered. Virtually everything sold in America gets to market by diesel trucks. From earthmoving to e-commerce, clean diesel power enables the efficient movement of goods and people and the building of our homes, schools and infrastructure. And more than two-thirds of all construction, mining and farm equipment are powered by diesel."