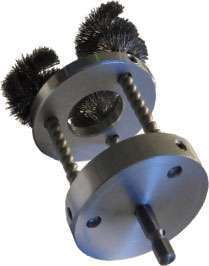 Wheel stud cleaning brush
Tru-Balance's X-2511-SB Heavy Duty Stud Brush features an open design for cleaning wheel studs in minutes with one pass without reverse rotation. The independent brushes are made from stainless steel and can be rotated as needed for added brush life; one brush can be removed for using the tool with a drill to clean wheel holes. The brush collar is designed for proper stability, positioning and performance. The hex drive can be used with a cordless drill or air tool.
➡ Tru-Balance
Visit www.ccjdigital.com/info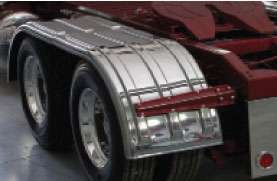 Chrome poly fenders
Minimizer's chrome poly fenders are designed with the gleam of traditional chrome metal but with the company's poly features and durability for less maintenance while lowering the potential for damage and bending. The fenders won't fade, rust or crack and don't require painting.
➡ Minimizer
Visit www.ccjdigital.com/info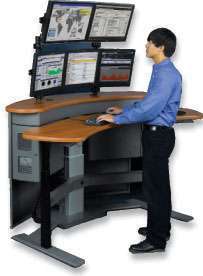 Free-standing console
Eaton's Profile Genesys is a free-standing height-adjustable modular command and control center workstation and is an addition to Eaton's Profile Advanced Console System. Profile Genesys also can be integrated into the existing six-inch steel core walls of the Profile console platform. The monitor deck and keyboard work surface can be controlled individually via a compact LED touchpad that offers up to three memory positions. Its ergonomic, standalone design fits most concave, convex or other configurations. The workstation incorporates a sit-to-stand option, and its architecture provides technology storage, power and cable management capabilities.
➡ Eaton
Visit http://www.www.ccjdigital.com/info
CB radio microphone system
Cobra Electronics' remote CB microphone system is designed for safe and convenient remote operation of most standard 4-pin CBs. The system includes an ergonomic headset with retractable cord, a boom microphone featuring noise canceling technology and a push-to-talk button. The PTT unit, designed for easy installation, affixes to the gear shift lever, while the headset and boom microphone can be placed either on the driver's head or around the neck.
➡ Cobra Electronics
Visit www.ccjdigital.com/info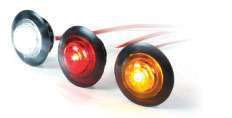 Clearance/marker lamps
Grote Industries' MicroNova Dot family of clearance/marker lamps offer dual-intensity capabilities designed to resist dimming thanks to a rectifier diode that protects their LEDs. The lamps come in red, amber or white and are available in P2- and PC-rated versions that allow them to meet the photometric requirements for a broad spectrum of applications. The P2 designation means that the MicroNova Dot can be used as either a sidemarker lamp or a clearance lamp, but not both at the same time. The PC designation means the lamp will meet light angularity requirements for both the clearance and sidemarker lamps simultaneously. The white version is suited for access, stairs and compartment lighting. The lamps, which come in 12V or 24V ECE-rated models, require no mounting fasteners and have a profile that extends 3/8-inch from the mounting surface. An optional adapter allows the lamps to function in a dual-intensity mode for applications such as high-mount center lamp configurations.
➡ Grote Industries
Visit www.ccjdigital.com/info
Tarp ties
Kinedyne's line of Pro-Grade tarp ties is designed to deliver added strength, durability and toughness regardless of workload, weather or environmental factors:
• The Polar Natural Rubber tarp tie with a blue logo is designed to withstand frigid temperatures and severe winter weather conditions;
• The Tiger EPDM Rubber tarp tie (synthetic) with an orange logo is designed to withstand day-to-day environmental exposure to heat in warmer climates; and
• Both Polar and Tiger tarp ties are available in industry-standard sizes, including 9-, 15-, 21-, 31- and 41-inch lengths. Options include removable S-hooks and a crimped S-hook style.
➡ Kinedyne
Visit www.ccjdigital.com/info
Quiet tool

Ingersoll Rand has expanded its Max family of air tools with the 2145QiMax Impactool, which features the company's Quiet Technology designed to reduce noise levels. The tool weighs 7.4 pounds and delivers 1,350 ft.-lb. of maximum reverse torque due to its seven-vane air motor. The tool also features a four-position power regulator dial, a feather-touch trigger and a one-hand forward/reverse mechanism. The tool's twin hammer mechanism features proprietary metallurgy designed for increased performance and longer tool life, as well as a steel wear plate designed for extreme wear resistance. An inlet prescreen designed for easy cleaning helps capture debris, while the tool's grease fitting is engineered for easier maintenance.
➡ Ingersoll Rand
Visit www.ccjdigital.com/info
Underhood shop light

Blue-Point's Under Hood Shop Light (ECUB6HO) is designed to increase underhood visibility for technicians who need both hands free for work. Features of the rechargeable light include:
• Six high-output LEDs that provide 1,600 Lux light output at 0.5 meters;
• A cordless design for added convenience and safety;
• A 4,400-mAh battery that provides about four hours of constant light output;
• A 47-inch to 71-inch extendable lightweight aluminum holder designed to cover a wide range of vehicles;
• Rubber-coated hooks that help protect paintwork from damage; and
• LED light distribution to help provide wider coverage.
➡ Blue-Point
Visit www.ccjdigital.com/info
Free-rolling axle tire
Toyo Tires' M157 free-rolling axle tire for longhaul over-the-highway operations is U.S. Environmental Protection Agency SmartWay-verified and features the company's e-balance technology for improved fuel economy while fighting irregular wear. Fuel consumption is reduced by low-rolling-resistance compounding in the tread and sidewall, while a new belt package and a 13/32-inch tread depth help provide even contact pressure distribution across the tread surface, resulting in smooth wear and long life. Toyo's Deep Differential Groove design minimizes irregular wear, while stone ejector grooves minimize stone retention to help maintain casing integrity. The M157 is available in four sizes: 11R22.5, 295/75R22.5, 11R24.5 and 285/75R24.5.
➡ Toyo Tires
Visit www.ccjdigital.com/info
Rugged computer tablets
Glacier Computer has added several rugged tablets to its line of vehicle- and fixed-mount terminals, handhelds and wearable computers. Available in 7-, 8- and 10-inch displays, the tablets offer wireless 802.11 b/g/n, barcode imaging, camera, RFID and sunlight-readable and -resistant touchscreens. Also standard are Windows XP or 7 Pro, the Intel Atom processor, desktop and vehicle cradles and grip-and-go handles.
➡ Glacier Computer
Visit www.ccjdigital.com/info
Roll-around commercial jump starter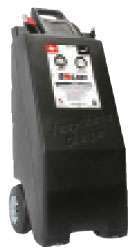 Clore Automotive now offers Solar's Model No. 2001, a 12V roll-around commercial jump starter suited for auto dealerships, auction houses, fleet operations, implement dealerships and other starting environments with high-vehicle counts. Power is delivered from a user-installed Group 31 battery (not included). The charger features retractable input and output cable to help save space and facilitate easier cable management. It incorporates 5-foot jumper cable leads to help ease access to the starting points on vehicles of all shapes and sizes. Large pneumatic wheels and a small footprint help make the unit easier to maneuver on all types of terrain and in all shop environments. The 2001 features a rugged impact-resistant case and industrial-grade construction designed to withstand harsh conditions. The unit's EZ View Control Panel features large gauges that can be viewed from a distance during service. The 2001 also features an onboard 10-amp automatic battery charger to facilitate quick, easy recharging.
➡ Clore Automotive
Visit www.ccjdigital.com/info
Charge air coolers
Alliance Truck Parts now offers a charge air cooler product line for most makes and models of Class 6-8 commercial trucks and buses. The charge air coolers are all-new construction, not remanufactured or refurbished, and feature bar and plate construction to facilitate added durability and more efficient heat transfer.
➡ Alliance Truck Parts
Visit www.ccjdigital.com/info
Cabinet line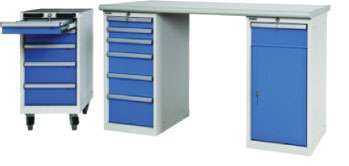 Lista's medium industrial-duty shallow-depth NS cabinets are designed to double as a workbench pedestal due to their size and footprint. The mobile cabinets, which match the company's Arlink 8000 workstations and Arlink 7000 workbenches, have a housing size of 16 7/8 inches wide by 22½ inches deep. The full-extension 165-pound-capacity drawers provide usable space of 12 inches wide and 18 inches deep. The drawers, which are subdividable and accept most of the company's drawer accessories, have recessed handles and feature the Lista Script drawer labeling system.
➡ Lista International Corp.
Visit www.ccjdigital.com/info
Ratchet set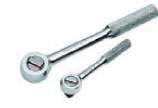 SK Hand Tool has reintroduced its full line of SK-branded ratchets and ratchet sets featuring the company's SuperKrome plating. In addition to giving SK tools a jewelry-like finish, SuperKrome helps provide easier cleanup and added corrosion resistance. Available in metric and inch sizes, SK ratchets feature an enclosed ratcheting mechanism designed for easy removal and replacement for cleaning or rebuilding. Triple-tooth contact helps provide a smoother ratcheting action with little back movement, while the hardened pawl and teeth help facilitate durability and longer service life. For improved handling, all SK ratchets feature diamond-knurled grips, while chamfered ends help lead the socket over fastener heads.
➡ SK Hand Tool
Visit www.ccjdigital.com/info
Evaporator blower assembly
Thermo King has enhanced its Spectrum multitemperature and SB-30 series single-temperature refrigeration units with its Smooth Air Blower, an evaporator blower assembly engineered to increase cooling capacity by up to 4 percent and lower fuel usage by up to 7 percent. The assembly requires 24 percent less power than previous generation blower assemblies due to a more efficient blade design, resulting in a smaller blower assembly. Smoother inlet air means less friction and less energy consumed, resulting in increased capacity. The enhancement now is standard on Spectrum and SB-30 series units, including the SB-130, SB-230 and SB-330.
➡ Thermo King
Visit www.ccjdigital.com/info
Mechanical suspension onboard scale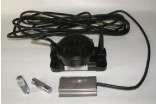 TruckWeigh's Mechanical Suspension Onboard Scale is designed for quick, easy and inexpensive aftermarket installation and to be accurate to within 1 percent on level ground. The gauge mounts directly to the suspension with a high-strength adhesive and requires no welding or special tools; it typically can be installed in one hour on tractors and trailers with walking beam, leaf-spring or other mechanical suspensions. Suited for refuse, aggregate and logging vehicles, the scale consists of a set of strain gauges or sensors, transmitters and a handheld receiver. With a range of 500 feet, the receiver displays axle group and gross vehicle weight readings in three-second intervals. The scale may be integrated with existing telematics systems.
➡ TruckWeigh
Visit www.ccjdigital.com/info
Fully synthetic motor oil, diesel fuel injection cleaner
Valvoline has added a fully synthetic 10W-40 motor oil and a diesel fuel injector cleaner to its UltraMax line. The oil – suited for trucks, city buses, off-road machines and specialty vehicles – is formulated to meet all U.S. and European standards and to provide maximum protection against engine wear, deposit formation, corrosion, foaming and oxidation. The fuel injector cleaner is formulated to help improve fuel economy by removing deposits and preventing them from forming in B10 bio-based fuel. The cleaner can be used in two ways: One 32-ounce bottle treats up to a 125-gallon tank, and five gallons can be added in bulk to treat 10,000 gallons of diesel.
➡ Valvoline
Visit www.ccjdigital.com/info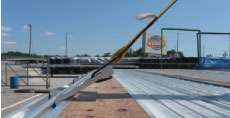 Tie-down system
Utility Trailer Manufacturing Co. now offers its Adjustable Load Securement System as an option for its 4000A Tautliner curtain-sided trailer and Conestoga 2 flatbed. The tie-down system is designed to allow loads to be winched from the deck as opposed to a wraparound side rail system that may interfere with tire clearance. The ALSS, which is suited for all types of hauls except coil operations, features mechanically fastened side rails that include integral tie-down and winch tracks. The 5,500-pound working-load-limit winch J-Hook tie-downs are designed to allow for maximum securement versatility when used with traditional tie-downs.
➡ Utility Trailer Manufacturing Co.
Visit www.ccjdigital.com/info
Green truck tires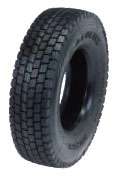 Aeolus Tyre's environmentally friendly line of truck tires is designed to reduce fuel consumption and lower the environmental impact of the manufacturing process. The tires are engineered to reduce rolling resistance by 21 percent to 24 percent, resulting in as much as a 7 percent decrease in fuel consumption. Compound ingredients have been selected for durability, retreadability and low rolling resistance; reduced-lead compounds feature environmentally friendly oils, promoters, vulcanizing agents, anti-aging agents, rubber-reinforcing fillers and other ingredients.
➡ Aeolus Tyre Co.
Visit www.ccjdigital.com/info
Heavy-duty clutch
Alliance Truck Parts offers an EZ-Assist clutch designed for work truck applications that require severe torque transfer for extremely heavy loads, including gravel and heavy construction hauling, logging and mining. The clutch requires less pedal effort to engage and disengage, which means less leg fatigue and increased driver comfort. The clutches are available in torque ratings of 1,400, 1,650, 1,850 and 2,050.
➡ Alliance Truck Parts
Visit www.ccjdigital.com/info
Upgraded suspensions
Reyco Granning has made two changes to its 86AR Slider series designed to make the suspensions easier and quicker to install. The 48-inch subframes now come standard with air tank brackets with mounting holes 29.5 inches center-to-center. The brackets feature a forward- and rearward-mounting position to allow for individualized preference and won't need to be welded on and repainted before installation.
➡ Reyco Granning
Visit www.ccjdigital.com/info
Brake drum
Navistar's private-label International brake drums are manufactured to the standards of its own OE specifications and are the same drums that will be used at a factory production level on many of the company's truck models. Manufactured to SAE and ASTM standards, the brake drums are subjected to stringent quality audits for both the product and its manufacturing process. Many of the models feature machined-to-balance engineering and lean manufacturing techniques to yield 2 to 4 pounds in weight savings per drum and improved heat dissipation for longer life expectancy through an improved heat transfer process and added anti-corrosion protection.
➡ Navistar
Visit www.ccjdigital.com/info
Side skirts

Utility Trailer's USS-120A aerodynamic side skirt is verified by the U.S. Environmental Protection Agency and can be used with low-rolling-resistance tires on dry vans to achieve California Air Resources Board compliance. Similar to the company's previous side skirt designs, the more durable, lighter USS-120A also features galvanized high-tensile steel braces designed to allow the side skirt to flex both inward and outward. A cover over Utility's 5-hole pattern design on the wingplate is engineered to increase the side skirt's length by up to 2 feet, which helps boost aerodynamic efficiency, while the skirt's rear edge at the support leg assembly is connected by a slip joint to help reduce impact damage.
➡ Utility Trailer Manufacturing Co.
Visit www.ccjdigital.com/info

Oil-cleaning device
Dieselcraft's Magnum Model 180 AP Series Centrifuges are designed for more debris-holding capacity and to remove dirt and wear particles from oil without any plugging. The filters clean diesel engine oil via centrifugal force that separates the solid contaminates from the main oil supply by spinning the solids to the rotor's inside walls, which can be cleaned periodically. Contaminant particles less than 1 micron are removed.
➡ Dieselcraft Fluid Engineerin
Visit www.ccjdigital.com/info
Mixed-service tires
Bridgestone's M799 mixed-service drive tire – available in sizes 11R22.5, 11R24.5 and 12R22.5 – is suited mostly for on-highway service but also can be used for occasional gravel applications. The tire has an all-steel casing for added durability and retreadability, while a stone-rejecting platform helps prevent rocks from being trapped in the tread and drilling into belts. Thick ribs help protect the casings from cuts and abrasions.
The company's M770 on-highway drive-axle radial – available now in size 295/75R22.5 and soon in sizes 285/75R24.5, 11R22.5 and 11R24.5 – has a groove and block shape that helps fight lug base cracking and tearing, while a stone-rejecting platform in all grooves helps prevent stone trapping for added retreadability.
Bridgestone's Greatec R125A wide-base trailer radial has a belt system designed to maintain casing shape. A wide belt fights irregular wear, while a Waved Belt design helps hold the tread flat against the road. The tire also features the company's Equalizer Rib and Defense Groove designs to help fight irregular wear.
➡ Bridgestone
Visit www.ccjdigital.com/info