Inventory Data Good News for Trucking
While there are some signs of slowing in manufacturing, inventories relative to sales remain lean, suggesting that businesses are maintaining normal replenishment and shipment cycles. According to the U.S. Census Bureau, the inventories-to-sales ratio throughout the economy was 1.27 on a seasonally adjusted basis in July, down slightly from May and June and only slightly higher than the all-time low of 1.25 in March.
Manufacturing orders slump
The composite PMI stood at 50.6%, suggesting slight growth in the overall manufacturing sector.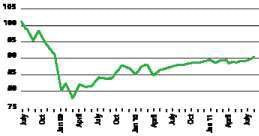 Truck loadings practically flat in August
(Seasonally adjusted: 2000=100)
Although up 2.9% over the prior August, truck loadings in August were just 0.3% higher than the month before. (Loadings by commodity as well as a forecast of loadings are available at TruckGauge.)
Trailer and container loads for U.S. railroads were up 0.4%in August.

For more data, forecasts, trends, daily alerts and weekly summaries, subscribe to TruckGauge at www.truckgauge.com.
Trucking sheds a few jobs in August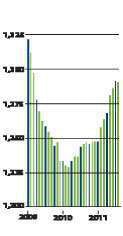 Preliminary data from the Bureau of Labor Statistics shows that the for-hire trucking industry cut payroll employment by 900 jobs in August. It was the first month-over-month reduction in employment since January. Payroll employment is still down by 171,000 jobs from its January 2007 peak.
Indicators
The American Trucking Associations' advance seasonally adjusted For-Hire Truck Tonnage Index decreased 1.3% in July from June.
Permits authorized for privately owned housing units were up 3.2% in August from July, while housing starts dropped 5%.
The Ceridian-UCLA Pulse of Commerce Index fell 1.4% in August on a seasonally and workday adjusted basis following a 0.2% decline in July.
Fretting over drivers
Driver availability – 45%
Freight volume – 17%
Political climate – 9%
Regulation – 7%
Freight pricing – 14%
Other – 8%
For the sixth straight month, the top concern of trucking executives in August was driver availability, according to the Randall-Reilly MarketPulse survey. Meanwhile, the cost of fuel –the No. 1 worry in February – has virtually disappeared as a concern, appearing only as part of the 8% that chose something other thanone of the top 5 concerns.