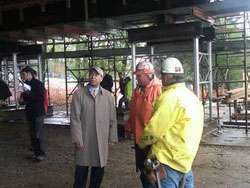 A new report shows that more than 18,000 of the nation's busiest bridges, clustered in the nation's metropolitan areas, are rated as "structurally deficient," according to Transportation for America. "The Fix We're In For: The State of Our Nation's Busiest Bridges" ranks 102 metro areas in three population categories based on the percentage of deficient bridges.
The report found that Pittsburgh had the highest percentage of deficient bridges (30.4 percent) for a metro area with a population of more than 2 million (and overall). Oklahoma City (19.8 percent) topped the chart for metro areas between 1-2 million, as did Tulsa, Okla. (27.5 percent), for metro areas between 500,000-1 million.
At the other end of the spectrum, the metro areas that had the smallest percentage of deficient bridges are Orlando, Fla. (0.60 percent), for the largest metro areas, Las Vegas (0.20 percent) for midsized metro areas, and Fort Myers, Fla. (0.30 percent), for smaller metro areas.
"There are more deficient bridges in our metropolitan areas than there are McDonald's restaurants in the entire country," says James Corless, director of Transportation for America – 18,239 versus roughly 14,000 McDonald's. "These metropolitan-area bridges are most costly and difficult to fix, but they also are the most urgent, because they carry such a large share of the nation's people and goods."
Nearly 70,000 bridges nationwide are rated "structurally deficient" and are in need of substantial repair or replacement, according to federal data. Metropolitan-area bridges carry 75 percent of the trips that are made on structurally deficient bridges, Corless says.
The Federal Highway Administration estimates that the backlog of potentially dangerous bridges would cost $70.9 billion to eliminate, while the federal outlay for bridges amounts to slightly more than $5 billion per year.
"The recent shutdown of the Sherman-Minton Bridge between Kentucky and Indiana was yet another reminder of the urgent need to repair our nation's bridges," Corless says. "A sincere initiative to fix these bridges would put thousands of people to work while ensuring that these critical links continue to carry people safely to work and that goods can make it to market, now and well into the future."
Congress repeatedly has declared the condition and safety of America's bridges to be of national significance. However, the current federal program falls short of the need, even as it allows states to shift funds from maintenance toward new construction, whether or not they can show progress toward rehabilitating deficient bridges.
Some states have worked hard to address the problem and have seen their backlog of deficient bridges shrink in number. However, two problems continue to persist: Existing federal programs offer no real incentives or assurances that aging bridges actually will get fixed; and the current level of investment is nowhere near what is needed to keep up with our rapidly growing backlog of aging bridges.
President Obama last month introduced his jobs bill before the Brent Spence bridge in Cincinnati, just weeks after engineers shut down the Sherman-Minton Bridge in Louisville, Ky., due to cracks in the bridge supports, and also identified potential faults in the nearby Kennedy Bridge. Since then, Obama regularly has highlighted the poor state of our nation's bridges and the need to pass a jobs bill that will put construction workers and engineers back to work repairing bridges and highways.
"The poor condition of our bridges is a problem that is not going away," says Andy Herrmann, president-elect of the American Society of Civil Engineers, "Most of the nation's bridges were designed to last 50 years, and today, roughly a third are already 50 years or older."
In order to prevent future catastrophes on our nation's roads and bridges, the report recommends that Congress should:
• Provide states with increased resources to repair and rebuild. States need federal support to back their efforts to prioritize repair and maintenance;
• Ensure that funds sent to states for bridge repair are used only for that purpose, unless a state can show it has addressed its repair needs; and
• Require that new or rehabilitated bridges be built so that they are safe for everyone who uses them, whether they are in vehicles, on foot or bicycle, or using public transit.