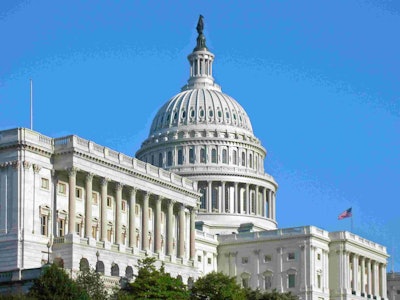 The U.S. Senate on Tuesday, Nov. 1, passed a transportation appropriations bill that funds motor carrier state safety grants, including MCSAP, at a slightly higher level than the House version of the bill which has not yet been scheduled for a vote on the House floor. HR 2112 passed by a 69-30 yea vote and now goes to House and Senate conference, where changes could be made before being sent to President Obama for his signature.
When the House and Senate reconcile the two bills in conference, the final funding limits will at least reflect the highest authorized levels under SAFETEA-LU. The Senate bill also contains a provision that would make the Maine/Vermont truck weight pilot program permanent. It would increase the limit on interstate highways in those states to 100,000 pounds from the current federal limit of 80,000 pounds. The bill also contains language holding the states harmless with respect to CVISN funds allocated to them beyond the Federal Motor Carrier Safety Administration's statutory authority.
During consideration of HR 2112 on the Senate floor, Sen. Kelly Ayotte (R-N.H.) was preparing to offer an amendment that would prevent the use of federal funds to finalize, implement or enforce FMCSA's proposed new hours-of-service final rule. The Commercial Vehicle Safety Alliance sent a letter to each member of the Senate pointing out it could lead to a situation where no funds would be available to enforce either the new rule or even the preceding hours rule that is now in existence.
U.S. Transportation Secretary Ray LaHood also sent a letter to Ayotte asking the senator to drop the measure. "The amendment would prevent the Federal Motor Carrier Safety Administration from applying the most comprehensive and up-to-date data and analysis to the issue of driver fatigue and allowable hours of service," LaHood wrote. "The final rule, if put in jeopardy, potentially undermines the entire regulatory process."