Lewis and Clark on a heavy haul
Can you imagine a haul that requires four years of planning? That's the time heavy haulers with Oregon-based Emmert International put into planning and executing a move earlier this year of two massive barrel-shaped coke drums.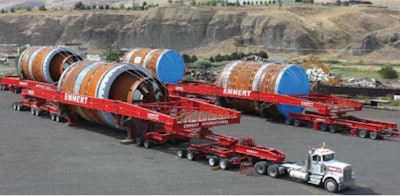 Kenworth T800s, spec'd for super-heavy haul with 550-hp engines and 18-speed transmissions backed by a 4-speed auxiliary, hauled the drums for ConocoPhillips. After traveling from Lewiston, Idaho, 700 miles east to the company's oil refinery in Billings, Mont., the drums will be used in a $50 million upgrade of the refinery due to be completed next fall.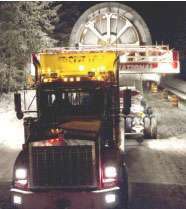 "The coke drum moves presented us with one of the most challenging routes ever faced by a heavy transport company," said Terry Emmert, company founder.
Remarkable is the custom design work Emmert put into the two trailers, dubbed Lewis and Clark (pictured), 226-foot-long 32-axle 128-wheel trailers distributing top and bottom sections of each shipment evenly. The nicknames stemmed from the loads following part of the exploratory trail of Meriwether Lewis and William Clark. Emmert used one T800 to pull and another to push each load, grossing 702,200 pounds, with a third T800 serving as a spare power unit.
"The coke drum moves presented us with one of the most challenging routes ever faced by a heavy transport company."
Terry Emmert,
company founder
The first shipment left in February to encounter an arctic blast of winter weather, which delayed its arrival until April. The second was in turn delayed en route by high runoff from the Yellowstone River that flooded the U.S. 12 bridge crossing. It finally made Billings Aug. 4, marking the end of the historic haul. Visit emmertintl.com and kenworth.com.
Aftermarket parts provider Alliance Truck Parts has added an EZ-Assist clutch designed for work truck applications that require severe torque transfer for heavy loads. Rated at 2,050 lb.-ft. of torque, the new model in the EZ-Assist line targets the most demanding applications, including gravel and heavy construction hauling, logging and mining.
Allison introduced a 10-speed fully automatic twin-countershaft range-type truck transmission called the TC-10.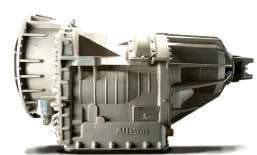 Like other Allisons, the transmission will have a torque converter with lockup clutch in place of a standard dry clutch at front. But it will have helical gears integrated with a twin-countershaft layout for the five forward speeds and the reverse gears in the main box, as well as a two-speed planetary range box at the rear. Production will begin Oct. 1, 2012.
In addition to availability enhancements, Eaton expanded its UltraShift Plus line of automated transmissions with the Vocational Active Shifting (VAS) and Vocational High Performance (VHP) models. The 10-speed VAS platform is available between 1,050 and 1,650 lb.-ft. as well as multitorque, and the 13-speed VHP platform is available in models between 1,650 and 2,050 lb-ft. Lower torque options are available in the Vocational Construction Series (VCS) and Vocational Multipurpose Series (VMS) transmissions. The 18-speed Multipurpose Extreme Performance platform, to handle torque up to 2,250 lb.-ft., also has been approved for applications outside linehaul and heavy haul, including logging, mining, oil field, construction, city delivery, refuse and off-road.
Freightliner's "Severe Duty Report" offers monthly news and views for all vocational operations. Subscribe to the free newsletter via freightlinertrucks.com; click "Media Center" under the "Inside Freightliner" pull-down menu, then "Vocational Trucks Newsletter."
Grand Junction, Colo., recently accepted delivery of four natural gas-powered Mack TerraPro Low Entry refuse trucks. Grand Junction operates an all-Mack fleet of 12 refuse trucks, including gas models.
Navistar's International MaxxForce engines rank highest in customer satisfaction in J.D. Power's 2011 U.S. Heavy-Duty Truck Engine and Transmission Study and perform particularly well in four factors: engine reliability and dependability, engine warranty, vibration at idle and average fuel economy.
maxxforce.com
Navistar also introduced private-label International brake drums built to SAE and ASTM standards. Results include 2 to 4 pounds in weight savings per drum and improved heat dissipation.
PRODUCTS

Tough tires
Continental released two new construction tires, the HSC1 (pictured) and the HDC1. The HSC1, a heavy construction steer tire, is designed with a wider tread and shoulder rib and a tread pattern that prevents stone retention. The HDC1 is a drive tire for construction featuring a 32/32-inch tread depth and self-cleaning pattern. Both tires are available in sizes 11R22.5 and 11R24.5 for load range H.

Extreme- pressure grease
Chevron Lubricants' Delo Grease ESI can extend service intervals to beyond 30,000 miles. Appropriate for Class 6-8 applications, the extreme-pressure grease protects wheel bearings, chassis, steering drag links, kingpins and pivots operating under high and low temperature conditions.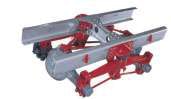 Suspension options
The Neway All-Wheel Drive 260 Tandem and TufTrac suspensions are available for Western Star models. The Neway 60,000-pound capacity tandem air suspension system works with Dana D60-190 axles and is designed for better handling and positive axle alignment to eliminate tire hop and improve traction. Neway's 40,000-pound TufTrac suspension is compatible with the 4800 model, designed for on- and off-road high-articulation operations.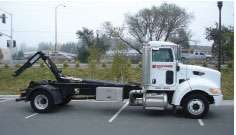 Heavy-duty hoist
SwapLoader's SL-185 hoist features an 18,000-pound capacity and can be used for both dump and lift operations on a 120-inch cab-to-axle chassis. The hoist accommodates 12- to 16-foot body lengths and has an optional dual-height adjustable cab that lifts 36- or 54-inch hook-lift ready containers. When outfitted with the Container Variable System option, the SL-185 hoists 10-foot container lengths.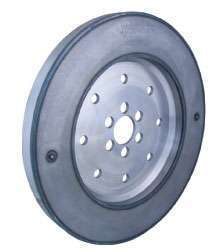 Durable damper for cat engines
This viscous damper for Caterpillar C10, C12 and C13 engines provides 500,000 miles of protection against torsional vibration crankshaft damage. Vibratech dampers feature a freely rotating inertia ring that shears through a silicone layer within a laser-sealed housing. The damper is available in a raw steel finish coated with a rust-preventive material suitable for paint.
Heavy-haul trailer
XL Specialized Trailer's 13-axle XL MG 170 West Coast trailer weighs 57,440 pounds and can handle up to 170,000 pounds distributed. The main trailer has a 118-inch flip neck that extends a 14-foot 3-inch main neck, and the 30-foot main deck has a 15-foot T-deck design that can switch out with other configurations. The main deck has a 26-inch loaded deck height with 6 inches of ground clearance. The 21-foot rear deck has a 44-inch loaded deck height.

Bright halogen lights
The Night-Tech halogen bulb series combines a high proportion of inert gases with a filament material designed to deliver 90 percent more light than a conventional halogen bulb, as well as a 50 percent longer lifespan. The bulbs come in H1, H3, H4, H7 and H11 formats. Each 12V bulb is 55 watts, and the H4 Night-Tech is 12V and 60/55 watts.