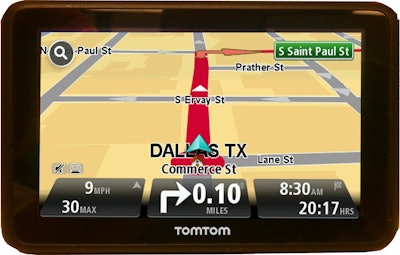 TomTom Business Solutions, the division dedicated to commercial fleets, announced the TomTom PRO 7150 Truck. Designed to provide truck drivers and fleet managers with automated routing, TomTom says the PRO 7150 takes into account vehicle profiles and road attributes and restrictions.
With PRO 7150 Truck drivers get navigation that automatically favors main roads over secondary roads, avoids sharp turns and U-turns, and includes truck attributes such as weight and dimension limitations to avoid low-bridge clearances, and load characteristics such as HAZMAT restrictions.
Safety-focused features include: road restriction and dead-end warnings that automatically pop up when drivers are about to encounter danger; advanced lane guidance for difficult intersections; hands-free dialing; a clear 5-inch capacitive touch-screen to minimize in-cab distraction.
TomTom has partnered with ProMiles, a provider of mapping, mileage and routing systems, to deliver the attributes for commercial vehicles in the North American market.
"Due to the complexities of commercial vehicle regulations and road restrictions, it is critical to collaborate with a partner that has a long standing expertise on trucking," says Michael Geffroy, vice president of sales, North America, for TomTom Business Solutions.
The PRO 7150 Truck includes nationwide map coverage of national and state/provincial highways in the U.S. and Canada, including last-mile restriction coverage in most major truck-relevant municipalities. The POI database contains more than seven million Points of Interest.
As part of the TomTom WORKsmart solution, the PRO 7150 Truck offers connectivity to enable fleet management and access to Live Services. WORKsmart functionality includes vehicle tracking, job dispatching, time management, eco driving, IFTA fuel tax reporting interface via ProMiles, and management reporting via a TomTom Webfleet subscription.
TomTom Live Services give the professional driver access to Speed Cameras, Fuel prices, Local Search powered by Google, TomTom Weather as well as TomTom HD Traffic.
TomTom PRO 7150 Truck is available today in North America via authorized business partners for a recommended retail price of $349.95.