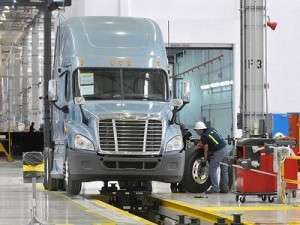 FTR Associates on Monday, Dec. 5, released preliminary data showing November 2011 Class 8 truck total net orders for all major North American OEMs declined 27 percent from October to 20,400 units. Orders were down 22 percent from the same month of 2010, the first such decrease in more than a year. Order activity for the prior three-month period of August, September, and October averaged 24,100 units per month.
"Class 8 orders were very disappointing for November and came in substantially below expectations," said Eric Starks, FTR president. "November is normally a very good order month, as it lies during what is typically the strong order period of the year. What is most troubling about the November number is that it is back down to levels last seen during the summer when we normally see slow order activity."
Starks said one month does not say much about the fundamentals in the market, and November's results does not change FTR's outlook for 2012. "We will be monitoring the situation closely over the next several months, as December and January are normally strong order months," he said.