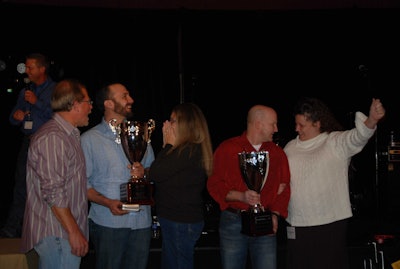 It was a hot time in Ol' San Antone as Rush Truck Centers topped off its sixth annual technician challenge, pitting Rush truck technicians from across the country against one another in a variety of events, including OE engine, refuse, medium-duty and heavy-duty competitions.
The awards banquet Tuesday, Dec. 13, kicked off with a bang when reigning NASCAR champ Tony Stewart made a surprise visit to commend the finalists for their dedication and hard work. Rush is a sponsor of Stewart's racing team.
The Rush event has grown steadily over the past six years, with Rush business partners contributing more than $6 million during that time to help the company recognize its technicians. Rush CEO Rusty Rush said that as the trucking industry has evolved to meet the economic downturn, so too has the business model for Rush Truck Centers.
"More than ever," Rush emphasized, speaking to technician finalists. "We are a service company. And when I say 'Service sells trucks,' I mean it. Service is what drives this company, and it's your efforts and commitments that make that a reality. I hope you all appreciate that and know how much we appreciate all you do for us."
The night's big winners were Michael Willoughby of Oklahoma City, who took home $12,000 in total winnings as Medium Duty champ, and Erick Lincoln of Albuquerque, N.M., with total prize winnings of $10,000 as Heavy Duty champion. Both men and their wives were surprised with an additional gift of a Caribbean cruise after receiving their awards.
Other top winners included Mark Jones of Denver, Refuse; Sherman Brack of Austin, Texas, Cummins; and Glenn Booth of Nashville, Tenn., Eaton.