Scissor lift
Hunter's RX16 scissor lift combines a space-saving low-profile design with added power and advanced features. The dual-capacity system offers the ground-clearance advantages of a standard-capacity lift to handle most vehicles, yet adds Hunter's Power-Up feature to boost capacity if needed. Surface-mount installations offer a 76-inch maximum height and a low drive-on height of 9 inches, allowing clearance for vehicles with low ride height or low-hanging spoilers. The RX16 also can be installed in a shallow recess that sets the runways flush to the floor when fully lowered. Hunter's Hi-Speed feature has a two-stage hydraulic pump that controls the fast rise and descent and also slows the lift automatically during the last several inches of descent. Two 9,000-pound-capacity swing air jacks lift vehicles off runways during alignment procedures and other service operations. Stainless-steel turnplates come standard, with PowerSlide turnplates available.
➡ Hunter
Visit www.ccjdigital.com/info
Power take-off
Parker Chelsea's 877 Series power take-off is designed with a compact housing that helps eliminate clearance issues and offers two assembly arrangements to maximize installation possibilities. High-capacity bearings and gear designs provide torque ratings up to 670 lb.-ft. without derating the PTO for continuous applications. The 877 Series has a 10-bolt mounting pattern to fit on most automatic transmissions, while eight internal gear ratios provide a wide variety of speeds to meet additional applications. Direct-mount pump flange options are available with a wet spline design that helps increase PTO and pump shaft life.
➡ Parker Chelsea
Visit www.ccjdigital.com/info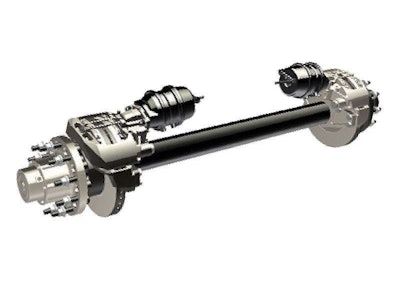 Disc brake axle
Ridewell's disc brake axle is available with Wabco Pan 22 air disc brakes, a 5-inch-diameter axle, a parallel spindle and a hub-piloted 11¼-inch-diameter bolt-circle long stud for aluminum wheels. The axle beam rating is 23,000 pounds with a ½-inch wall or 25,000 pounds with a ¾-inch wall. Standard 71½-inch- and 77½-inch-track disc brake axles are available upon order; custom track widths also are available.
➡ Ridewell
Visit www.ccjdigital.com/info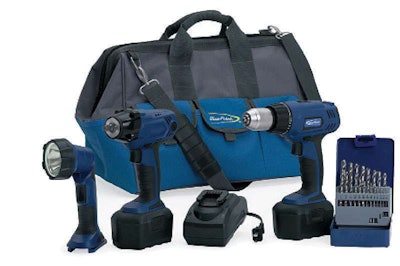 Cordless impact wrench kit
Snap-on's Blue-Point 14.4V Cordless Value Pack includes a cordless 3/8-inch impact wrench, an LED light, a drill body with a 3/8-inch chuck, two 14.4V ni-cad batteries, a charger, a tool bag and a 21-piece HSS drill bit set.
➡ Snap-on
Visit www.ccjdigital.com/info

Aerodynamic fixed-side fairings
Aerofficient's aerodynamic fixed-side fairings are panels produced from an engineered injection-molded automotive-grade TPO material. The three-panel design consists of a top, middle and bottom panel that weighs about 100 pounds per side and features a hinged design that permits the fairing to clear a 24-inch-high obstruction. The bottom panel has a 180-degree swing and is able to bend inward 90 degrees as well as outward 90 degrees. The attachment brackets are fabricated from engineered hot-dipped galvanized steel. The fairings can be installed on a fully loaded sealed trailer in one hour per side by two technicians using common tools. An optional landing gear wrap for refrigerated trailers is available to help shield reefer fuel tanks.
➡ Aerofficient
Visit www.ccjdigital.com/info
Fluorescent leak-detection dye
Tracer's Dye-Lite TP-3100 fluorescent dye is formulated to pinpoint leaking engine oil, hydraulic fluid, lubrication fluid, compressor oil and gearbox oil. Add a small amount of the dye to the system and allow it to circulate for several minutes; wherever there is a leak, the dye escapes with the oil and accumulates at the site. Scan the system with an ultraviolet or blue light lamp, and the dye glows a bright yellow color to reveal the location of all leaks. The dye can remain in the system until the oil is changed.
➡ Tracer Products | Visit www.ccjdigital.com/info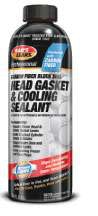 Cooling sealant
Bar's Leaks Carbon Fiber Block Seal Head Gasket & Cooling Sealant for winter use is formulated to seal coolant leaks in radiators, heater cores, freeze plugs, gaskets, intake manifolds, cylinder heads and engine blocks. The cooling sealant is antifreeze-compatible, so there's no need to flush the cooling system before using it, and it doesn't need to be removed at the end of a repair, which means the sealant stays in the vehicle to protect the cooling system against future leaks. The sealant's formula combines liquid glass (sodium silicate) with aramid and refractory fibers and is reinforced with carbon fiber to help bridge larger leaks and create the seal. The sealant also features the company's proprietary Xtreme Cool wetting agent formulated to help reduce the surface tension of coolant to increase its wetting ability while improving heat transfer and reducing coolant temperature.
➡ Bar's Leaks
Visit www.ccjdigital.com/info
Brake parts cleaner
Gunk reformulated its Chlorinated Brake Parts Cleaner to remove brake fluid, dust buildup and oil from brake parts without leaving any residue. The nonflammable quick-drying formula degreases brake linings, cylinders, drums, rotors, clutches and CV joints.
➡ Gunk
Visit www.ccjdigital.com/info

Fleet tracking hardware
Networkfleet's 5000 Series of 24/7 fleet tracking hardware is designed to locate vehicles in real time and monitor specific vehicle data such as mileage, speed, fuel consumption and diagnostic trouble codes. The 5000 line includes the 5200 GPS tracking device and the 5500, which adds the capability of connecting directly to the vehicle's diagnostic port to monitor engine status continually. Both devices have a built-in accelerometer and multiport options.
➡ Networkfleet
Visit www.ccjdigital.com/info
Fuel injection service kit
Penray's 2-Step Premium Fuel Injection Service Kit includes the company's Total Fuel System Cleaner and Total Intake System Cleaner that can be used in both gasoline and diesel engines. The kit is formulated to clean the fuel system, intake valve seat and compression chamber and reduce the octane requirement by removing combustion chamber deposits.
➡ Penray
Visit www.ccjdigital.com/info

Emergency egress lighting film
Grote's LightForm Emergency Egress Lighting Film employs the company's LightForm low-profile LED technology and provides all of the advantages of adhesive exit markers with the added benefit of being powered, providing bright illumination that can help lead disoriented passengers to safety, even in dark or hazy conditions. The easy-to-install film requires no lens or bezel, while the solid-state lighting device is designed to resist water and concussion and will function properly even after significant damage. The film can conform to the shape and contours of most doors or exits, and its adhesive backing allows it to adhere to many surface materials. Multiple modules can be daisy-chained together, minimizing wiring and harness routing issues. The lamps come in a variety of colors, including red, blue, green, amber and Grote LED WhiteLight. The film comes standard in a 12V version; custom voltages and a 24V version also are available.
➡ Grote Industries
Visit www.ccjdigital.com/info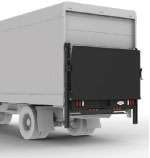 Medium-duty railgate
Tommy Gate's 3,000-pound-capacity high-cycle railgate is designed for stake and van bodies that perform high numbers of lifting cycles during daily use. The railgate is made with machined steel rollers, dual-sealed ball bearings, hardened-steel pulleys and composite bushings for a steadier lifting action and reduced maintenance. Other standard features include a safety trip bar, a self-close and auto-open cam arm for hands-free platform operating, a three-light incandescent light kit and a 12-inch platform taper.
➡ Tommy Gate | Visit www.ccjdigital.com/info
Electric chain hoist
Columbus McKinnon's updated Lodestar Electric Chain Hoist has a capacity range of 1/8 to 3 tons and a wide range of speeds and is designed with lightweight, durable cast-aluminum housing and a powder-coated finish for high visibility. The control panel features finger-safe wiring and plug-and-play connectors and is built to allow for quick voltage change, access to terminal strips and fuse installation. The lifetime grease-lubricated gearbox means no changing and disposing of oil. An adjustable limit switch is designed to prevent the load from over-travel, and built-in overload protection helps prevent lifting of dangerous overloads. The overload clutch is located outside the transmission to facilitate easier maintenance access and is out of the load path to provide the operator more control in the event of an overload. A five-pocket liftwheel helps minimize chain wear.
➡ Columbus McKinnon Corp. Visit www.ccjdigital.com/info
Battery oil additive
Thermoil's Battery De-Mister is a battery oil additive for nonsealed lead acid batteries. After using the additive and charging the battery, the hydrogen and oxygen gases migrating to the surface are slowed by the oil to help contain acid mist and fumes generated in the charging process, keeping the battery's top free of acid deposits to help eliminate post and cable corrosion while reducing current leakage across the battery cover; the additive also helps reduce water consumption, toxic fumes and the risk of explosion.
➡ Thermoil | Visit www.ccjdigital.com/info

Traveling axle trailer
Talbert's SSTA 5053 Traveling Axle Trailer, suited for heavy-duty towing and recovery, has a 50-ton capacity, a 41-foot-6-inch lower deck and 53 feet in overall length. The flexible SSTA 5053 features a 6-degree loading angle and a 14-degree dumping angle, making it suitable as a general-purpose trailer or for easy loading and offloading of nonoperating equipment, including pieces with lower ground clearance. The SSTA 5053 has a steel beam-constructed framework, 1½-inch apitong flooring and 4-inch I-beam crossmembers on 9-inch centers. The trailer also has an air-ride suspension, a two-speed landing gear, hub-piloted steel disc wheels and both side and center tiedown slots for greater loading ease and application flexibility.
➡ Talbert Manufacturing | Visit www.ccjdigital.com/info
Back-up alarm
Alliance's back-up alarm for construction or agricultural machinery features waterproof ABS plastic to help withstand pressure washing, harsh environments and impacts. The unit's housing is designed to focus its 97-decibel one-beep-per-second output to the rear, while its interior mechanism features solid-state electronics encapsulated in epoxy for increased durability. The unit's compact size, universal mounting design and corrosion-resistant terminals help ease installation.
➡ Alliance Truck Parts | Visit www.ccjdigital.com/info

LED lamp
APS Resource's E-Saver LED Lamp is designed to fit most existing housings to provide maximum illumination throughout a truck trailer or a facility. The durable lamp – which uses 27 watts for reduced energy costs and has a 50,000-hour lamp life – is built to withstand impact, while its LED technology helps keeps the lamp head cool to save energy.
➡ APS Resource | Visit www.ccjdigital.com/info
Heavy-duty dry van
Wabash's DuraPlate XD-35 dry freight van, designed for heavy freight, has a 35,000-pound floor rating to handle cargo typically hauled on a flatbed trailer such as steel coil, inbound raw material and outbound finished product, helping to enhance loading dock efficiency and safety while eliminating delays due to crane availability and inclement weather by removing the need to tarp and untarp. The enclosed van also helps protect cargo from damage and theft.
➡ Wabash National
Visit www.ccjdigital.com/info

Dual-view temperature display
Carrier Transicold's Dual-View Temperature Display is an external temperature and status indicator that provides a reverse image in the rearview mirror so it appears correctly for drivers at a glance. The optional display mounts on the front corner of a refrigerated trailer for easy visibility in the mirror. The driver can verify the temperature inside the trailer without having to leave the cab to check the unit controller. Large amber LED numerals show temperature in up to three zones in Fahrenheit or Celsius. The dual-view display can be switched from reverse to normal view for yard monitoring of parked trailers. The bright display can be read in direct sunlight and dims to reduce glare for evening and night viewing. Sealed electronics protect the unit from weather and high-pressure water spray.
➡ Carrier Transicold
Visit www.ccjdigital.com/info