A step further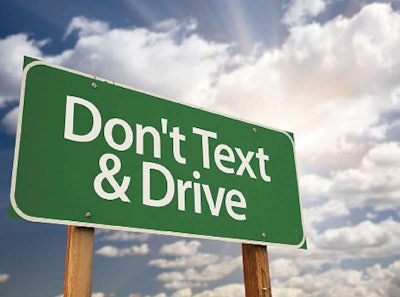 Monitoring drivers' personal cell phones ensures total compliance
Last month the Federal Motor Carrier Safety Administration officially began enforcing its new law that restricts cell phone use for commercial drivers. But exactly how the agency will detect illegal activity and assess hefty penalties to drivers and their complicit employers remains to be seen.
In last month's column, I covered technologies that can make the rollout and enforcement of corporate policies for cell phone use both effective and efficient. The technology mentioned, however, was limited to restricting use of company-owned devices when a vehicle is in motion.
The more difficult challenge is how to restrict drivers from using personal phones while operating company vehicles. Going to the extreme of installing cameras or sensors in the cab to detect unauthorized cell phone use would, at the least, spark a lively Big Brother debate.
What if you could – with drivers' permission – monitor their cell phone records automatically in order to assess the risk of them texting or talking while driving? It may sound bold, but considering the risks, it also may be worth it.
The idea might seem controversial to drivers – at least at first – but drivers already have had to adjust their perceptions of technology due to the changing landscape of new regulations and risks.
*Phone restrictions. Many technologies are limited to managing company-owned phones.
*Seeking permission. Ask drivers to allow their personal devices to be monitored.
*Preventing accidents. Considering what could happen, the extra effort may be worth it.
Drivers resisted electronic onboard recorders, but today they are deployed on the overwhelming majority of onboard computing platforms. Technology also is used extensively to monitor drivers for speeding, abrupt lane changes and panic braking, among other events. Visibility to risky behavior is instantaneous.
Since technology used to enforce compliance with U.S. Department of Transportation regulations and company policies already is accepted, would it be a stretch to monitor if drivers – as well as other employees – are using personal phones while driving company vehicles?
Drivers already have adjusted their perceptions of technology.
"Just telling (drivers) the rule doesn't equal compliance and enforcement," says Matt Howard, founder of ZoomSafer, a company that develops software to ensure the safe and legal use of mobile phones while driving.
ZoomSafer has active and passive risk management systems. Its active system, FleetSafer Mobile, is suited for enforcing compliance on company-owned devices. The system uses a client software application for BlackBerry or Android phones. When the app detects that a device is in motion, it automatically limits the use of the device according to customer settings. The app can permit drivers to make and receive calls in a hands-free manner.
The passive product, FleetSafer Vision, works by downloading SMS detail records from cell phone billing statements every 30 days. These are compared to vehicle location and other driving data extracted from wireless fleet management systems to identify unauthorized cell phone use. FleetSafer Vision is designed to identify drivers with the highest risk profile.
To use FleetSafer Vision, a fleet would ask drivers for permission to monitor their cell phone records for compliance with federal law and company policy. This process is similar to the now-standard process of asking a driver applicant to sign for permission to obtain motor vehicle and past employment records, Howard says. "Why not tell (a driver) he needs to go to a Website and sign up for a cell phone reporting service?" he says.
Once the driver enters a few credentials into the FleetSafer Vision Website, he is shown a disclaimer that says any data obtained by the employer is protected and held in accordance with federal laws. The driver has a right to receive a free audit of any data obtained.
Just as important as the information FleetSafer Vision can obtain is what it can prevent from happening. "If a driver sends a text message, you will not be able to stop him, but he knows his employer is watching, so he is probably not

going to do it," Howard says. "If he does, he will deal with the ramifications."
Using technology to detect and prevent drivers from using company devices is common sense. Monitoring the use of personal devices might be a bold move, but the more risky move might be to do nothing at all.
AARON HUFF is Senior Editor of Commercial Carrier Journal. E-mail ahuff@ccjmagazine.com or call (801) 754-4296.
IN BRIEF
Pitt Ohio Truckload powered by ECM Transport announced a partnership with Propel IT to launch FuelOpps, a program that integrates with ECM's Qualcomm onboard computers to analyze a driver's fuel efficiency. Drivers can go to the FuelOpps Website to monitor their progress and benchmark their efficiency to the company average and their peers.
FedEx added a range of tools to its suite of mobile applications. The FedEx Mobile Website has expanded to 206 countries and 25 languages, while the FedEx Mobile app now is available for iPad and Android users.
Landstar System launched its mobile app for smartphones to provide the ability to search for loads or agents and perform status updates via mobile devices.
OTC (www.otctools.com) introduced the Ez-Tap Heavy Duty Wireless Diagnostic System designed to eliminate the need for a cable to transfer vehicle information to a personal computer for diagnostics. Vehicle information is transferred wirelessly to a PC using OTC's AirBridge 2 wireless technology.
Pegasus TransTech (www.pegasustranstech.com) announced that Western Flyer Express – an Oklahoma City-based 210-truck fleet providing nationwide dry van, refrigerated and flatbed service – has implemented Transflo Express truckstop scanning.
Vigillo (www.vigillo.com) announced its IQLab division will be offering a "Top Violations By State" Excel Workbook to better assist motor carriers in managing disparate enforcement from state to state.
Pilot Flying J's MyPilot app, now available for Android smartphones and tablets, provides location and trip features for all of the more than 550 travel centers and travel plazas owned by the franchise. Features include one-touch calling, a search function to find locations with specified amenities and services such as diesel exhaust fluid, and fuel price checks and comparisons.
ALK, International Telematics form partnership
ALK Technologies Inc., a developer of geologistics software and data products, announced a partnership with International Telematics Corp. to resell ALK's CoPilot Truck Professional navigation software in North America integrated with International Telematics' ibright vehicle and trailer telematics system.
ALK's CoPilot Truck Professional is designed to provide truck-specific GPS navigation, offering an intuitive interface with spoken turn-by-turn directions and nondistracting guidance displays, and to calculate efficient truck routing based on vehicle profile information, routing parameters and load type, including hazardous materials. The ibright system offers a fully converged monitoring and management tool for tractors, straight trucks, dry trailers, refrigerated trailers and other assets on one single platform.
International Telematics' ibright system will be integrated with ALK's CoPilot.
The companies say CoPilot Truck Professional operates on the wide range of in-vehicle mobile display terminals, both tethered and portable, that are used in conjunction with the ibright telematics computer. Information from third-party routing and dispatch platforms, integrated into the ibright Enterprise platform, allows dynamic routing and manifest information to be sent to the vehicle, the companies say.
"This global partnership reflects our continuing commitment to the cross-platform integration of navigation technology with mobile work force management and telematics solutions," says Dan Popkin, vice president of business development, Enterprise Solutions Worldwide, for ALK Technologies.
"Integrating ALK's CoPilot Truck Professional introduces more operational visibility and intelligence in the vehicle, allowing International Telematics to provide superior returns for our customers," says Craig Marris, executive vice president of International Telematics.
Noregon updates J-Pro diagnostic system
Noregon Systems released J-Pro Commercial Fleet Diagnostics software version 5.1 offering additional support for GM vehicles (Classes 2-6). J-Pro Commercial Fleet Diagnostics v5.1 also provides coverage for on-highway heavy-duty (Classes 7-8) trucks and Ford and GM (Classes 2-6) applications with separately purchased coverage modules.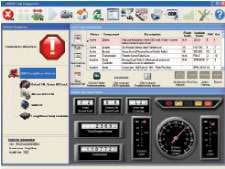 J-Pro Commercial Fleet Diagnostics v5.1 is designed to provide visibility of the entire vehicle condition on one easy-to-navigate screen. With the purchase of the new GM Commercial Fleet module, technicians have bumper-to-bumper vehicle coverage on all 2002-2011 half-ton through 8500 series GMC and Chevy vehicles.
Coverage includes transmission, ABS, chassis and body controllers, along with both gasoline and diesel engines, with the ability to perform cylinder cutout tests on GM or Isuzu engines. To learn more what features and functionality have been added, go to www.jprofleetproducts.com and select "What's New."
SkyBitz unveils global modem
SkyBitz, a provider of remote asset tracking and information management systems, announced the availability of the GLS9602 modem that works everywhere on the planet through the Iridium communications network.
The new modem is based on SkyBitz Global Locating System technology in combination with Iridium's 9602 short burst data transceiver. The custom SBD modem is designed for integration into wireless systems to provide asset tracking in remote locations and to offer application possibilities for developers and original equipment manufacturers.
The modem offers low latency service with a small antenna. SkyBitz says the modem can be used by authorized business partners to create new monitoring systems for all types of assets with Iridium's global connectivity and SkyBitz's power-efficient GLS technology.
"The release of the SkyBitz GLS9602 modem is another important milestone in making SkyBitz's global set of solutions easily available to third-party developers in the M2M space," says Dana Johnson, SkyBitz senior director of engineering.
SkyBitz's GLS technology provides GPS-based tracking without the need for high-power consumption from onboard location calculations. Instead, the SkyBitz Service Operation Center calculates the position centrally using the information sent by the SkyBitz GLS9602 modem.