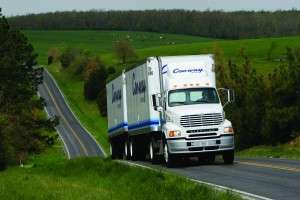 Con-way Inc. on Thursday, Feb. 2, reported 2011 fourth-quarter net income of $23.0 million compared to fourth-quarter 2010 net income of $2.4 million. Results for the 2011 fourth quarter included a $10.0 million gain from settlement of a dispute related to the 2007 acquisition of Chic Logistics, while the 2010 fourth quarter included restructuring and other employee separation costs of $1.1 million.
Operating income was $49.9 million compared to $15.8 million. Revenue was $1.32 billion, an 8.7 percent increase from $1.21 billion. "The fourth quarter's results capped a year of improvement driven by consistent operating discipline in all of Con-way's core businesses," said Douglas Stotlar, president and chief executive officer of the Ann Arbor, Mich.-based company.
Con-way Freight, the company's less-than-truckload operation, continued to benefit from stable network volumes and increasing efficiencies. "Con-way Freight turned in another quarter of progress," Stotlar said. "Yield increased, while tonnage in 2011 was up for the first time this year compared to the previous year. Our plan is to build on this momentum in 2012, emphasizing margin expansion and superior customer service."
Menlo Worldwide Logistics, the company's global logistics and supply chain management operation, brought 2011 to a positive close with a strong fourth-quarter performance. "Menlo delivered consistent year-over-year growth in revenue, net revenue and operating income," Stotlar said. "Our supply chain management company is providing superior value. Its broad portfolio of services, coupled with strategic opportunities for growth in North America and international markets, position Menlo well for 2012."
Con-way Truckload, the company's full-truckload transportation operation, leveraged gains in operating efficiencies and pricing to record its second-highest quarterly operating income of the year. "Higher revenue per loaded mile and increased asset utilization underscored a good quarter," Stotlar said. "Con-way Truckload continues to do an excellent job of balancing its network, keeping its fleet fully seated and increasing pricing. With its premium service and with industry capacity remaining relatively stable, our truckload company is well positioned for margin growth in 2012."
For the full-year 2011, Con-way reported net income of $88.4 million compared to full-year 2010 net income of $4.0 million. Full-year 2011 results included the $10.0 million gain from the purchase-price settlement related to Chic Logistics and $6.6 million of discrete tax adjustments. The 2010 full-year results included $19.2 million of goodwill and intangible-asset impairment charges related to the Chic Logistics acquisition and $8.9 million of restructuring and other employee separation costs.
Operating income of $207.9 million in 2011 more than doubled the $78.2 million of operating income in 2010. Revenue was $5.29 billion, a 6.8 percent increase.