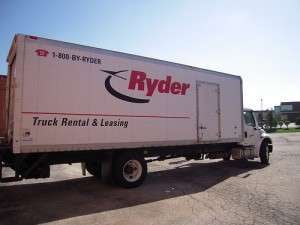 Ryder System Inc. on Thursday, Feb. 2, announced that net earnings for the fourth quarter of 2011 were $48.1 million versus $37.1 million in the year-earlier period. Total revenue was $1.54 billion, up 17 percent from $1.31 billion, reflecting the benefit of acquisitions, organic growth and fuel services.
Earnings from continuing operations were $47.7 million compared with $41.5 million, including a charge of $2.4 million for planned restructuring costs related to the integration of an acquisition. Earnings from continuing operations in the year-earlier period included a net benefit of $7.6 million related to certain tax benefits, partially offset by restructuring and other items. Excluding these items in both periods, comparable earnings from continuing operations for the fourth quarter of 2011 were $50.1 million, a 48 percent increase from $33.8 million in the year-earlier period, primarily reflecting strong organic growth in commercial rental, the benefit of acquisitions in all business segments, better used vehicle sales results, as well as organic growth in the Supply Chain Solutions segment.
Operating revenue from continuing operations of $1.24 billion rose 16 percent from $1.06 billion. Fleet Management Solutions business segment total revenue improved 13 percent due to higher operating revenue, and to a lesser extent increased fuel services revenue. FMS operating revenue grew 12 percent due to acquisitions and higher organic commercial rental revenue. In the company's SCS business segment, total and operating revenue increased 26 percent due to an acquisition and new business. DCC business segment total revenue grew 29 percent, and operating revenue grew 23 percent, reflecting an acquisition and the pass-through of higher fuel costs.
"In 2011, we delivered significantly higher double-digit growth in both revenue and earnings despite volatile economic conditions," said Greg Swienton, chairman and chief executive officer of the Miami-based company. "Our transactional products, including commercial rental and used vehicle sales, continued to perform exceptionally well, showing improvement not only in volumes, but commanding better pricing as well. In our contractual business, our largest product line, full-service lease, began to show organic fleet growth in the latter part of the year, and we also saw significant organic improvement in Supply Chain Solutions."
Swienton said that although Dedicated Contract Carriage earnings showed an increase for the year, segment results were lower than expectations. "We generated very strong performance from the integration of five immediately accretive acquisitions completed since December of 2010," he said. "We also achieved a positive spread between our return on capital and cost of capital, and improved our return on equity by 350 basis points to 11.9 percent. In view of these factors, we have entered 2012 with good momentum, specific initiatives in place to accelerate organic growth, and confidence in our ability to deliver increased revenue and earnings even with only modest economic improvement anticipated in 2012."