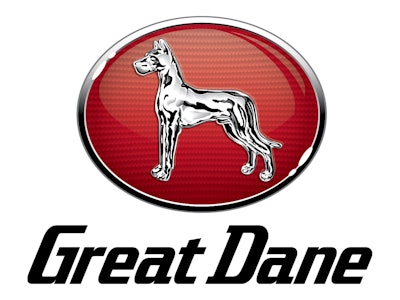 Great Dane on Friday, Feb. 17, unveiled sweeping changes to its complete product line and century-old brand to accompany a new advertising campaign entitled "Evolution."
"The last two years have been filled with tremendous change for us as a nation and as a company," said Bill Crown, president and chief executive officer. "In addition to a turbulent global economy, our own corporate leadership team weathered an unexpected transition. Instead of allowing circumstances to determine our future, the team at Great Dane accepted these challenges as the perfect opportunity to revolutionize the trucking industry by setting a new benchmark for quality. This is just one part of our long-term commitment to continually raise the industry's standards for products, sales and service."
The company said the far-reaching changes began with its acquisition of Johnson Refrigerated Truck Bodies in 2010, which strategically grew Great Dane's sales platform and reinforced its commitment to the food service market. It was a synergistic move for both sides that also diversified the corporate profile of Great Dane Trailers. At the heart of Great Dane's transformation, though, is a completely redesigned core product line.
"As a pioneer of our trade, Great Dane has delivered top quality products and – more – innovation for nearly a century," said Dean Engelage, executive vice president of sales and strategic planning. "The needs of our customers in the trucking industry have evolved over that time, just as our capabilities and technologies have. In response to those changing needs, we challenged our engineering and manufacturing groups to not only streamline our products but to incorporate the very latest high-tech innovations into our base models."
The result is Great Dane's all-new product mix, which includes Everest refrigerated trailers, Champion dry vans and Freedom flatbeds. Each line consists of three models to meet target markets and specifications.
Everest TL and Everest SS are engineered to satisfy the long-haul truckload reefer market; Everest CL is a high-spec offering for grocery and multi-temp products.
Champion SE's specs are designed for heavy-duty productivity with fleets in mind; Champion CL is a versatile freight van that can be highly-specified to meet various needs; Champion CP boasts Great Dane's proven composite panel technology.
Freedom SE is a heavy-duty all-steel flatbed trailer with available straight, drop or extendable body styles; the Freedom LT combination steel and aluminum trailer is lightweight and built for performance; the versatile and ultra-lightweight Freedom XP flatbed is 1,000 pounds lighter than its combination counterpart.
Improvements to base model trailers include Great Dane's all-new EnduroGuard, a reinforced corrosion-resistant rear frame on dry vans designed for strength; all LED lamps with dual intensity lights; Long Life Light systems; and PunctureGuard as the standard lining on all refrigerated trailers.
Great Dane's evolution extends outside the box, with an updated look for the corporate image. The iconic chrome dog and red oval logo received a makeover with the addition of a reflective background and polished chrome rim. All trailers, regardless of model, now will be adorned with a redesigned red wing plate. The modern red oval will garnish the rear doors of refrigerated and dry van trailers in lieu of a parallelogram. The signature hand-written Great Dane font also has been replaced by a sleeker, more contemporary typeface.
"Changes to our corporate logo are subtle enough to rejuvenate its image but maintain brand recognition," said Brandie Fuller, vice president of marketing at Great Dane. "We've updated the oval with modern touches, but are moving back to all red markings on our products to honor the history of the brand, which has been red since 1951."