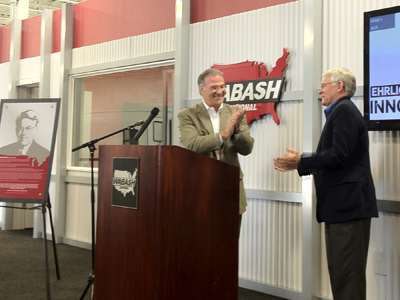 Wabash National Corp. opened the doors to its new Innovation Center on Tuesday, March 20. The center is designed to showcase company contributions to the transportation industry and recent innovations, as well as incubate and launch future customer solutions.
"This venue celebrates the past, present and future of Wabash National," said Dick Giromini, president and chief executive officer. "It is a place for customers, suppliers, associates and others to come together to share knowledge, create new products, enhance existing offerings and continue to develop innovation that moves industries forward. And it will evolve as the organization continues to evolve."
During the dedication ceremony, the building was named for Rodney Ehrlich. Currently serving as chief technology officer, Ehrlich has authored more than 50 patents since he was asked to start the engineering department at Wabash National 27 years ago by founder and brother, Jerry Ehrlich, who also was recognized during the event
"Rod's contributions over the last three decades have helped shape this organization, solved countless problems for customers and truly transformed the industry," said Giromini as he unveiled a plaque commemorating Rod Ehrlich's major innovations and patents.
The 20,000-square-foot former warehouse space now is transformed to include interactive areas featuring an innovation timeline and company history wall, informational kiosks, product showcase, a large theater area that seats 300 and conference rooms with video conferencing capabilities.