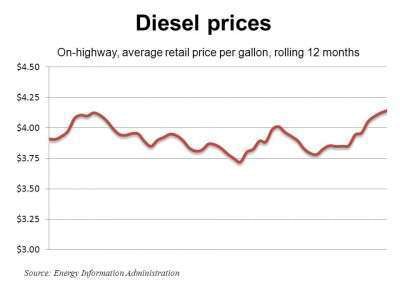 The average retail price of a gallon of on-highway diesel rose for the eighth straight week during the week ended Monday, March 19, but the amount of the increase continues to decline, according to the U.S. Department of Energy's Energy Information Administration. The average price increased 1.9 cents to $4.142. The increase the week before was 2.9 cents, and the peak during the current streak was 9.1 cents three weeks ago. Prices are 23.5 cents higher than the same week last year and the highest since late August 2008 — less than two months after the all-time peak.
Prices rose in all regions except California, where prices remain the nation's highest at $4.481 despite slipping two-tenths of a cent. The largest increase was 5 cents in the Rocky Mountain region; the smallest was nine-tenths of a cent in New England. The least expensive diesel on average is $4.040 a gallon in the Midwest.
Complete diesel price information is available on EIA's Website.