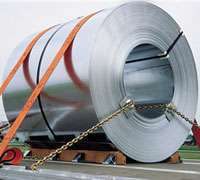 Flatbed carriers will get some relief on their safety rating under a new change in how securement is weighted in the Compliance, Safety, Accountability program. Bryan Price, a Federal Motor Carrier Safety Administration senior staff member, spoke about CSA during a seminar Thursday, March 22, in Louisville, Ky.
Price said that by next week, carriers will be able to get a preview of the next round of proposed improvements for CSA and how they will affect their BASIC assessments. The revised Safety Management System is expected to take effect in July, and FMCSA will accept comments on the change until that time. Carriers with an ID number can go online and "get an advance peak under the hood" as to how the changes would affect their rating in CSA's seven BASICs (Behavior Analysis and Safety Improvement Categories).
Perhaps the biggest change is moving load securement violations from the cargo BASIC into the vehicle BASICs, he said. Flatbedders have considered the current system unfair because their load securement violations are much more obvious than those pulling dry vans or reefers, and the cargo BASIC disproportionately affects their CSA ratings. FMCSA agrees, Price said, and the securement violations in the new framework will have much less effect on carriers' scores.
Another change will be to more accurately assign violations involving intermodal equipment. For example, violations that a driver should have addressed in a pretrip inspection should be assigned to the carrier, not the intermodal equipment provider, Price said.
Truck drivers still do not get a CSA score as do carriers, Price said. "We are not rating drivers," Price said, addressing a point of debate that has accompanied CSA since its launch. "We do have a driver measurement system." That system is internal to the U.S. Department of Transportation, and carriers do not have access to it. When FMCSA investigates a carrier, it also might look further into the records of a driver who has a known problem "as part of our evaluation of the carrier," he said.
Under the Pre-Employment Screening program mandated by Congress, FMCSA sends driver data to a carrier when the driver gives consent to the carrier, such as when applying for a job. However, that data is not a score, but a record of violations and crashes. Some private vendors are accumulating the data sent to carriers and "turning it into something they're calling a CSA score," Price said. The "score" doesn't have a meaning for the feds, but carriers and insurance companies can evaluate it however they wish.