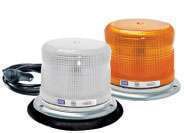 LED beacon
Ecco's 7965 Series Pulse II Class I LED beacon combines LED technology with a traditional strobe-style housing. Available in either 5- or 7-inch height profiles, the 7965 is suitable for applications where a high-intensity SAE Class I light is required. The 7965 features 12V DC operation and a Pulse8 flash pattern.
➡ Ecco
Visit www.ccjdigital.com/info
Fuel primer pump kit
Parker Hannifin's Racor Division designed its Turbine Series Fuel Primer Pump Kits for marine, genset and mobile applications. The system includes a prescreen filter, a flow bypass circuit and a pump powered by a 12V DC brushed motor or a 24V DC brushless motor. Other features include a 60 gallon-per-hour flow rate while in priming mode and a wiring harness and controller switch designed to allow for electric repriming of the system.
➡ Parker Hannifin/Racor
Visit www.ccjdigital.com/info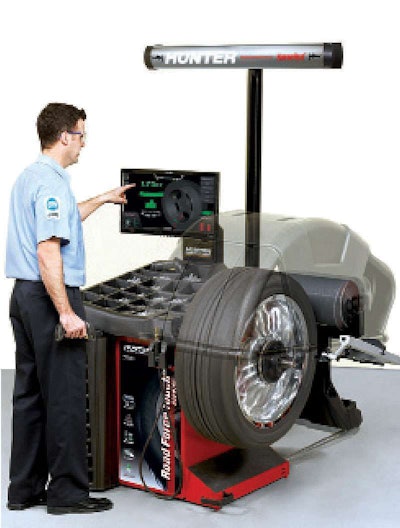 Wheel balancer
Hunter's Road Force Touch GSP9700 wheel balancer is designed to automatically apply the load roller against the wheel and tire assembly to simulate how a wheel performs under the weight of a vehicle to find hidden causes of vibration and vehicle pull. An intuitive touchscreen interface helps simplify operation, while live 3D graphics and animations display real-time wheel conditions and illustrate easy-to-understand instructions to help resolve vibration and pull problems. Software tools include Hunter's eCal auto-calibration, on-demand training videos and the company's StraightTrak lateral force measurement that measures pull forces in one or more tires and recommends wheel placement to cancel vehicle drift. A wear-resistant balancer shaft helps facilitate long-lasting service, while the company's Auto-Up Hood helps save time by lifting the hood automatically.
➡ Hunter | Visit www.ccjdigital.com/info

Plastic truck seal
Cambridge's Plastic Truck Seal is designed to detect and deter theft or contamination by providing tamper-evident protection for trailer doors, bulk tankers, railroad cars, cash-in-transit and storage cabinets, totes and boxes. The seal is made with high-density polyethylene for added durability in extreme weather and features a high temperature-resistant locking chamber. The seal also features CSS's Clean Break Design to help reduce cost and waste. The seals are available in 30-, 60-, 90- and 115-pound tensile strength options, as well as seven colors. Seals can be customized with logos, printed information, variable numbering and barcodes.
➡ Cambridge Security Seals
Visit www.ccjdigital.com/info
Sliding side fairing
Aerofficient designed its Slider side fairing for on-highway trailers to expand or contract automatically when the trailer's axles are moved, filling the gap between the trailing edge of a standard fixed trailer side fairing and the trailer's tires. The side fairing, which has been verified by the U.S. Environmental Protection Agency's SmartWay Transport Partnership, is affixed to the trailer's sliding axles and moves forward and rearward with the axles; no driver involvement is required. If maintenance is required beneath the trailer, the Slider can be detached from the axles and slid forward for quick access under the trailer. The durable side fairing is made with an engineered automotive-grade injection-molded plastic panel material. The hinged technology is designed to permit the fairings to bend in or out 90 degrees to pass over obstructions without being damaged, hold their shape in extreme temperatures and resist ice and snow packing. A clamp system is designed for fast installation without the need to drill holes in the trailer. The side fairing can be installed with the company's fixed fairings on new trailers or added to units with existing Aerofficient fixed-side fairings.
➡ Aerofficient
Visit www.ccjdigital.com/info
Van accessories
Knaack's Weather Guard Van Solutions lineup now includes bulkheads and shelving, accessories and specialty and secure storage, along with enhanced organization and quick-installation features. Weather Guard Rapid Mount Shelving now has deeper fully-hemmed 16-inch shelves to fit large tool cases and boxes, as well as tool-less adjustable shelves and dividers. Secure Storage door and drawer modules offer extra theft resistance, while end panel caps have easier-to-reach tiedown points. The shelving also comes with notched floor clearance for Pack Rat Drawer Units or wide supplies. A wide range of Red Zone accessories such as the Cab Command Center – a between-the-seat organizer – and the Grab & Go tool cart are built to mount to shelf end panels, bulkheads or van doors for easier access to frequently used items. Specialty storage solutions include a heavy-duty Tool Drawer with Power Pass Electrical Pass-Thru Grommet. Bulkheads now are available with clear polycarbonate windows for visibility and safety, while tighter-fitting end panels offer improved climate and noise control.
➡ Knaack
Visit www.ccjdigital.com/info

Vehicle glass cleaner
Penray's ammonia-free 4150 Professional Glass Cleaner is formulated specifically for vehicle glass cleaning and to remove road film, streaks and light distorting residues.
➡ The Penray Companies
Visit www.ccjdigital.com/info

LED headlamp
Truck-Lite's 5-by-7-inch LED headlamp is designed with two LED arrays and complex metalized reflector optics to create a smooth, even light output and clean streamlined appearance. The headlamp features a solid-state bulb-free system designed to resist damage caused by shock and vibration; the military-grade diecast aluminum housing and nonyellowing polycarbonate lens offers added protection against damage from impact, roadside debris and other hazards. The lamp's multivolt design works with both 12V and 24V systems.
➡ Truck-Lite
Visit www.ccjdigital.com/info

Severe service tire
Goodyear's G741 MSD truck tire for oil field, mining, logging and construction applications has a deep 33/32-inch tread with a wide footprint to help provide high mileage and traction; an aggressive self-cleaning tread design to help resist mud buildup and enhance grip; a cut- and chip-resistant tread compound that helps provide long-lasting performance on tough terrain; and tread block sipes to enhance traction in wet, snow and icy conditions while helping to maintain dry traction. The tire – available this May in size 11R24.5, load range H – also has a sidewall design that allows chains to be placed above the tread blocks for enhanced traction and grip.
➡ Goodyear Tire & Rubber Co.
Visit www.ccjdigital.com/info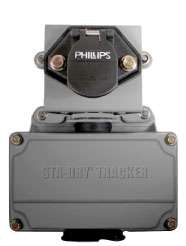 Tractor-trailer electrical connection
Phillips' Sta-Dry Tracker electrical socket technology is designed to improve the connection between the tractor and trailer. The swivel electrical socket is engineered to allow the cable to follow the movement of the truck, accommodating a turn up to 80 degrees – 40 degrees left or 40 degrees right – and to disconnect if the turn exceeds that angle; simply reconnect the electrical cable. A shroud helps protect the swivel from icing in extreme cold weather.
➡ Phillips Industries
Visit www.ccjdigital.com/info
Mobile data terminal
Beijer's rugged, versatile Treq-VM mobile data terminal is designed for fleet management and mobile resource management providers and allows for deployment in either fixed-mount or removable versions. The removable version allows the terminal to be removed from its base for occasional short excursions from the cab for activities such as vehicle inspection and viewing of driver logs by authorities. The terminal features a bright LED-lighted 7-inch LCD display with touchscreen, wired Ethernet, an internal antenna, five high-speed ports, a one-hour active-life lithium-polymer battery, an extended operating temperature range of -20 to 60 degrees Celsius and a Windows Embedded operating system.
➡ Beijer Electronics
Visit www.ccjdigital.com/info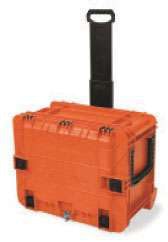 Mobile tool chest
Snap-on's All Weather Mobile Tool Chest is designed to provide convenient, secure, versatile and watertight storage for tools that must be moved readily. The tool chest comes in four colors – black, olive, tan or orange – and two configurations: two two-inch drawers plus six one-inch drawers, or three two-inch drawers plus four one-inch drawers. A 22-inch wheelbase provides added stability, while solid rubber wheels help absorb the shock of rough surfaces. A telescoping trolley handle extends to two positions for added comfort. The lid can serve as a seat when the case is open.
➡ Snap-on | Visit www.ccjdigital.com/info

Heavy-duty water pumps, DEF hose
Gates now offers a line of heavy-duty water pumps and diesel exhaust fluid hose. The water pump line includes 85 SKUs fitted with a precisely balanced impeller to facilitate original equipment fit and function. The DEF hoses and couplings are heated electronically using a carbon-fiber heating system designed for more uniform fluid heating compared to heated-wire designs. Customizable hose lengths offer greater flexibility in design, while thermoplastic overmolds help protect electrical connections from moisture and corrosion.
➡ Gates Corp.
Visit www.ccjdigital.com/info
Cordless adhesive gun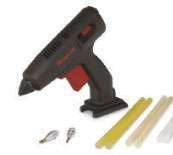 Snap-on's 18 Volt Cordless Adhesive Gun can be used in automotive applications to attach and repair door panels; reinforce fabric, leather and synthetics around holes and fasteners; affix wiring under the dash or carpet; and temporarily bond components to assure alignment before fastening. The adhesive gun features a two-finger trigger, back loading for high-volume applications, a melt chamber, temperature control, LED ready and warning lights, an on-off switch, automatic shutoff with a warning signal after 20 minutes of nonuse, and an automatic low-battery warning signal.
➡ Snap-on
Visit www.ccjdigital.com/info
Roll door trailer fairing
ATDynamics' RollTail rear-mounted aerodynamic fairing is designed for trailers with roll doors. The spring-actuated fairing can be installed by two technicians in less than one hour and requires no driver interaction when backing into a loading dock; the unit retracts and deploys automatically when the vehicle pulls away.
➡ ATDynamics
Visit www.ccjdigital.com/info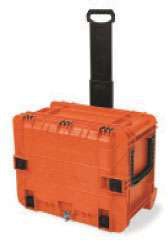 Mobile column lift
Rotary Lift's RCH4 mobile column lifting system is available in sets of four, six or eight battery-operated columns; each column has a rated capacity of 18,000 pounds for a total lifting capacity of up to 144,000 pounds. The RCH4 features Rotary Lift's automatic steering system designed to make it faster and easier to position the columns for service; fixed forks fit most large tires without adjustment. Each column is equipped with Rotary Lift's intuitive control panel that includes a graphic layout of the column setup, real-time height reading and error display, battery indicator, programmable height limit settings and one-touch controls. Lifting and lowering of all columns is synchronized automatically, and a slow-lowering function is designed for precision vehicle positioning. Technicians can operate the entire lift from whichever column is most convenient.
➡ Rotary Lift
Visit www.ccjdigital.com/info
Undertray system for trailers
SmartTruck's UT-1 System, the latest addition to the company's family of UnderTray Systems, is a smaller version of the UT-6 System and has fewer components underneath the trailer. The UT-1 System features a two-component design that can be installed by one person in less than one hour to help improve airflow and cooling over temperature-sensitive tires and brakes. The system also provides sufficient ground clearance to avoid everyday road and loading facility obstacles. The components are made of the same durable polyethylene plastic as the UT-6 System.
➡ SmartTruck
Visit www.ccjdigital.com/info
Power take-off
Parker Chelsea's 899 Series power take-off is designed to make PTO and pump installation easier and more reliable on oil field exploration and maintenance trucks. The PTO features six speed ratios and eight output types and is a constant mesh shifter, making it an option for variable displacement piston pump applications. The 899 Series uses a wet spline system that lubricates the mating PTO and pump shafts, which helps increase component life.
➡ Parker Chelsea
Visit www.ccjdigital.com/info

Low-platform trailer tire
Continental's HTL2 Eco Plus low-platform trailer tire is available in sizes 215/75R17.5, 235/75R17.5 and 245/70R17.5, providing low-profile sizes for high-cube applications while including compounding for low rolling resistance at cooler operating temperatures. The tire's tread pattern features groove technologies designed to reduce stone retention for increased casing life, along with groove geometry that promotes efficient water evacuation, traction and wet braking capabilities. Sturdy 18-ply construction helps allow for heavy capacity with long original mileage. The tire is available in load range J and tread depths from 13/32nds to 15/32nds.
➡ Continental Tire the Americas
Visit www.ccjdigital.com/info
Controller line
Espar's line of controllers for its bunk heaters and engine pre-heaters were developed to meet customer demands for a wider variety of options for the truck and off-highway markets. The Multi-Max F1000 is designed for the company's Hydronic line of engine coolant heaters, while the Digi-Max D1000 is designed for its Airtronic D2/D4 bunk heaters.
➡ Espar Heater Systems
Visit www.ccjdigital.com/info
Connector plugs
Phillips' Sta-Dry Weather-Tite Connectors are seven-way male connector plugs with integrated seals designed to stop moisture from entering the electrical system. One connector is an unbreakable glass-filled nylon connector, while the other is a hybrid combination using unbreakable glass-filled nylon and zinc diecast. Each connector has a 3-blade Nitrile wiper seal at the mating end that helps block contaminants from entering at the 7-way connection.
➡ Phillips Industries | Visit www.ccjdigital.com/info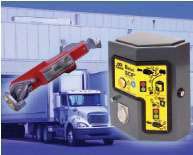 Loading dock safety system
Castell's Salvo Control Panel+ is designed to prevent injury by making it impossible for trucks to drive away during loading or unloading. The SCP+ works by attaching gladhand locks to the truck's emergency brake line, ensuring brakes are applied. Once the gladhand lock is applied, a coded key is released, which is used to open the dock door to begin loading or unloading the trailer; only after work is completed and the door closed is the key needed to unlock the gladhand brake lock released, making it impossible for the driver to depart prematurely. An ergonomic enclosure is designed for fast access to electrical terminals and to reduce wiring time. An illuminated lock is available for use in 24/7 operating environments.
➡ Castell | Visit www.ccjdigital.com/info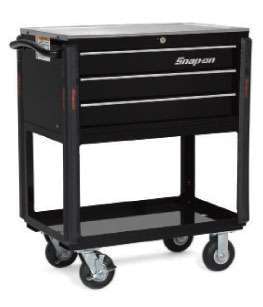 Mobile workstation
Snap-on's KRSC10 Series mobile workstation features 14-gauge steel supports spot-welded to the 14-gauge chassis to handle heavy workloads up to 1,200 pounds; a stainless-steel work surface; a quiet-rolling caster set; a vertical bumper system on all four corners; and three full-width drawers 28 inches wide and 4 inches deep built to carry 360 pounds of tools and up to 720 pounds when equipped with optional double-drawer slides. The bottom-section liner offers drainage capacity.
➡ Snap-on
Visit www.ccjdigital.com/info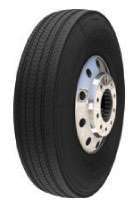 Fuel-efficient tires
Double Coin's OptiGreen fuel-efficient tires include the FR605 steer, FD405 drive and FT105 and FT125 super-wide trailer tires, with the FD425 super-wide drive tire arriving later this year. The FR605 is available in six sizes and features a five-rib tread design with extensive siping and a side-decoupling groove that promotes even wear and traction in longhaul steer-axle positions. The FD405 features a closed shoulder and a deep 26/32-inch tread design with stone-drilling protectors. Both the FT105 and FT125 have wide, flat footprints to promote even wear.
➡ Double Coin/CMA | Visit www.ccjdigital.com/info

Trim paint
PlastiKote's Trim Paint is formulated for use on most flexible or rigid plastics and is suited for window trim, windshield trim, rearview mirrors and wiper blade arms; coverage varies depending on surface color and porosity. The trim paint dries in one hour and helps provide protection from the elements.
➡ PlastiKote
Visit www.ccjdigital.com/info
Heavy-duty air cleaners
Parker Hannifin's Racor Division designed its Composite Heavy Duty Air Cleaners to meet requirements for gasoline- and diesel-powered agricultural, construction, turf care, forestry and mining equipment working in high dust environments with excessive vibration and extreme temperatures. The air cleaners use centrifugal air inlets for precleaning action to help extend change intervals.
➡ Parker Hannifin/Racor
Visit www.ccjdigital.com/info
Trailer fairing
Laydon's Hybrid 248 trailer fairing is designed to be more configurable and eliminate problems with low ground clearances. The skirt mounts 8 inches inboard and is 32 inches high, while a composite flexible spring produced from 18 fiber layers is built to allow for a 180-degree bend.
➡ Laydon Composites
Visit www.ccjdigital.com/info
Ladder racks
Knaack has improved the design of its roof-mounted Quick Clamp Ladder Rack for both full-size vans and minivans, as well as its Nissan NV Ladder Rack units for both standard-height vans and high-roof vans. Improvements to the Quick Clamp Ladder Rack include modifications to the mounting plates and the front rails to help protect ladders when loading and unloading; beefing up the clamp mechanism for added strength and longer life; and improved engineering of the gas springs with a tougher exterior case to improve wear resistance and internal brass bushings that help prevent strip-out. The design modifications to the Nissan NV Ladder Rack pertain to the EZ-Glide System in order to meet Nissan weight distribution requirements.
➡ Knaack
Visit www.ccjdigital.com/info

Spread axle trailer tire
Goodyear's G619 RST for spread axle trailer applications is engineered to resist scrubbing and curb impact. Features include a deep 18/32-inch tread depth to help promote long tread life, a high scrub compound that helps resist curb damage, a four-belt casing to help provide toughness and a robust rib design to help minimize tread tear. The tire currently is available in size 295/75R22.5 in load range G, with three additional sizes – 11R22.5, 11R24.5 and 285/75R24.5, all load range G – set for release later this year.
➡ Goodyear Tire &
Rubber Co.
Visit www.ccjdigital.com/info