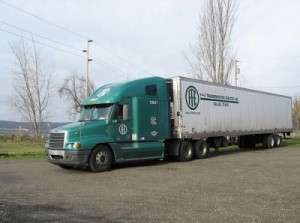 Frozen Food Express Industries Inc. on Thursday, March 29, announced detailed plans to restore profitability during fiscal 2012, as well as its fourth-quarter and fiscal 2011 financial results.
"It is important that we communicate with our investors to assure them that we have a solid plan to return to the profitable operations we have enjoyed in the past," said Russell Stubbs, president and chief executive officer of the Dallas-based refrigerated hauler. "We faced strong headwinds during 2011 with an uncertain economy, unstable fuel costs, driver shortages and increased commodity costs."
Stubbs said the company also made several decisions and incurred expenses to implement its strategic plan in the third and fourth quarters, which had a temporary negative effect on its financial results. "Nevertheless, we have repositioned the company, maintained a well-capitalized balance sheet and are confident that we have the right plan in place to restore meaningful profitability," he said.
Key elements of the company's strategic plan to restore profitability during fiscal 2012 include:
• Exiting low-margin/ low-return businesses. As previously announced, the company no longer provides dry van services via a dedicated fleet of dry van trailers. "We have sold approximately 435 dry van trailers and 228 tractors, netting approximately $13.6 million in cash proceeds," Stubbs said. "This action removes a line of lower-margin services, and by lowering the average age of the fleet, is expected to significantly improve operating efficiency."
• Reinvesting in growth businesses. The Company began providing bulk tank water transportation services for the crude oil drilling industry during the fourth quarter of 2011. FFE plans to expand its fleet of trucks that provide this service from about 40 to 70 by the end of fiscal 2012. "Due to the 24/7 nature of drilling operations, equipment utilization rates are very high and present attractive return characteristics," Stubbs said. "These new services are expected to add approximately $40 million in incremental annual gross revenue. We continue to look for other businesses in which we can deploy resources and generate increased revenues."
• Improving operating efficiencies. The company expects to realize annualized cost savings of about $5 million as the result of its previously announced 12 percent reduction in nondriver staffing levels. Additional operating efficiencies are expected from a reduction in the average fleet age from 2.8 years to 2.1 years. "With a younger fleet, we expect to reduce tractor maintenance expense by 2 to 4 cents per mile and overall improvement in fuel economy of approximately 5 percent," Stubbs said.
• Improving yields in core temperature controlled business. "Market conditions are improving in our core truckload and less-than-truckload shipping markets," Stubbs said. "As a result, we expect to benefit from both volume and rate increases during fiscal 2012."
During its 2011 fourth quarter, Frozen Food Express' operating revenue, net of fuel surcharges, was $74.2 million compared to $78.6 million during the fourth quarter of 2010. The company posted a net loss of $11.8 million compared to a net loss of $1.5 million.
For its 2011 fiscal year, operating revenue, net of fuel surcharges, was $307.8 million compared to $311.4 million during fiscal 2010. The company recorded a net loss of $36.7 million compared to a net loss of $11.9 million.
The company said that it expects to report a loss during its seasonally weakest first quarter, but that as a result of its strategic plan, quarterly results are expected to improve throughout the year, and that it expects to produce near breakeven profitability during fiscal 2012.
"As a result of our efforts, we expect to see significant improvements in our cash flows and enhanced liquidity," Stubbs said. "We are committed to enhancing shareholder value, returning to profitability during 2012 and positioning the company to achieve attractive returns for the long term."