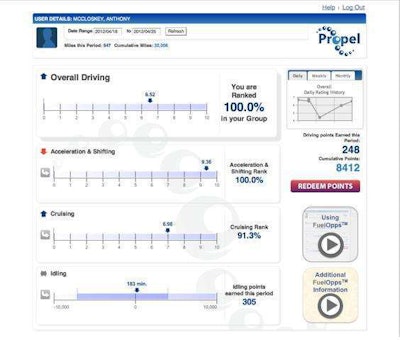 Last year, Ed Meiers, president of New Lexington, Penn.-based ECM Transport, decided to try a novel approach to improve fuel efficiency. The company outsourced its fuel incentive program to FuelOpps, a new service from Pittsburg-based Propel IT.
"At first we were apprehensive, but drivers accepted it more from outside the company," Meiers says. "An outside entity didn't put dispatchers against drivers. It was (Propel IT's) common goal to help drivers and to educate."
FuelOpps automatically transmits daily driver performance information from ECM Transport's mobile computing system into a separate database. Drivers access the FuelOpps database online through a simple user interface that shows the areas of fuel efficiency they directly control.
FuelOpps has three different ratings based on moving mpg: 1) acceleration and shifting, 2) cruising, and 3) overall driving. The first two ratings each have two subsets: progressive shifting and high RPM, and over-speed and maintain low engine speed, respectively.
For each rating, FuelOpps shows a horizontal scale of 1 to 10. The driver's score is marked on the scale with two decimal points, such as 6.57. Shading is used around the score to show drivers the range of all scores for drivers in their group — local, regional, longhaul, etc. Drivers also see their percentile in the group for each rating.
The first two ratings are blended to create the overall FuelOpps rating. By scoring in the 55th percentile or higher, drivers earn points for every mile driven during that day. No points are ever deducted. On the website, drivers can view their ratings and points earned by date range.
FuelOpps uses a separate rating for idling that shows drivers how the time they spent idling, per day, is over or under the fleet allowance. As an option, fleets can reward points to drivers for having a positive rating, where idle time is less than the fleet allowance.
Drivers can redeem their FuelOpps points from an online gift catalog. ECM Transport also gives its drivers the option to redeem points for meal vouchers. Drivers turn in food receipts with the rest of their paperwork to get reimbursed.
Based on the results so far, ECM Transport, which operates 250 tractors, is on track to improve its mpg by 0.4 over the next six months. "We have nothing to lose as carrier to do this. We have no skin in the game," Meiers says. "It seems to be doing a great job for us."