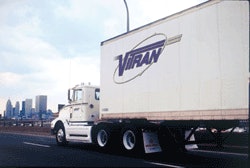 Vitran Corp. on Tuesday, April 24, reported a 12.1 percent increase in consolidated revenues to $207.7 million in the first quarter of 2012 compared to $185.4 million in the first quarter of 2011. The Toronto-based company recorded a net loss from operations of $5.8 million compared to a net loss of $0.2 million.
"SCO and Canadian LTL continued their positive momentum from 2011 and posted seasonal earnings results consistent with prior quarters," said Rick Gaetz, president and chief executive officer. "We are opening an additional SCO facility in Kansas City in the second quarter and expect it to be fully operational in the third quarter."
Gaetz said Vitran likely sees January as "the low-water mark in the U.S." Losses were cut substantially in February and again in March had it not been for a $1 million increase in workers' compensation expense, he said.
"Although we are not satisfied with the operating results, we are certainly pleased with the progress being made, leadership and direction of the U.S LTL business, and we are encouraged that the recovery of our U.S. LTL operation is under way," he said.