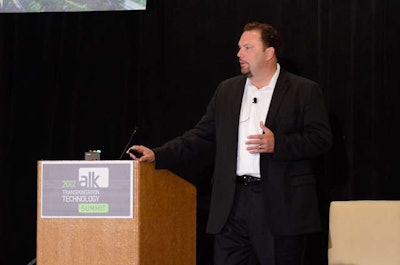 With freight volumes growing slow but steady, carriers are getting rate increases. The downside is that truck capacity is shrinking due to fleets' inability to buy new equipment and keep their seats filled with qualified drivers.
The bottom line is that carriers will have to find creative ways to move freight, said Derek Leathers, president and chief operating officer of Werner Enterprises, who delivered the keynote address at the 8th annual ALK Technology Summit, held in Princeton, N.J., on May 16-17.
With 7,300 trucks and 23,000 trailers, Werner Enterprises generates $2 billion in revenue and $103 million in annual net income and does business around the world. Leathers said that transportation companies continue to migrate and evolve as a matter of survival. Many companies, including Werner Enterprises, have been successful by increasing their capabilities in the following four areas:
• Freight management. Using third-party logistics services to increase efficiencies for customers;
• Freight movement. Companies with assets are in high demand;
• Global implementation. The days of competing for a customer with regional or national coverage are gone. To be considered relevant to a shipper with a big freight network takes the ability to manage freight on an international scale; and
• Technological advantages. Companies can gain a competitive advantage by designing freight bids and bundling in comprehensive solutions.
"We continue to find more creative ways to survive," he said. "We have an obligation to speak to customers about what is happening in the industry. We think we have an obligation to continue to explore new markets around the globe. But we have to educate customers. We can't sit back and complain."
For 2012 and beyond, Leathers anticipates overall freight volumes, or demand, will continue to grow at a slow but steady rate of just over 2 percent GDP, but that truck capacity will not increase.
The best way to add capacity in this environment is to convert truckload shipments to intermodal containers, he said. The growth of intermodal will be significant, but opportunities to convert truckload shipments to intermodal are rather limited. Only 8 percent of overall freight volumes are at play. The growth in intermodal will be double or triple the growth rate of truck capacity, he believes, but overall, 77 percent of all freight volumes will continue to be moved by truck.
"We think about 77 percent of all truck and rail tonnage is not competitive," he said. "This is stuff that cannot be converted."
Overall capacity is down 20 percent since 2006. Since the recession, fleets have not been replacing their equipment at a fast enough pace. The average age of equipment on the road today is seven years and one million miles; the average age should be at most 5.5 years, Leathers said.
Getting equipment back on track will require a $67 billion investment in the next two years. This is not possible, he said, because replacement costs are up by 30 percent, and fleets and lenders are not willing to finance capital in an industry that currently has a 4 percent return on investment; a return of at least 8 or 9 percent is needed to justify new capital investment.
"The pinch point is that fleets are trading in two or three trucks to get one that is new," he said. "Fleets are shrinking. That's what is driving rates." And although rates are going up, so are the costs.
"We still have the opportunity to not let total costs go up," he said. "There are still optimization opportunities and more conversion from less-than-truckload to truckload and intermodal. There are ways to offset the reality of the rate structure going forward."
In addition to equipment replacement costs, Leathers said that driver wages and new regulations such as the Compliance, Safety, Accountability program contribute to the overall difficult business environment.
"We have been dealing with regulation after regulation," he said. "When I'm out talking to customers, I set two things aside. One is driver wages — we want to do anything we can to build jobs. The other is government regulation. I can't price for crazy. We will not stand behind a price if we are impacted by something coming out of D.C."