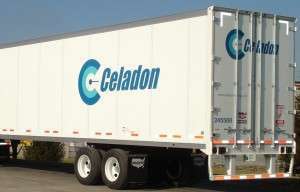 Celadon Group Inc. on Wednesday, May 16, announced that it has been awarded the inaugural Healthy Trucking Fleet of the Year award, which honors trucking companies that excel in integrating health and wellness programs and practices into their operations for improving the health and well-being of its driver work force.
The award, presented by FusionHealth and Navistar, is scored on a set of criteria focusing on how the company's program integrates into its operations, how it targets the continuum of health care issues, tailors to population needs, includes high participation of employees and evaluates the results on clear definitions of success.
Celadon was recognized for its onsite full-service health clinic that offers primary physician care, prescription services, workers' compensation rehabilitation and physical therapy. The Indianapolis-based company also was recognized for its comprehensive Wellness Program, which consists of health screenings, health seminars, diet and weight loss programs, nutritional and exercise programs, and incentives for healthy habits. Finally, the company was recognized for its below-industry-average driver turnover rate, attributed in part to its health and wellness programs.
"We are extremely proud of our strategic progressive approach to long-term health and wellness initiatives," says Paul Will, vice chairman, president and chief operating officer. "We have worked diligently to initiate innovative, truly life-changing practices for our drivers and all Celadon employees. We are excited to be awarded the Healthy Trucking Fleet Award and help elevate industry adoption of proactive healthcare and healthy lifestyle choices."
"Just as healthy drivers are paramount to a successful fleet, a healthy fleet is essential to a successful business," says Phil Tindell, vice president of North American regional sales for Navistar. "Navistar and International Truck are working toward a healthier population of drivers, and part of that is recognizing those individuals and fleets that are dedicated to a healthier industry."