It's a swing and a miss. If only the trucking business were like baseball, you'd still have at least two more chances for redemption. But mistakes are too expensive in this business and the rules are constantly changing.
At the Qualcomm Vision 2012 user conference in San Diego, June 4-6, fleet managers and Qualcomm executives opened up the playbook to address difficult industry challenges for a "whole new ball game."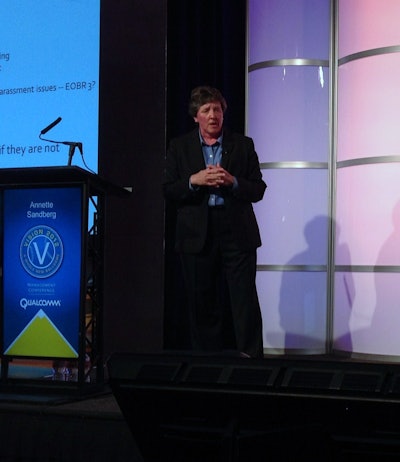 Delivering the keynote address, Annette Sandberg, the former FMCSA administrator, said the good news is that no new regulations are going to take effect before the 2012 presidential election. "Once the election is over, there is probably going to be a flood of regulations that hits the industry, no matter who is elected," she said. Sandberg is principal of TransSafe Consulting.
During a breakout session, Jeannie Gordon, vice president of compliance for Jacksonville, Fla.-based Landstar System, told attendees the Compliance, Safety, Accountability program is "broken." As it currently stands, the system measures compliance, not safety. She cited numerous examples of how carriers can improve their safety yet still have a poor CSA score.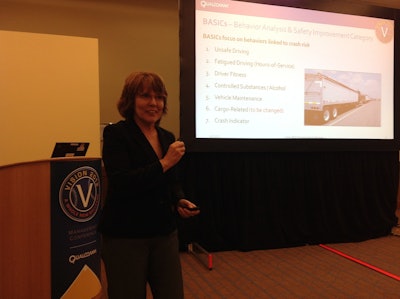 "A lot of these violations have nothing to do with safety," she said. "We are going to be in trouble if we don't turn it around. We are all in this together."
Gordon said carriers should go to www.regulations.gov and comment on Docket # FMCSA 2012-0074 to recommend specific ways to improve the CSA methodology.
Greg Frost, director of product management for Qualcomm Enterprise Services (QES), provided a road map for new technology applications through 2014. QES will soon release applications that will enable customers to get freight lane congestion information; to automatically track loads on other Qualcomm-equipped carriers; browse the Web on terrestrial networks; and capture trailer information through the ABS system.
Frost also announced that Qualcomm has started development on an Android platform. The new platform will run the same type of hours-of-service, messaging, workflow, safety and performance monitoring applications as the current Mobile Computing Platform (MCP), only it will use multiple consumer-style Android devices for the display. The applications will sync up with a stationary "blackbox" in the vehicle.
A panel of fleet executives discussed how they are using the FleetRisk predictive modeling platform to reduce accidents and improve driver satisfaction. The FleetRisk platform considers thousands of historical and real-time data elements in an enterprise to detect behavioral changes in drivers that are a result of stress in their personal lives or work routine.
Panelist Doug Schrier, director of continuous improvement for Covenant Transport, says the company has been using the FleetRisk platform for about 1.5 months. "I tell my fleet management and safety people that it is our crystal ball. We know which drivers are risky and we are going to start managing them. This is going to be a great venture for the company," he said.