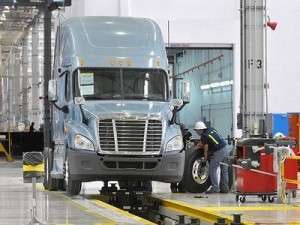 FTR Associates on Tuesday, June 5, released preliminary data showing May Class 8 truck net orders at 17,650 units for all major North American OEMs, a modest upturn after four months of decline. However, May orders were up only 5 percent from a weak April and down a hefty 24 percent from the same month last year.
FTR said the annualized order numbers for the past three-month period, including May, now calculate to 216,700 units, which is significantly lower than the activity seen in the December through February timeframe, when order activity was running at a 308,000 annualized rate.
"The net orders for May were in line with our modest expectations," said Eric Starks, FTR president. "Unfortunately, it is well below where many in the industry were expecting to be at this point in time in the recovery." The ongoing weakness is putting additional pressure on OEMs to lower their build rates over the next several months, Starks said.
"With orders hovering near 17,000 units per month and production near 25,000 units per month, it is clear there is a disconnect," he said. "A dramatic increase in order activity is needed in order for the OEMs to continue production at their current pace. Over the next few months, we expect orders to remain near current levels, as the summer is traditionally a slower time of the year for order activity."
Starks noted that even with the recent slowing in order activity, "the levels are still relatively healthy for the industry."