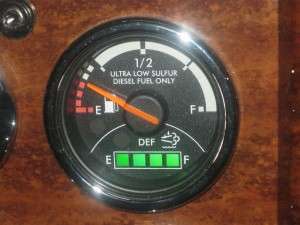 At the Great West Fleet Executive Conference, representatives from four engine manufacturers updated attendees on upcoming changes to engine technology in the coming years. "Our industry is quick to adapt to change," said Glen Kedzie, vice president of energy and environmental counsel for the American Trucking Associations and panel moderator. Kedzie said the industry will deal with "low-hanging fruit" to meet the first round of changes under the new fuel economy standard that begins in 2014, while the challenge will be meeting the second round of standards by 2018.
Dan Kieffer, director of emissions compliance for Paccar, said that the payback calculations used by the U.S. Environmental Protection Agency, which looks at the total vehicle life, don't match the equations used by most fleets. "When we are evaluating technologies, one size does not fit all," Kieffer said. "Future technologies must have a positive payback to drive penetration in the market. Improving energy output and engine performance and reducing parasitics is one of the paths that OEMs can look to for engine development in the future." Waste heat recovery and replacements for today's auxiliary power units are challenges and opportunities for engine companies.
Kristine Koblenzer, western division manager for Cummins, said up until recently, engine companies have been focusing on meeting particulate matter and NOx level reductions. Starting in 2013 and 2014, the attention will turn to reducing carbon dioxide and improving fuel efficiency since engines are at near-zero levels on NOx and PM.
"Selective catalytic reduction is the base and the future for meeting future emissions," said Koblenzer. "For Cummins, our 2013 plan builds on the success of our 2010 product with SCR aftertreatment." While there will be no major changes to engine hardware going into 2013, "the one change that will affect us is onboard diagnostics," which the company currently has on its ISX 15 450-hp engine. That technology will be implemented across all platforms in 2013.
"As OEMs, we would like to provide you as much information as you need but be able to filter it and apply that knowledge to your particular application," said David McKenna, director of powertrain sales and marketing for Mack Trucks. "We have to maximize operating efficiency of the vehicle, because they are not getting cheaper over time. We have to do our best to make them as efficient as humanly possible."
Moving forward, McKenna said those changes likely will be incremental, with solutions such as load-based variable power programming, smooth cruise speed options, electronic programmable shifting and other options, each contributing about 1 percent fuel economy gain.
Brad Williamson, manager of engine and component marketing for Daimler Trucks North America, agreed with McKenna, noting there is no silver bullet for fuel economy gains but a lot of opportunities for incremental gains through various technologies.
Speaking on changes to the DD15 engine, Williamson said a proprietary asymmetric turbocharger will be built by Daimler. "It is less complex and saves weight, and we will be able to optimally match the turbocharger to the AGR system, which will produce real-world fuel economy improvements." Another path forward for Daimler is ACRS (amplified common-rail fuel system) that takes a two-pressure system that amplifies the pressure in the injector to 38,000 psi to control the combustion process, produce less soot and extend regeneration intervals. "All these things help contribute to fuel economy improvements of the engine," said Williamson.