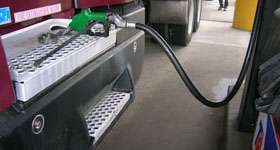 The national average retail diesel price fell 3.0 cents to $3.648 a gallon during the week ended Monday, July 2, according to the U.S. Department of Energy's Energy Information Administration. It was the 12th straight weekly decline; during that time, the price of diesel has dropped 49.9 cents a gallon. This week's price is 20.2 cents below the same week last year and is the lowest price since February 2011.
Average retail prices fell in all regions, led by a 7.6-cent decrease on the West Coast not accounting for California, where the price fell 3.2 but remains the nation's most expensive on average at $3.876 a gallon. The smallest decrease was 0.9 cents a gallon in the Lower Atlantic. The least expensive diesel on average was $3.580 a gallon in the Midwest.
Complete diesel price information is available on EIA's Website.