Big Apple, big fleet
New York City is embracing common specs, biodiesel for utility vehicle orders
New York City has one of America's most diverse municipal fleets. It owns or leases 27,000 vehicles supported by 150 maintenance facilities and 400 in-house fueling locations. The municipality spends a whopping $700 million a year on procurement, repairs and fueling.
About $240 million of that budget is devoted to acquiring new vehicles, and most of those will be assigned to the largest agencies, including the fire department, police department, department of corrections and public works agencies, including sanitation, environmental protection and parks.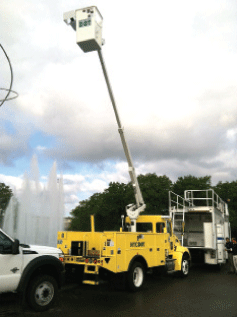 It leads to a lot of purchasing experience. If fleet officials say a pickup truck or cherry picker can make it here, maybe it can make it anywhere. But as diverse as the individual uses may be, the agencies soon will be embracing more common specifications.
A new initiative led by Keith Kerman, the city's first chief fleet officer, is changing the way NYC Fleet orders vehicles of every size, particularly the utility vehicles that support a broad array of applications. Rather than leaving individual agencies to set their own standards, the municipality is looking to identify base vehicles that everyone can share.
"For the most part, the needs are common," Kerman says, referring to the way many utility trucks are used. "This is true in Class 3 and 4 trucks, rack trucks and medium-duty dump trucks. This is true for bucket equipment that you would use for electricians."
Differences aside
Of course, there always are going to be some differences. The Department of Parks and Recreation, where Kerman worked prior to his current role, has 10 different versions of bucket trucks ranging from high rangers to cherry pickers and tree trimmers.
But there is an opportunity to set some common specs for the base vehicles. A centralized specifications team with representatives from all of the leading agencies now is developing the standards that will apply to all city purchases.
"When it came to specialized equipment, which is the majority of our program [accounting for about $200 million of the budget], everyone did their own thing," Kerman says. Typically, each agency had up to four staff members who were writing unique specifications for truck purchases, even though they all turned to common contracts when ordering lighter vehicles like the Toyota Prius or a Ford van.
"We want to simplify the procurement process," Kerman says. "We want to make sure that we are getting the best equipment specification expertise and the most effective, environmentally friendly, modern equipment specification possible. We want to increase the amount of standardization in our fleet so that parts and maintenance is much simpler and easier and more common."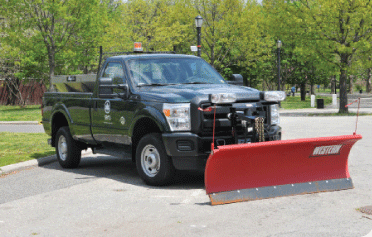 This supports a strategy to consolidate fleet maintenance activities so that agencies can help each other with repairs. "Standardization of specifications will greatly assist that," Kerman says. "If the Parks Department operates rack trucks and the Department of Sanitation operates rack trucks, and they're all the same GM model of rack truck, then it's easier for [the Department of] Sanitation to help with maintenance."
"We want to simplify the procurement process."
– Keith Kerman, New York City chief fleet officer
Larger contracts also are expected to "compel better pricing" because there likely will be more bidders on a 100-truck contract than a call for just two vehicles.
Still, don't expect the fleet to adopt a single model and brand.
"We don't want complete homogeny in the fleet," Kerman says, noting how a mixture can hedge against recalls or other warranty challenges that could disrupt operations.
Changes already
There already have been several changes in the vehicles that are purchased, such as pickup trucks. "We are finding substantial opportunity to right-size and develop and use smaller pickup trucks to save on costs for acquisition and fuel, because we really look at how they're used," Kerman says.
Many agencies traditionally had ordered Ford F-250 pickups with gasoline engines, no matter how they were used. After a closer study, many of the trucks that were moving light materials or support inspectors were changed to include smaller Ford F-150s and even the now-discontinued Ford Ranger. Meanwhile, pickup trucks used for heavier duties like plowing were upgraded to models like F-350s with diesel engines.
Even though most city vehicles are powered by gasoline, the current fleet of 9,500 diesel vehicles also is growing, particularly as the city looks to power more equipment with biodiesel blends.
But as common as many specs are becoming, the program still needs to include a long list of options to support unique jobs. "There's a huge difference between agencies that use pickups for moving salt and agencies that don't," Kerman says.
The plan is to build a series of menus so an agency can request options such as winches or specific container sizes that can be built on common vehicle platforms, whether they come in the form of a tractor or garbage truck.
"We don't want to force one contract on everybody," Kerman says. "We don't want to say, 'This is a container truck, and this is all you can do.' We want to get a core unit but allow agencies with enough common menu items that they can get the type of specialized equipment, support equipment, size [they need], etc."
Some differences will continue to exist even within the individual agencies. "You could have an agency with 20 different functions internally," he says. "They all may need a diesel pickup truck, but even within the agency, you can have extensive requirements in terms of storage, tailgates, liftgates, safety equipment, amber lighting and bed liners."
Weighing the alternatives
The common spec'ing approach may make its biggest impact as the municipality shifts toward alternative fuels, particularly in the shadow of an internal target to reduce emissions by 30 percent as early as 2017.
New York City already is a big investor in hybrid technology such as the Eaton systems that power its Kenworth T370 bucket trucks working alongside everything from Chevy Volts to equipment that runs on compressed natural gas. More than 500 sedans and SUVs used by the Parks Department alone already have been converted to alternative fuels, and every diesel truck used by that agency is running on a supply of biodiesel.
Options that promise to reduce traditional engine idling also are getting a close look. "Frankly, there's more engine wear [through idling] than there is driving around," says Kerman, who wishes there were more alternative fuel options for the fleet's lighter trucks.
"We have seen a lot of progress on light-duty vehicles," he says. "We've seen a few moves on pickup trucks, and certainly there are a lot of options coming with SUVs and sedans, and we have electric vehicles. The same types of advances in fuel economy and alternative energy approaches that we've seen in Class 1, that I can get in a sedan and SUV, we'd really like to see that in pickups and vans."